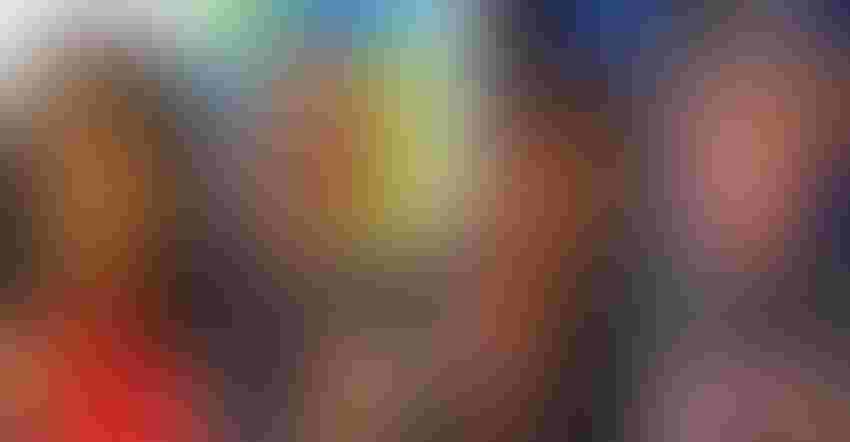 CLIMATE-SMART FARMING: A panel of farmer-leaders discussed climate-smart farming during the United Nations COP27 day focused on adaptation and agriculture. From left: Marlyn Hershey, U.S. Farmers and Ranchers in Action; Rob Larew, National Farmers Union; Verity Ulibarri, a New Mexico farmer; and Darci Vetter, The Nature Conservancy.
In the conversation about taking on the challenge of climate change, agriculture will have a role according to Secretary of Agriculture Tom Vilsack, and the world is looking on as the Biden Administration pushes an investment of nearly $3 billion in spending on a range of projects. Vilsack moderated a panel discussing those partnerships for climate-smart farming during the United Nations Climate Change Conference (COP 27).
In his opening remarks he noted the scope of the initial spending in the Partnership for Climate Smart Commodities. The program, announced in February, offered the opportunity to support pilot projects through partnerships to help producers implement climate smart practices. "We wanted a broad range of applicants, so we gave them a choice," Vilsack told the COP27 audience during Adaptation and Agriculture Day. "You could submit an application for a large grant, one spanning up to five years, requesting anywhere from $5 million to as much as $100 million, or you could submit an application requesting a smaller grant of $250,000 to $5 million. Frankly, we were overwhelmed by the response."
Related: Agriculture gets attention at COP27
When the application deadline expired, USDA had more than 1,000 applications requesting nearly $20 billion in project funding. There was also strong interest in the private sector offering more than $8 billion in proposed matching funds. Vilsack authorized a commitment for more than $3 billion to support those partnerships. And in the first round, the agency selected 70 projects out of more than 450.
"The reach of these 70 projects is significant. It involves over 50,000 farms covering at least 20 to 25 million acres of working lands, reaching every state in the country, every commodity with one or more projects working in farms, fields and forests," he says.
Over the life of the projects, Vilsack says the agency is hopeful of reducing or sequestering more than 50 million metric tons of carbon dioxide equivalent.
Climate-smart projects cited
Vilsack highlighted two examples of projects under the initial round of funding. The U.S. Rice Project, called the Rise Stewardship Partnership with Climate Smart Commodities is building a climate-smart rice market to work to reduce methane emissions in rice production. Another project led by the California Dairy Research Foundation will focus on methane mitigation in dairy cattle. Both projects aim to do more than simply reduce methane, they're also focused on creating infrastructure to support the practices.
Vilsack also announced funding for a second pool of projects. In that second round, the agency received more than 650 applications amounting to nearly $2 billion. "I'm excited today, during this discussion, to discuss the opportunity for us to invest approximately $300 million additional dollars in projects under the second pool of Partnerships for Climate Smart Commodities," he announced.
This second pool specifically aims to create markets for small and underserved producers and to support greenhouse gas reduction and carbon sequestration, monitoring, reporting and verification through minority serving institutions in both funding pools.
Vilsack highlighted a few projects from the second pool including a Florida A&M University partnership with multiple universities, producer groups and food organizations to develop a biochar based climate smart practice and technology effort and market.
Another project with Prairieview A&M University partnering with Texas A&M University, the University of Houston and Michigan Aerospace Corporation will work with small and underserved producers in Texas to implement climate smart production practices on working lands.
The aim of all this work is to test and apply regenerative agriculture practices where they are best suited in different regions and farm types in the Southeast United States and the market. He notes that up to 35 projects will be funded out of the second pool.
And Vilsack adds that the Inflation Reduction Act provides USDA with nearly $40 billion to invest over the next 10 years "to improve live and livelihoods in agriculture in rural communities. It will enable us to improve access to lower cost renewable energy and improve energy efficiency on the farm."
Panel explores climate-smart farming
After his remarks at COP27, Vilsack moderated a panel with four participants – Marilyn Hershey, chair of U.S. Farmers and Ranchers in Action; Rob Larew, president, National Farmers Union; Verity Ulibarri, a New Mexico farmer, who is also a farm credit loan officer; and Darci Vetter, global head, policy and government relations, The Nature Conservancy.
Hershey acknowledged that dairy farmers have an issue with methane emissions, but "the dairy industry has committed to being carbon neutral by the year 2050." She adds that when setting those goals, the industry doesn't have all the answers.
The work ahead will challenge the dairy industry, which in the United States is quite diverse, and the work ahead is about meeting that diversity. "We had to have commitments that helped all size farmers, that not every farmer was going to do everything, but every farmer would do something and it was a start to that," she says.
Related: Side event at COP27 event looks at decarbonizing ag
In his comments, Larew observes: "Too often I hear the phrase 'farmers at the center' but I don't see that often. And sometimes I wonder if the center is really more of a target in the bullseye." He notes that farmers want to do the right thing and they are looking to succeed with climate smart farming.
NFU established the first carbon bank in 2007 partly in anticipation of additional action being taken at the federal level, and with markets. "We were a little ahead of our time We're continuing to push, like farmers everywhere, to try to get answer to all these questions," he says.
For Ulibarri, who farms with her husband in a part of New Mexico that sees but 18-inches of rain a year, and they're working on new ways to preserve on-farm moisture. Three years ago, the farm adopted use of cover crops, and no-till, in ways to capture and hold moisture. They ended the long practice of fallow land and instead raise forage crops that provide an added income source to their diversified farm.
"Over the time that I've been alive we've seen hotter, drier weather, and more volatile weather events," she says. "It's led us to really take stock of what we need to do as producers to kind of change the status quo on how do we produce more with less water than we had before?"
Beyond row crops
Vetter with The Nature Conservancy discussed an often-underestimated area of nature-based solutions. "That is using nature both as an opportunity to reduce emissions and sequester carbon, but also using nature as a way to help with adaptation on farms to make farmers more resilient in the face of climate change challenges they're already seeing," she says.
Agriforestry is a key nature-based approach, Vetter observes. The services that trees provide from holding soil in place, keeping more water in the soil and preventing wind erosion. And trees can sustain a farm by producing fruit and nuts and sustainable timber.
Related: Getting past cover crops and no-till
As a former Nebraska farm girl, Vetter recalled planting windbreaks with her father with thousands of trees around the perimeter of that farm. Her father was an early adopter of organic practices and a few years after planting the perimeter windbreak, he intercropped fruit and nut trees in between row crops. This protected row crops and provided added income potential.
The panelists note that climate-smart farming is necessary, but farmers also face razor-thin margins so accepting new ideas isn't easy. "So, they know what they need to get by so that they can put a crop in the ground the next year when you're asking them to make a significant change," Larew observes. "Who's going to pay for that? What's the guaranteed return? How do I manage the risks of that change?"
He notes excitement in the USDA funded projects that will begin to address these questions to help farmers engage in these new practices.
Subscribe to receive top agriculture news
Be informed daily with these free e-newsletters
You May Also Like
---