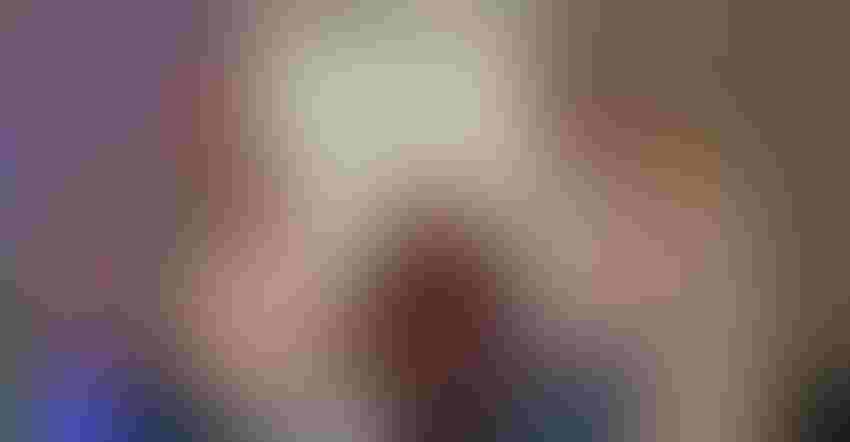 FAMILY EFFORT: The Mallery family of Shafer manages 250 head of registered Jerseys on their 700-acre farm. They rotationally graze on 120 acres. The Mallerys were recognized Dec. 14 as the Minnesota Association of Soil and Water Conservation Districts' Outstanding Conservationist of the Year at the organization's annual conference. Family members are Jeff (left), Tommy, Elizabeth, Eddie and Karla.
Paula Mohr
With their rolling, steep landscape in southeastern Chisago County, the Mallery family of Shafer, Minn., is keen on implementing conservation practices to keep soil and nutrients in place.
The family has a deep commitment to do so. The Mallery's farm sits atop an escarpment that overlooks the St. Croix River, designated as a National Scenic Riverway. Minnesota's Interstate Park is nearby, too. These regional natural resources annually attract thousands of visitors who enjoy camping, fishing, hiking and biking.
For their hard work at conservation, the Mallery family was honored as the 2021 Conservationist of the Year by the Minnesota Association of Soil and Water Conservation Districts. The family received the award Dec. 14 in Bloomington at the annual MASWCD convention. The Farmer has been a longtime supporter of the conservation awards program. The program recognizes farm families, individuals, conservation organizations and other groups nominated by their local SWCDs for accomplishments to implement conservation practices and improve Minnesota's natural resources.
The Mallery family — parents Jeff and Karla, and their three children, Eddie, Tommy and Elizabeth — continue to work on conservation on their registered Jersey dairy farm. They milk 250 cows plus raise replacements, and grow hay and corn for silage and grain. Jeff is the third generation of the family on the land. His grandfather, William, bought the farm in the late 1950s. His dad, Joe, and Uncle Bill farmed until Joe's passing and Bill's retirement, both in 2020.
"Although Joe, an early leader of conservation on the farm, is no longer here to see this award, the Chisago SWCD believes his legacy and the hard work put in by Bill, Jeff and the next generation deserve recognition for their leadership and commitment to conservation," says Craig Mell, Chisago SWCD district administrator.
Conservation practices on the ground on the Mallery farm include:
Erosion control. With rolling land ranging from 0% to 50% slope, historic gully erosion control has been a major conservation practice on the farm. With assistance through the Chisago SWCD and the local Natural Resources Conservation Service office, the Mallerys have worked on 14 erosion control projects on owned and rented land. Those include installing seven water and sediment-control basins, a grassed waterway, a clean water diversion and a vegetated treatment area.
Nutrient, on-site water management. The Mallerys began implementing a multiphase comprehensive nutrient management plan in 2019 that includes regular soil tests to keep track of nitrogen and phosphorus levels, and to fine-tune fertilizer levels. An extensive manure and water control project took several years to complete. Clean water diversions take water from the roofs and lanes. A stacking slab eliminates the need for daily manure hauling. A series of scrape lanes helps direct dirty water and sediment from cattle housing to a pump within a closed clay pit silo. Dirty water from the calf area and milking parlor also flows to the slab. Liquids from the stacking slab are diffused via a spreader to a tiled vegetated treatment area. From here, nutrients flow to a stilling basin and filter strips.
Cover crops, rotations. Jeff has experimented with various cover crop seed mixes, depending on soil and livestock needs. Springtime mixes include rapeseed, turnip, rye and vetch. He also participated in Chisago SWCD's fall cover crop program by no-tilling rye after corn. Crop rotation depends on the field. Typically, the rotation is four years of hay, followed by four years of corn and small grains. Some fields are permanent hay, and some fields are rotated back to hay after a year of corn. Jeff also practices no-till to reduce erosion and build soil health.
Grazing management. The Mallerys rotate cattle on pastures to prevent open soil and to allow forage to regrow. They also graze field crops in fall, giving permanent pasture a rest before winter.
Buffers. A spring-fed pond on the farm was fenced to control access by livestock. A 30-foot buffer was also planted around the pond.
In 2020, the Mallerys received certification in the Minnesota Ag Water Quality Certification program.
Given the farm's location, all of its farming and conservation practices will impact outcomes undertaken by the One Watershed One Plan in the Lower St. Croix Watershed. After three years of planning, 15 local government partners in 2020 approved a collaborative and comprehensive plan to protect and restore natural resources in the watershed over the next decade.
"Our hope is to continue working with the Mallerys long into the future," says Shane Hultman, Chisago SWCD technician. "The Mallerys are an active and visible part of our community. The Chisago SWCD and One Watershed One Plan will benefit from their outspoken support of the practices and goals identified by both."
View a short YouTube video on the Mallery farm.
The Mallerys were one of eight finalists for the 2021 Outstanding Conservationist Award. Others were Ryan and Michael Hough, Rothsay; Nathan and Angie Walter, Westport; Burnell Peterson and Ann Carlander, Wrenshall; Michael and Mary Hewitt, Walnut Grove; KD2 Farms, Mapleton; the Gerard family, Spring Grove; and the Hollister family farm, Brainerd. Learn about their conservation efforts, Top conservationists chosen in Minnesota, online.
About the Author(s) Paula Mohr has been editor of The Farmer since 2004. She enjoys covering a wide range of topics that are of interest to Minnesota producers.
Subscribe to receive top agriculture news
Be informed daily with these free e-newsletters
You May Also Like
---