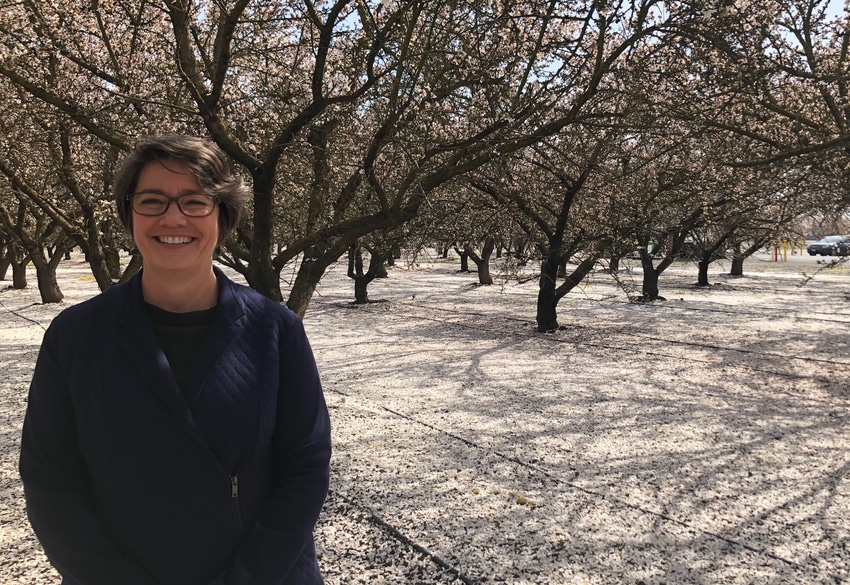 Josette Lewis, the Almond Board's new director of agricultural affairs, stands in an orchard. Her hiring was announced in February.
Though her expertise is in molecular biology, Josette Lewis always had an interest in agriculture.
The Davis, Calif., native grew up surrounded by farms, and the 53-year-old Lewis has spent much of her career trying to make agriculture more sustainable.
In fact, the quest for sustainable farming has been a common thread through many of the diverse jobs she's held, beginning with a 16-year stint with the U.S. Agency for International Development (USAID) and continuing most recently as associate vice president of sustainable agriculture at the Environmental Defense Fund (EDF).
Thus, she was seen as a perfect candidate to become director of agricultural affairs at the Almond Board of California, which just launched an ambitious six-year project to help growers conserve resources as the state's consumers and regulators cast an ever more wary eye on their farming practices.
"The exciting thing about coming here is this is an industry that wants to stay ahead of the curve," says Lewis, whose hiring by the board was announced in February. "They want to be on the leading edge."
2025 GOALS
At the industry's annual conference in December, the Almond Board announced details of an initiative called Almond Orchard Goals 2025, pledging as an industry to cut water use by an additional 20 percent, increase use of environmentally friendly pest management tools by 25 percent, eliminate orchard waste by making better use of byproducts and halve the amount of dust kicked up during harvest.
Related:Almond Board's King shares multi-faceted mission
Lewis calls the goals "a bit of a stretch" but "not unattainable if we push ourselves." Richard Waycott, the board's president and chief executive officer, says Lewis' vast experience will give the organization "ideally a broader view" of the workings of government, nongovernmental organizations and academia, as well as for-profit businesses.
"Just having that comprehensive view allows us to better strategize," Waycott says. "That's become so important – really having a strategic view and game plan out into the future. I think Josette with her experience can really contribute to that."
Lewis takes over for Robert Curtis, who retired in 2018 after spending more than 45 years directing agricultural affairs at the Almond Board.
In her position, Lewis will focus on the development, funding and strategy of the Almond Board's research program, which has invested $80 million since 1973 to improve understanding of almonds' effect on human health, ensure food quality and safety, and enhance farming practices while minimizing environmental impacts, according to a board news release.
Related:Almond board sets sustainability goals
WORK AT USAID
After earning a doctorate in molecular biology at the University of California-Los Angeles, Lewis went to USAID, where she became familiar with the role that ag plays in income generation and food security in poor countries.
"We worked on a lot of different topics, from sustainable agriculture to how research can play a role bridging Israeli-Arab relationships," she says.
Her effort to use molecule technology to improve food crops in developing countries helped lead to the international trade of genetically modified crops, which in turn led to regulations in Europe that affected U.S. trade, she says.
"We got a good chance to participate with other federal agencies" in looking at "the implications of how some agricultural products were being regulated and how it impacted U.S. agricultural exports," she says.
Lewis later returned to California to handle overseas business development for Arcadia Biosciences, a Davis-based agricultural biotechnology firm, before helping to establish the World Food Center at UC-Davis. There, she developed partnerships across the agricultural and technology sectors.
EDF'S AG FOCUS
At EDF, Lewis sought to bring sustainable agricultural practices to scale throughout the U.S., according to the organization. She joined with large food companies, agribusiness, grower associations and other entities to push for an end to fertilizer pollution by reducing nutrient runoff from farms – an effort California growers will find familiar.
"For me it was an interesting crossroads in my career," Lewis says. "I really loved working in agriculture and wasn't looking to leave that arena, so my decision to go to EDF was based in large part on the fact that that particular organization took a very pragmatic approach to how you can move a complex and difficult industry forward."
Lewis comes to the Almond Board as the commodity group is spending $6.8 million this year on 75 independent research projects exploring next-generation farming practices, including optimal use of everything almond orchards grow. The commitment followed the board's spending $4.8 million on similar research last year.
Officials say the Almond Board's research programs provide a scientific basis for best-practice guidelines across several priority areas, including water sustainability, pollinator health and finding new uses for such "co-products" as hulls, shells and woody material.
"I think research is a tool – one of several tools the almond board can use" to equip growers, Lewis says. Research "can inform policy," educating leaders on "how agricultural working lands can contribute to meeting the state's climate goals," she says.
IMAGE-CONSCIOUS
Almond industry leaders have been more image-conscious in recent years as some environmental groups and media outlets accused growers of using too much water during the state's historic drought from 2012-2016.
Waycott and others have frequently touted the fact that farms have already reduced the amount of water needed to grow a pound of almonds by 33 percent in the past two decades, via improved production practices and use of micro-sprinklers on most farms.
The board in 2018 rolled out research published in the Journal of Ecological Indicators asserting the "water footprint" of almonds grown in the Golden State is smaller than the global average and that growing almonds is a good use of water.
While Lewis isn't an almond expert, which "might strike some people a little funny," she is "someone with a top-notch scientific mind who also covers other aspects," Waycott says. "I think she'll learn what she needs to know in a fairly quick order."
Lewis says she appreciates that the Almond Board pushes itself to be "at the leading edge of producing a great product" and doing it sustainably.
"That understanding of having been on the other side and having worked in government can help me steer our portfolio, provide tools and answer questions," she says.
About the Author(s)
Subscribe to receive top agriculture news
Be informed daily with these free e-newsletters
You May Also Like
---