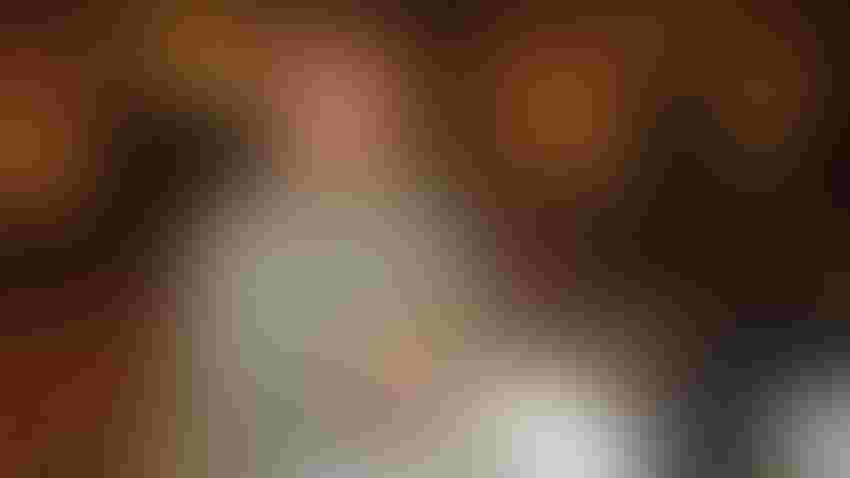 Almond Board of California president and chief executive officer Richard Waycott unveiled a set of industry goals during the annual Almond Conference Dec. 4 in Sacramento, Calif.
A California almond industry group is redoubling its efforts to help growers become more sustainable as the state's consumers and regulators cast a wary eye on their farming practices.
The Almond Board of California on Dec. 4 announced details of an initiative called Almond Orchard Goals 2025, pledging as an industry to cut water use by an additional 20 percent, increase use of environmentally friendly pest management tools by 25 percent, eliminate orchard waste by making better use of byproducts and halve the amount of dust kicked up during harvest.
"There's come a time in agriculture when we really need to step out there and say we're going to try to do these things," board president and chief executive officer Richard Waycott told nearly 4,000 farmers, processors and other attendees of the 46th annual Almond Conference this week at the Sacramento Convention Center.
Setting concrete goals will help the industry prioritize its activities and build consumer trust, Waycott says.
"If we get into another drought, we'll be in a better place with the media and consumers," he says.
The goals, which the board has been working on for nearly a year, are a hit with state Secretary of Food and Agriculture Karen Ross.
"What you have done here is what leaders need to do," Ross said during a "State of the Industry" presentation that capped off the conference's first day. "Almonds are a leader in California agriculture."
Innovation research
The remarks by Waycott, Ross and board Chairwoman Holly King followed the board's announcement earlier in the day that it was investing another $6.8 million in 75 independent research projects exploring next-generation farming practices, including optimal use of everything almond orchards grow. The commitment comes after the board announced $4.8 million for similar research at last year's conference.
Officials say the Almond Board's research programs provide a scientific basis for best-practices guidelines across several priority areas, including water sustainability, pollinator health and finding new uses for such "co-products" as hulls, shells and woody material.
"Innovation is at the core of sustainable almond farming," Waycott says. "Driven by family farmers, the almond community is committed to continuous improvement, ensuring a better environment and future for our children and grandchildren, neighbors and employees.
"Since 1973, almond farmers and processors have invested $80 million in research through the Almond Board to improve our understanding of almonds' impact on human health, ensure food quality and safety, and improve farming practices while minimizing environmental impacts."
Image-conscious industry
Almond industry leaders have been increasingly image-conscious in recent years as some environmental groups and media outlets accused growers of using too much water amid the state's historic drought from 2012-2016.
Waycott and others frequently tout the fact that farms have already reduced the amount of water needed to grow a pound of almonds by 33 percent in the past two decades, via improved production practices and use of micro-sprinklers on most farms.
The board earlier this year rolled out research published in the Journal of Ecological Indicators asserting the "water footprint" of almonds grown in the Golden State is smaller than the global average and that growing almonds is a good use of water.
Still, board officials say that more can be done in the area of irrigation efficiency to achieve "more crop per drop" of water.
"We believe we can make additional progress," King says. "Now almonds take up 16 percent of irrigated land and use 11 percent of applied water. That gap will become broader."
Subscribe to receive top agriculture news
Be informed daily with these free e-newsletters
You May Also Like
---