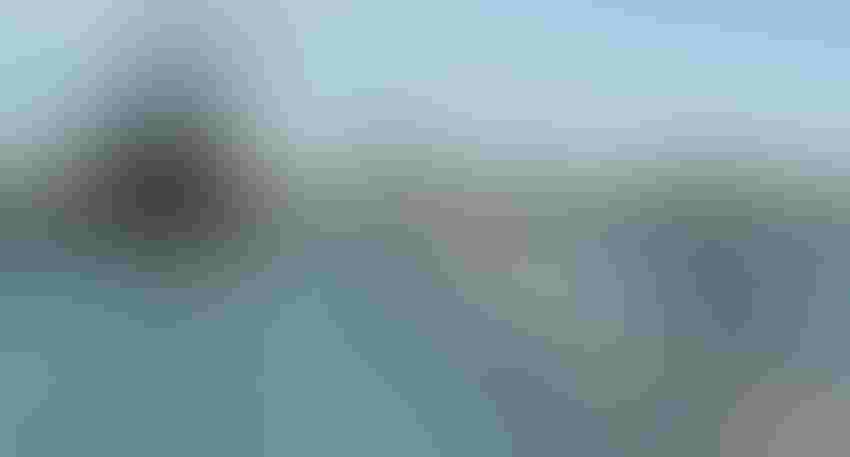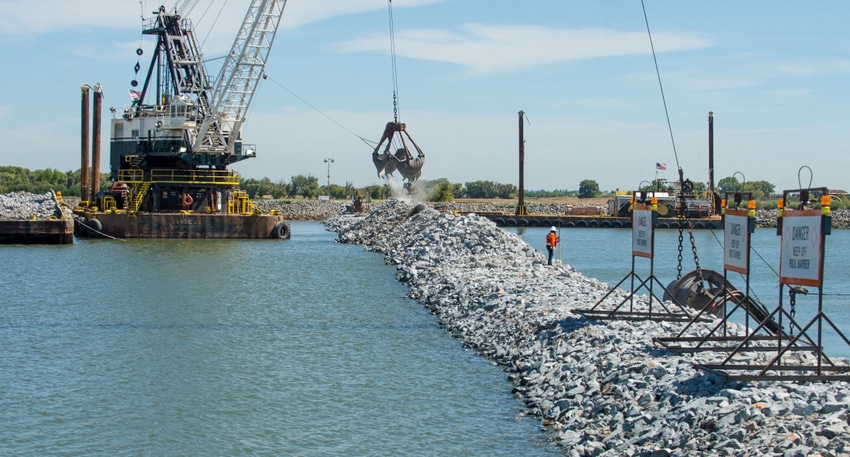 Crews hired by the California Department of Water Resources install a temporary rock wall to prevent saltwater intrusion into the Sacramento-San Joaquin River Delta in 2015. Amid this summer's worsening drought, another rock wall is being built.
Calif. Dept. of Water Resources
Rapidly worsening hydrologic conditions throughout the West are forcing water regulators to ramp up conservation measures as farms brace for shortages that could prevent them from harvesting their crops.
California's Department of Water Resources on June 3 will begin installing a temporary rock wall in the Sacramento-San Joaquin River Delta to prevent saltwater intrusion – a measure taken during the last major drought in 2015. The $30 million project should be finished by the end of June, he said.
In the Russian River watershed north of San Francisco, notices of water unavailability went out last week to 930 landowners with post-1914 water rights, and many expect curtailments to be made mandatory when the State Water Resources Control Board meets June 15, said Devon Jones, the Mendocino County Farm Bureau's executive director.
John Yarbrough, the DWR's assistant deputy director, said the agency has had to accelerate some steps that were being planned for 2022 if conditions didn't improve. The reason is a veritable disappearance of spring runoff; only 20% of the runoff expected from January's snowpack made it into reservoirs.
"A very dry fall left us with much drier soils than we typically expect, and a very warm April could have contributed to extra evaporation," Yarbrough told the state Board of Food and Agriculture on June 1. "What this meant at the State Water Project was, we started looking at the dry conditions and looking at actions we were discussing for 2022 … When this runoff didn't materialize, all those actions had to be moved up and accelerated this year."
Additional measures
Additional actions the DWR may take in the next year include additional barriers and a series of agricultural pumps in the California Aqueduct to improve the state's ability to move stored water to where it is needed, Yarbrough told the board.
The panel was discussing drought impacts and possible solutions – including various proposals in Gov. Gavin Newsom's $5.1 billion water infrastructure package – after the U.S. Bureau of Reclamation on May 26 announced it would not deliver agricultural water through the Central Valley Project this summer because of tightening supplies.
The shutoff was prompted by a 685,000 acre-foot reduction in projected natural flows to the Sacramento, Feather, Yuba and American rivers between the April 1 and May 1 forecasts, according to the bureau.
Newsom on May 10 significantly expanded an earlier drought emergency proclamation to include Klamath River, Delta and Tulare Lake Watershed counties. He initially declared a state of emergency in Mendocino and Sonoma counties due to severe drought conditions in the Russian River Watershed.
In total, 41 counties in the Golden State are now under a drought state of emergency, representing 30% of the state's population.
West in drought
The measures come as nearly the entire West descended deeper into drought in May. As of May 18, 93% of the U.S. Southwest and California was affected, with 38% of this region identified as being in exceptional drought, according to the National Integrated Drought Information Center. Twelve months ago, most of the region was drought-free, the agency noted.
Elsewhere in the West:
Hot summer coming
The U.S. Seasonal Drought Outlook shows drought persisting through the summer in nearly the entire Western half of the U.S., from West Texas and the Dakotas to the Pacific Ocean. The federal Climate Prediction Center foresees a significantly hotter-than-normal summer throughout the region, particularly in the Southwest.
In California, the 2021 water year for the Sacramento-San Joaquin River Basin is currently the driest since 1977, federal officials have said. Farmers in the Russian River watershed are already trucking in water, fallowing land or acquiring recycled water from the city of Ukiah, the California Farm Bureau Federation reported.
Lake Sonoma is at 58% of average and Lake Mendocino is at 40% of average after a dearth of rainfall this winter, the Mendocino Farm Bureau's Jones said. In the water year that started Oct. 1, Mendocino has received 13.4 inches and Sonoma 12.8 inches – well below their averages of about 35 inches, she said.
"We've been having weekly meetings with state water board staff" since Newsom made his drought declaration in April, she said. "The conversations have been helpful."
In the Central Valley, irrigation districts are trying to find supplemental supplies as water transfers are expected to play a key role this summer. CFBF President Jamie Johansson has credited Newsom for aiding voluntary water transfers and exchanges and proposing more spending on canal repairs and other measures.
Water transfers sought
Growers have urged the state to streamline water transfers to move them more quickly to address needs. Firebaugh, Calif., grower Joe Del Bosque said he had to forego planting asparagus and cut one-third of his staff, and if he can't get more water through transfers, melon acreage would have to go, too – which would mean more jobs lost.
"Some of these people have been with us for over 20 years," Del Bosque told the state board. "As a farmer, it's extremely valuable to have people who have been with us for a period of time. Those people have skills, they know how e like to have work done, they know our safety rules, they know a lot of things that are extremely valuable."
Subscribe to receive top agriculture news
Be informed daily with these free e-newsletters
You May Also Like
---