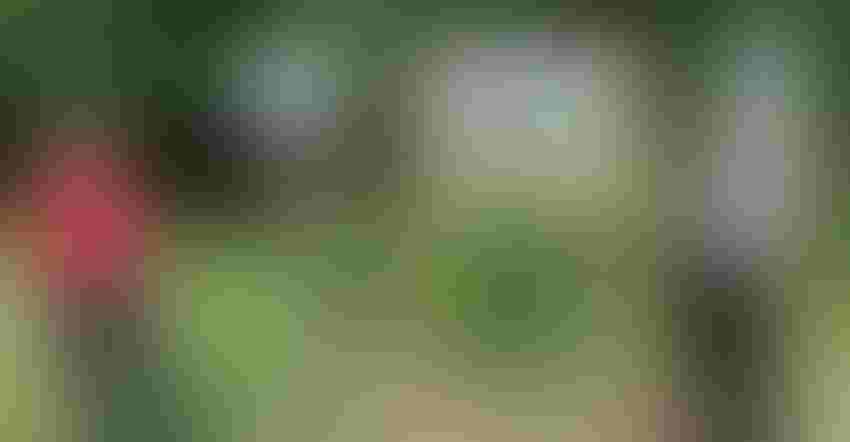 PROTECTED LAND: George Cullers (left) stands with Rep. Julie Calley at the unveiling of a conservation easement sign placed on his property.
George Cullers of Barry County was recently honored for being the 50th landowner to donate to the state's agricultural conservation easement program.
A resolution from Gov. Rick Snyder was presented by Ken McFarlane, Michigan Department of Agriculture and Rural Development chief deputy director, to Cullers for his donation of 137 acres to be used as permanent farmland. 
"Michigan farmers, like Mr. Cullers, are the heart of this state, and they ensure we are continuing to think about future generations," McFarlane said. "By donating the development rights on his farm, Mr. Cullers is setting an example for others to preserve farmland in our state."  
"I donated a conservation easement in honor of my late wife, Donna (Tobias) Cullers," Cullers said. "For nearly 160 years, this farm has been used for row crops, chickens, hogs and more. It only seemed right to continue in that tradition by preserving this land to be used as farmland forever." 
The event concluded with Rep. Julie Calley unveiling a 50th conservation easement sign, which was placed on Cullers' lawn. 

RECOGNIZED: George Cullers holds a resolution given to him from Gov. Rick Snyder for donating 137 acres as permanent farmland. 
"I am glad I could be a part of such a momentous occasion," Calley says. "Mr. Cullers is one example of countless efforts of Michigan farmers to preserve our farmland and to keep our economy diverse." 
Landowners donate their development rights through a conservation easement to preserve the agricultural and open space values of their property. Donated easements make up 40% of permanently protected farmland and open space in Michigan.
To date, the state's development rights program holds a total of 136 easements, preserving 25,000 acres; of that total, 50 agricultural easements have been donated, totaling 8,000 acres. 
For more information on how to donate your land as a permanent conservation easement, visit michigan.gov/farmland or contact Beth Juras at 517-243-7949.
Source: MDARD
Subscribe to receive top agriculture news
Be informed daily with these free e-newsletters
You May Also Like
---