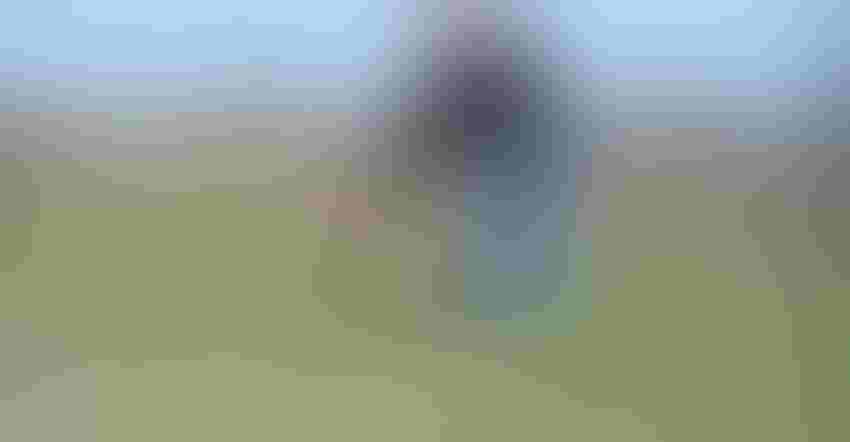 PROTECTING THE WATER: John Scherder uses cover crops and no till management practices to keep the soil in place on his Pike County farm. He does not want his nutrients running off into the nearby Peno Creek. Scherder is one of three farmer finalists for the Missouri Leopold Conservation Award.
Farmers take care of the land every day. Still three Missouri farmers go above and beyond using conservation practices that protect the land, water and wildlife habitat on their farms. For their efforts, they have been selected for the 2018 Missouri Leopold Conservation Award.
The Leopold Conservation Award is given in honor of renowned conservationist Aldo Leopold and recognizes extraordinary achievement in voluntary conservation. It inspires other landowners through these examples and provides a visible forum where farmers, ranchers and other private landowners are recognized as conservation leaders.
Last year, the inaugural recipients of the Missouri Leopold Conservation Award were Matt and Kate Lambert of Uptown Farms, Laclede, Mo.
In Missouri the $10,000 award is presented annually by Sand County Foundation, Missouri Farmers Care, the Missouri Soybean Merchandising Council and the USDA Natural Resources Conservation Service.
According to J.R. Flores, NRCS State Conservationist, this year's finalists prove that farmers who use practices such as rotational grazing, no-till and cover crops can be profitable today without sacrificing the natural resources needed for tomorrow.
The finalists are:
John Scherder of Frankford, Mo., in Pike County. At Scherder Farms, John and Sandy Scherder raise beef cattle, corn, soybeans, wheat and alfalfa. Cover crops are grown to reduce soil erosion, improve soil health, supply cattle feed and provide wildlife habitat. They have used no-till and conservation till practices on their fields since the 1990s. They have established more than 150 acres of field borders into habitat for quail. The Scherders were active in forming a farmer-led watershed group to preserve Peno Creek by encouraging other farms to adopt conservation practices.
Kenny Brinker of Auxvasse, Mo., in Callaway County. Brinker Farms received the 2006 National Pork Industry Environmental Steward Award. Today, Brinker is an owner of Harrison Creek Farm. The hog farm is home to 2,800 sows, utilizes no-till practices, and Brinker plants cereal rye as a cover crop for soil health and water infiltration. Six acres of corn, soybeans, milo and sunflowers are planted as food plots for wildlife. Undesirable trees were cleared from 200 acres of the farm to allow valuable tree species to flourish.
TALKING COVER: Kenny Brinker hosts visitors to his Callaway County farm earlier this summer to discuss conservation practices.
Haubein Farms of Lockwood, Mo., in Dade County. Haubein Farms incorporates wildlife, soil and water conservation into a profitable, working farm. Its 4,600 acres are spread across three counties. Cover crops are grown with corn and soybeans to reduce soil erosion, improve soil health and provide wildlife habitat. Half of the sixth-generation farm is in hay production and native grassland pastures. David Haubein was the first Missouri cattleman certified by the Audubon Conservation Ranching Program as producing grassland bird-friendly beef.
"One thing unites these three finalists, and many more in Missouri agriculture, a shared goal of handing the reins to future generations with their farms in even better shape than when they began," Alan Wessler, D.V.M, chair of Missouri Farmers Care. "These three finalists embody the values of Missouri farmers and ranchers who seek to enhance the long-term viability of their agricultural lands and businesses by following similar practices."
This year's recipient will be announced at the 2019 Missouri Governor's Conference on Agriculture in January.
The Leopold Conservation Award Program in Missouri is supported by Missouri Farmers Care, Missouri Soybean Association, Missouri Soybean Merchandising Council, USDA Natural Resources Conservation Service, Missouri Cattlemen's Association, Missouri Corn Merchandising Council, Missouri Department of Conservation, MFA, Inc., Missouri Soil and Water Conservation Program, Association of Missouri Electric Cooperatives, and the Missouri Association of Soil and Water Conservation Districts.
SUPPORTING WILDLIFE: Dave and Tanya Haubein of Dade County support grassland bird conservation while grazing cattle. They are one of the first cattleman with raising Audubon Certified beef.
Sand County Foundation presents the Leopold Conservation Award to private landowners in 14 states for extraordinary achievement in voluntary conservation.
For more information on the award, visit leopoldconservationaward.org.
Source: Missouri Farmers Care
Subscribe to receive top agriculture news
Be informed daily with these free e-newsletters
You May Also Like
---