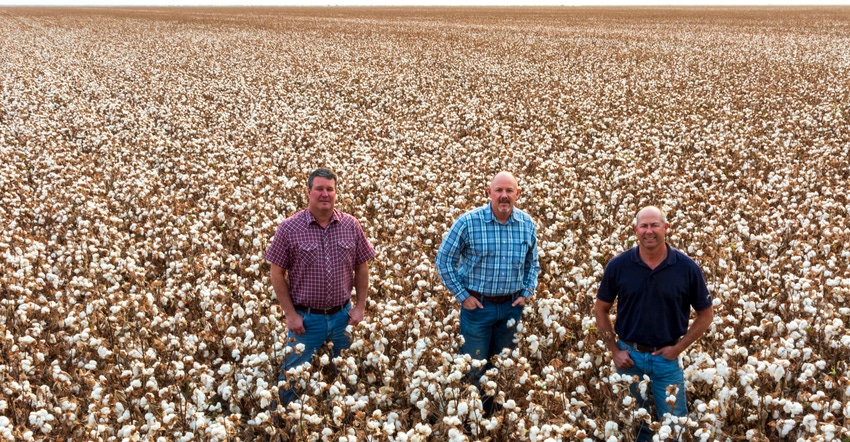 California produces the most Pima cotton in the U.S. Demand by apparel companies to sell products under the Supima trademark license continues to increase because they trust its quality and the environmental stewardship of growers like Hansen Ranches. California cotton farmers, from left, Nis, Phil and Erik Hansen grow Pima cotton in California's Central Valley. Phil Hansen is on the Supima board of directors.
Todd Fitchette
While it remains early, weather models suggest yet another dry year for the West, meaning continued reductions of irrigation supplies for farmers. How much water California farmers have next summer for crops will depend on winter rain and snow in the Sierra and Cascade watersheds.
Arizona farmers will fare worse as their promise of Central Arizona Project water was eliminated earlier this year. Groundwater will be their only source for irrigation.
One dynamic to watch in 2023 will be the cotton and canning tomato rotation common with some California growers. Agronomic challenges in tomatoes and higher cotton prices will surely drive those who can, to favor Pima cotton.
This year's canning tomato price, albeit a record, was not enough to cover costs, according to at least one grower I spoke with this summer. The $105 contract price, though noteworthy for its figure and the timing in which it was announced, is not enough for growers pinched by rising input costs.
Related: Demand for Supima cotton continues to grow
In a video shared on LinkedIn, Nicole Wurzel, regional marketing manager of J.G. Boswell Company in Corcoran, Calif., said the continued drought will further challenge tomato paste supplies for the next couple of years.
"Drought and a reluctance to compensate California tomato growers for their crop have pushed available tomato acreage into more profitable, less risky competing crops," she said.
One of those less-risky crops is Pima cotton, the extra-long staple (ELS) varieties marketed by Supima for premium clothing and linens brands. California remains the leading state for Pima production in the U.S. and is perhaps the best location in the world to produce high yields of high-quality ELS cotton.
Conversely, California continues to see its tomato yields falter as disease issues curb output.
Related: There's a renewed incentive to grow Pima
Meanwhile, companies still breeding Pima varieties are creating seed capable of remarkable yields. Before he retired as California's cotton Extension specialist, Robert Hutmacher said his studies in central California suggested growers could achieve five-bale yields with the new varieties being offered to growers. I spoke with one of those growers who made five-bale Pima last season and was paid $3 per pound for it.
Coupled with record Pima prices that rocketed to $3.50 in late 2021, the incentive for growers who commonly rotate between tomatoes and cotton to stick with Pima is understandable.
Supima, the marketer of the U.S. ELS cotton used in luxury brands, says the Pima crop being harvested now will likely sell out by next spring as global demand remains high. That could keep Pima prices north of $3 per pound.
How this affects canning tomato contracts should be obvious as rumors circulate of a price next year at or above $160 per ton. It's also a lesson in irony as I'm told some growers who removed their dead almond orchards may plant Pima next spring. Time will tell whether this prediction holds. Who'd have thought that cotton would ever become the preferred cash crop over California almonds.
About the Author(s)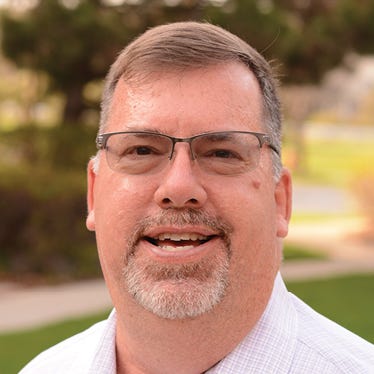 Associate Editor, Western Farm Press
Todd Fitchette, associate editor with Western Farm Press, spent much of his journalism career covering agriculture in California and the western United States. Aside from reporting about issues related to farm production, environmental regulations and legislative matters, he has extensive experience covering the dairy industry, western water issues and politics. His journalistic experience includes local daily and weekly newspapers, where he was recognized early in his career as an award-winning news photographer.
Fitchette is US Army veteran and a graduate of California State University, Chico. 
Subscribe to receive top agriculture news
Be informed daily with these free e-newsletters
You May Also Like
---