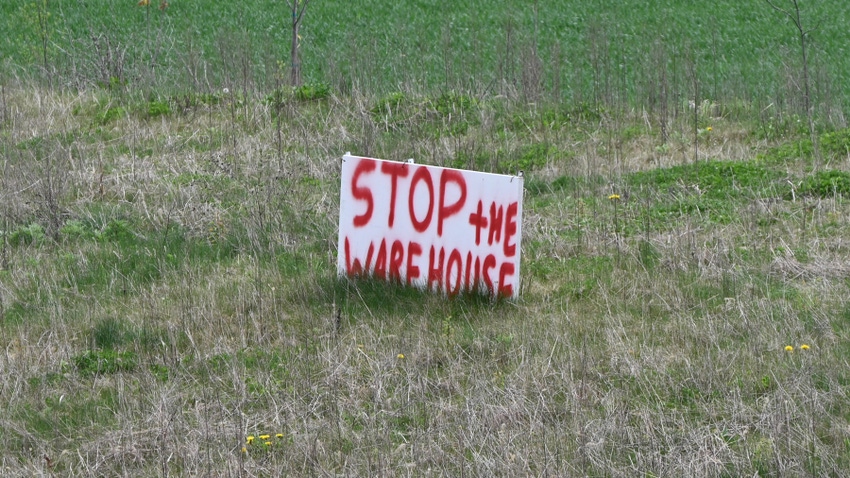 ANOTHER WAREHOUSE: A sign along Route 222 just north of Reading, Pa., illustrates the fight over another proposed warehouse in the region that would take more land out of farming. The proliferation of warehouses is happening at a time when farmers are under increased pressure to help clean up waterways.
Chris Torres
I can't ignore recent developments involving the Chesapeake Bay and Waters of the United States, and neither should you.
All this is happening against the backdrop of farms that continue to struggle and warehouses that are popping up all over the countryside.
Let's take care of WOTUS first. The issue has become political football at this point, and I don't know what's going to happen. The Biden administration recently vetoed a congressional bill that would have overturned WOTUS.
But, as our policy editor Josh Baethge recently reported, WOTUS may finally be settled by an upcoming Supreme Court case — Sackett — that may limit EPA's power to regulate water features on private land.
In other words, stay tuned. We could have a final resolution on this by summer.
And that Supreme Court case could have a big impact on the Chesapeake Bay TMDL (total maximum daily load) that is in place for much of the region. Or it may not.
Regardless, a recent "proposed settlement" between EPA and the states that sued Pennsylvania for not doing enough to meet its nutrient reduction goals as outlined in the TMDL could mean more farms may come under direct regulation by EPA.
According to an April 20 article in Bay Journal, the proposed settlement would increase oversight over farms, stormwater systems and wastewater treatment plants in Pennsylvania. Practically speaking, it could mean EPA may use its regulatory authority under the National Pollution Discharge Elimination System (NPDES) to increase oversight of farms, the same as it does for concentrated animal feeding operations (CAFOs).
Again, who knows what will happen? But if this is EPA's plan, good luck. As the Bay Journal article points out, EPA has in the past considered the possibility of regulating smaller Pennsylvania feedlots but concluded it was not feasible because of the sheer number of smaller farms in the region.
We've heard for years from organizations such as the Chesapeake Bay Foundation that farmland needs to be preserved to secure the long-term health of the bay and its tributaries. Well, that message has apparently fallen on deaf ears.
Just recently, the organization American Rivers listed the Lehigh River as the seventh-most endangered river in 2023. And do you know why? You may have guessed it: poorly planned development. In particular, the building of warehouses on what was once extensive farmland.
At the rate of warehouses being developed across the Chesapeake Bay watershed, I wouldn't be surprised if the Susquehanna, Potomac or other rivers appear on this list soon.
We in the farming community want our farms to be preserved for future generations, but it's clear that we need to be louder. It's not just about open space. It's about preserving a way of life for the next generation and our food security.
The government and environmental officials need to make up their minds once and for all: Preserve farms for our food security and environmental protection or build more warehouses in the name of convenience and the promise of "new jobs."
For my sons, I hope they choose the former.
Subscribe to receive top agriculture news
Be informed daily with these free e-newsletters
You May Also Like
---