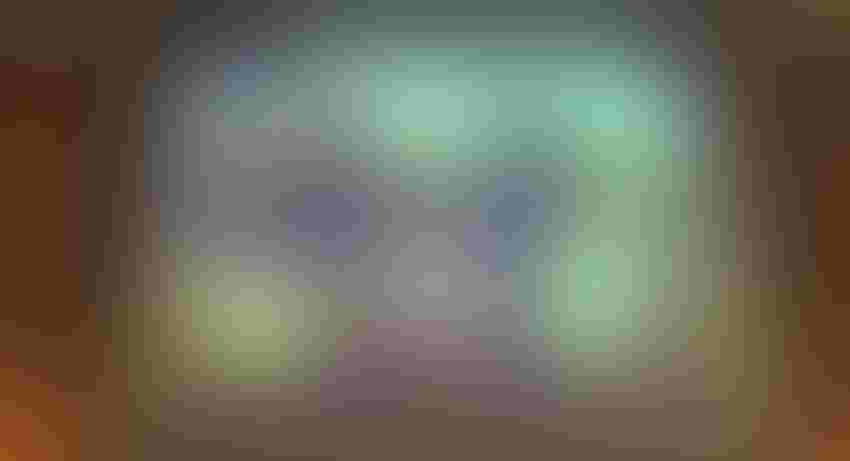 A slide on walnut blight is shown at a University of California Cooperative Extension workshop in early March.
Tim Hearden
Unable to do any of its customary in-person extension seminars and master gardener and food preserver lectures because of coronavirus-related closures, the University of California's Division of Agriculture and Natural Resources is resorting to the virtual world to get its information out.
Pamela Kan-Rice, the UC's assistant director of news and information outreach, writes that many educational events are being moved to online venues, where some UC Cooperative Extension scientists are finding larger audiences.
"A group of us are retooling our workshops for online delivery and have seen tremendous interest," Yana Valachovic, a UCCE forest advisor in Humboldt County, says in Kan-Rice' release. "We have been blown away by the interest in this research."
Valachovic continues that an online oak health workshop had over 452 people registered after only a week of advertising.
"We probably would have only had 40 people for an in-person event," she said. "The prescribed fire for foresters class has 225 people registered after a week of advertising and we probably would have only had 60 people for an in-person event."
To accommodate a larger number of participants, Valachovic has been pre-recording talks, gathering questions in advance to manage the deluge of questions flowing into the chat box and scheduling live Q and A sessions on Zoom with the speakers and attendees, Kan-Rice reports.
Related:AgCEU online courses more popular than ever
Another useful project the UC is doing is helping people find local farms and purchase their food directly – an activity that's proved popular as people shelter at home and think twice about entering supermarkets.
Consumers can look up farms through the UC Sustainable Agriculture Research and Education Program's new shelter-in-place resources at www.calagtour.org. The site includes regional information and links to farms and ranches that offer box deliveries, farm stands, online ordering, delivery and pickup services, according to the university.
Among other efforts, the California Institute for Water Resources has created a new COVID-19-related web page with information about water safety, use and supply. The site is at https://bit.ly/2V8KBRJ.
Campus closures have introduced many students to remote learning, and the UC is helping out in several areas. The university's Expanded Fruit and Nutrition Education Program, or EFNEP, and CalFresh Healthy Living employees have been providing curricula and other resources to teachers and community organizations to continue nutrition education, Kan-Rice notes.
Parents who are homeschooling their children can get curricula and ideas for activities from their local UCCE offices, she writes.
"We surveyed the needs of the educators and are exploring ways to continue to offer evidence-based curriculum while building skills for staff in the area of online and distance learning, using Zoom and social media platforms such as Facebook Live and YouTube, and other learning platforms such as Google Classroom," said Katie Panarella, director of UCANR's Nutrition, Family and Consumer Sciences Program.
For a complete rundown of all the UC's online activities, check out Kan-Rice's article at https://bit.ly/2XzxuKX.
About the Author(s)
Subscribe to receive top agriculture news
Be informed daily with these free e-newsletters
You May Also Like
---