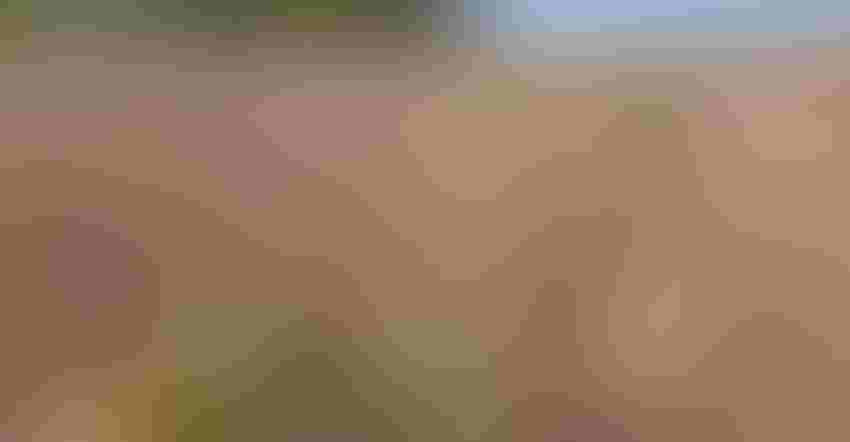 WHAT CAUSES THIS? Have you seen any soybean plants like this in your fields? This one showed up in Todd Schmicker's field near Winamac, Ind., in 2022. So far, attempts to solve the mystery of what's causing these symptoms have come up short.
Todd Schmicker
For over three years, I've attempted to determine what caused a few soybean plants in the Soybean Watch fields to act strangely. They show up near harvest, remaining greener than other plants. Typically, they're spindly with few nodes and small florets of pods.
Steve Gauck noticed them before me. "I've seen them here and there for a long time," says Gauck, a regional agronomy manager for Beck's, based near Greensburg, Ind. Beck's sponsors Soybean Watch.
Related: Filling in gaps was right move
"Overall, it doesn't cause yield loss, so you note it and move on," he says. "It doesn't seem to get more prevalent, but it's around every year. Brand or variety doesn't seem to matter. If I look hard enough, I can find them."
Making it personal
The first year the situation appeared in a Soybean Watch field, I wrote about it. Gauck believed it resembled tobacco ringspot virus or TRSV, and we indicated so in print. A USDA regulator took issue because I didn't have confirmation. His point was well taken. The disease hadn't been identified officially in Indiana. Sometimes foreign trading interests use reports like mine to influence trade deals, whether it matters or not.
So, since then, I send samples to the Purdue Plant and Pest Diagnostic Lab for identification. We've even sprung for expensive tests. There was strong indication in 2021 that Gauck might be correct, but testing wasn't conclusive.
This year, I found some affected plants not only in the Soybean Watch field, but also in a field in Shelby County, Ind. Todd Schmicker, Winamac, sent the photo, which looks identical to symptoms I've seen. So, I sent samples collected in the Soybean Watch field to the Purdue lab again. In fact, we sent samples twice.
What experts say
Several plant pathologists and agronomists examine samples sent to the Purdue lab. When the first sample arrived, John Bonkowski noted it was tested for tomato single streak, TRSV, cucumber mosaic and tobacco streak. None of these causal agents was detected.
The report confirmed that pods were shrunken and aborted, but also noted that stem pith appeared healthy. The official report theorized that since so few plants were affected, the cause was unclear.
Two weeks later, we sent a second sample, making sure plants arrived in better condition. This time, no TRSV was detected, but downy mildew was confirmed and cercospora stem blight was suspected. Those are well known diseases, and neither should account for the unusual symptoms.
So, what did the lab report say this time? Observations included noting that older pods were slightly deformed. The most normal, mature pods had some lesions outside but healthy seeds inside. Youngest pods were proliferating at higher nodes, but very small.
The specialists also noted that these plants had similar symptoms to another sample that tested positive for TRSV. However, after extensive testing with the Soybean Watch sample, all foliage and root samples tested negative for TRSV.
"It's unclear what's causing these symptoms," the report concluded. "Given the percentage of plants affected, found in multiple fields and during different years, it could be related to a virus, environmental conditions or genetic abnormalities."
Translation: The case remains unsolved. Stay tuned!
About the Author(s)
Subscribe to receive top agriculture news
Be informed daily with these free e-newsletters
You May Also Like
---