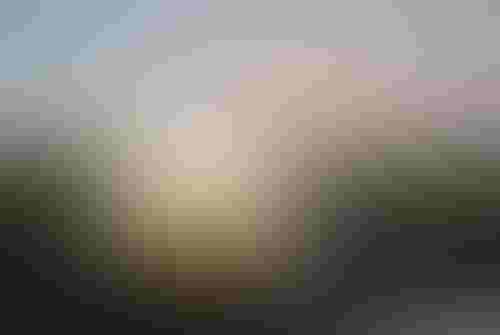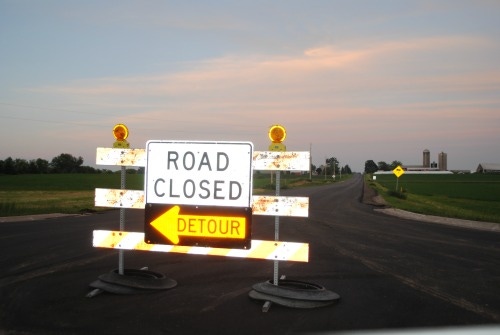 You know the saying, in Wisconsin there are two seasons – construction season and winter. As I travel the highways and bi-ways of the state, this year that could not be more true. It seems no matter where I go, there is road construction everywhere.
Can't get there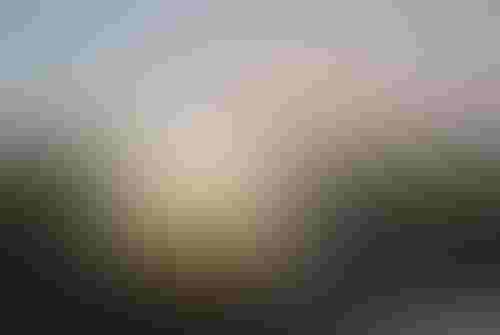 Road Closed signs like this one are a common site this summer across the state.
Nowhere is road construction worse than in Madison. When I traveled there in June two different days to attend the Wisconsin FFA Convention at the Alliant Energy Center, I was warned to avoid the Beltline and John Nolen Drive where you exit the Beltline to get to the Alliant Energy Center. The on and off ramps for John Nolen Drive are closed and orange barrels, shifting lanes and lane closures on the Beltline make it tedious at best to drive on. Long backups are common during morning and afternoon rush hours. There is also construction on Interstate 90 at Highway 151which leads to the Beltline.
To get to the Alliant Energy Center, I chose what I thought was the lesser of two evils. I stayed on Highway 151 (Washington Avenue) to Gorham Street, however I soon discovered there was considerable construction on Gorham. On my trek toward University of Wisconsin-Madison, I noticed several other streets including Frances Street, Henry Street, State Street and Broom Street were also torn up. In fact, I noticed that downtown Madison looked more like a war zone or destruction zone than it looked like a construction zone – kind of scary. As I turned off of University Avenue onto Park Street and drove past Johnson Street, I made a mental note I was not going to be able to return home this route and take Johnson Street because that was a complete mess. That meant I had to get on the Beltline at Rimrock Road and take my chances.
Fortunately, I did not travel on the Beltline at rush hour, so it was doable but challenging. Shifting lanes means traffic must stay in its lane and zig here and zag there – not fun, especially if you are between two semis zigging and zagging with you!
I'm not sure which route was more nerve wracking, but I did take a deep breath after I was safely back on Highway 151 and exiting Madison. But it seems roads all across the state are under construction this summer. Even in my own backyard, two of the three main routes from the small town where I live in Brandon to Fond du Lac 18 miles east are blocked due to road construction. One of the roads, County TC, is expected to be completed in July, but that is when the main route south of Brandon to Waupun is going to close to redo Highway 49. Highway 23 just west of Ripon is also closed.
It is good that these roads are being repaved in the long run because so many of the roads in the state are filled with potholes from our long and cold winter, but it's the short run that is proving challenging. In early June, I traveled with my son, his roommate and his roommate's dad to UW-River Falls where the boys registered for the fall semester. As we were driving along on I94, I was sure we would see orange barrels and encounter road construction. I don't think I've every driven on I94 between Mauston and the Minnesota border without encountering orange barrels, and this year is no exception. The orange barrels start at Eau Claire and extend west on I94 for about 10 miles. I figure they must do a 10-mile stretch of that highway every year and when they get done they must just start over!
There are plenty of other roads under construction this summer including finishing up the making Highway 26 four-lanes between Janesville and north of Watertown which is nice to see but a hassle to navigate in the construction areas.
Short of staying home, there is little any of us can do about road construction – it's a necessary evil in both urban and rural areas of the state. I figure if winter holds off until December and construction projects get completed before snowballs fly, there might be a two-week window around the middle to end of November when most of the road construction projects are completed and the snowplows aren't out on the roads yet and the next season begins. We'll see if that happens!
About the Author(s)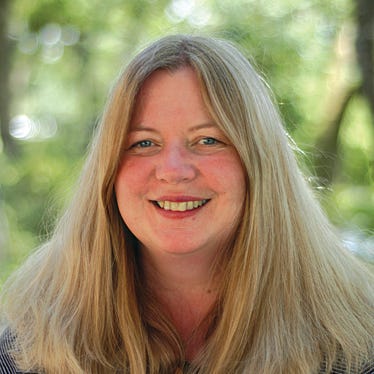 Wisconsin Agriculturist Editor
Even though Fran was born and raised on a farm in Illinois, she has spent most of her life in Wisconsin. She moved to the state when she was 18 years old and later graduated from the University of Wisconsin-Whitewater with a bachelor's degree in journalism.
Fran has 25 years of experience writing, editing and taking pictures. Before becoming editor of the Wisconsin Agriculturist in 2003, she worked at Johnson Hill Press in Fort Atkinson as a writer and editor of farm business publications and at the Janesville Gazette in Janesville as farm editor and feature writer. Later, she signed on as a public relations associate at Bader Rutter in Brookfield, and served as managing editor and farm editor at The Reporter, a daily newspaper in Fond du Lac.
Subscribe to receive top agriculture news
Be informed daily with these free e-newsletters
You May Also Like
---