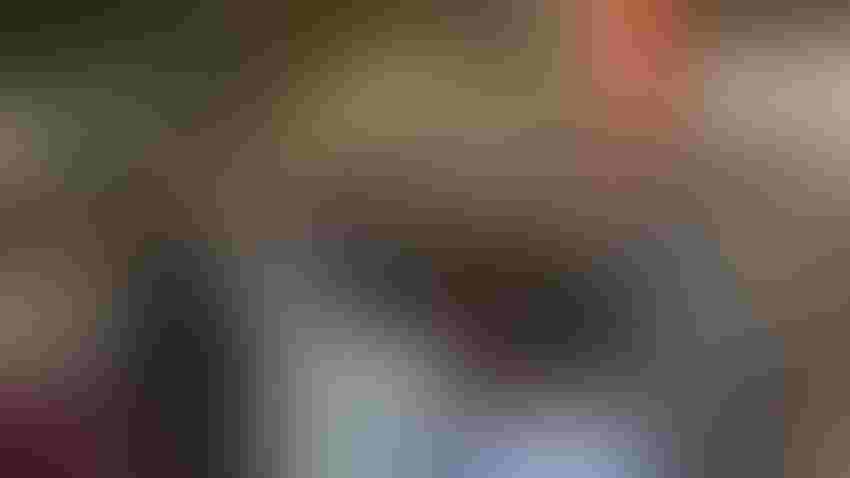 BOOTH VISITORS: More than 300 New York Farm Show visitors took part in the American Agriculturist gift card giveaway contest. Entrants were asked a series of questions about their goals for the 2023 growing season and the effects of farm policy on their operation.
Chris Torres
Between what's happening on the farm and in places far away from our communities, we all have a lot of things on our minds.
I know I always have things on my mind. Between raising three children, working a full-time job and umpiring baseball games in spring (yes, I umpire baseball games), I sometimes forget to stay positive when things get stressful.
Every year at New York Farm Show, I ask visitors to my booth to share some "positive wisdom" for the year. Last weekend was no different. It was great to see more than 350 people take part in my annual survey.
Some gave long answers, while others were short and to the point. But they were all interesting:
Short and sweet
Steve Haak of Ontario, N.Y., kept his reply simple: "Pray."
Danielle Wilcox of Cobleskill, N.Y., says, "Be safe!"
Josh Wells of Bethany, N.Y., says, "Find your people."
Young farmer wisdom
Alyssa Tatro of Canaan, Conn., writes, "FFA backs you. Keep on working hard."
Hayley Swaller of West Cornwall, Conn., writes, "The future farmers of America are here to help."
Kendra Nop of Montgomery, N.Y, writes, "Get the young generation farming."
Business wisdom
Several answers focused on business and things producers should remember:
Matt VanHeusen of Georgetown, N.Y., thinks farmers should "do lots of research."
Rebecca Boomhower of Selkirk, N.Y, says, "Watch your costs."
Shawn Bender of Glenfield, N.Y., writes, "Don't overspend."
Andrea Schmidt of Sherburne, N.Y., had the same sort of message: "Don't spend more than you make."
Stay positive
Most of the answers, though, focused on simple, positive messages:
Diane Kemmeren of Bainbridge, N.Y., writes, "Keep your chin up! Better times are coming."
Corey Baxter of Churchville, N.Y., writes, "Keep your heads up, and keep moving forward."
Ben Cargill of New Ipswich, N.H., writes, "Rely on yourself."
Thomas Dufrane of Central Square, N.Y., says, "Never give up. Chase your dreams."
Paul Mastiwe of Melbourne, Quebec, Canada, says farmers should "enjoy what you do."
And for those thinking of throwing in the towel, James Loomis of Fabius, N.Y., has a message for you: "Quitting is the only way to fail."
Do you have any positive wisdom you want to share with your fellow producers? Email [email protected].
And the winners are …
Congratulations to Ashley Youngers of North Java, N.Y., the winner of this year's $350 gift card from Tractor Supply Co.
More than 350 visitors to the American Agriculturist booth entered to win in our annual New York Farm Show Farmer Poll. This year's prizes were the $350 Tractor Supply Co. gift card and five $100 Cabela's gift cards.
Here are the five people who had their names drawn for a $100 Cabela's gift card:
Isaiah Visser of Versennes, Vt.

Brian Getty of Granville, N.Y.

Sarah Molnar of Corfu, N.Y.

Jack Raves of Lyons, N.Y.

Linda Young of Fulton, N.Y.
Subscribe to receive top agriculture news
Be informed daily with these free e-newsletters
You May Also Like
---