Most of us in the ag community are "straight shooters" – and I'm not talking about Winchesters,Remingtons or their likes.  A recent visit with Shelley, a farm mom of two teen boys, left me inspired and with fresh ammo about the critical importance of training up productive kids.
Most farm youths, especially those in 4-H and/or FFA, think and act radically different than city kids. That's because most farm parents focus on building character and a work ethic. Too many citified parents don't have a clue and too many politicians see it as politically incorrect.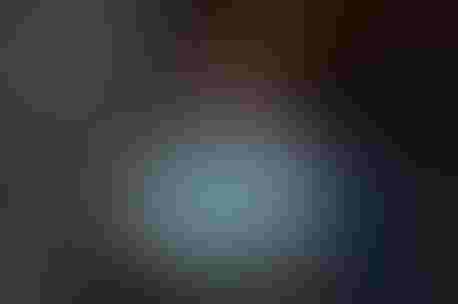 STANDING UP FOR 4-H: This 4-H teen was among hundreds carrying the resounding "Good kids equals good investment" message to Pennsylvania's state capitol early this spring. And, they succeeded in conveying their positive message.
See through political correctness for what it is – a counterproductive sham that's slowly eroding the moral foundation and work ethic of our nation. "Whoa," you say? Read on. I'm betting you'll agree.
A week ago, our local high school football coach rounded up his team to help move about 2 tons of books for a town library book sale/fund raiser. They aggressively tackled those books with the eagerness of hitting blocking sleds – all for bellies full of pizza and Pepsi.
Then came the coach's stunner: "About seven of 10 kids in high school are from broken homes," meaning families impacted by divorce, separation and/or a parent with alcohol or drug problems.
No wonder so many kids have problems that hamstring learning if their heads aren't in the game. No wonder, teachers fear the children and the children fear no one. The problem has festered and grown for years because we've failed to address the root causes.
Challenging political correctness
TV pundits and politicians blab that technology is being exported and taking away skilled jobs from America's work force. One reason, they argue, is that today's youths don't come out of schools with skills to do today's jobs. That's a too-easy, politically correct answer that sidesteps the root causes.
It's politically incorrect to talk about moral values – the foundation of stable families! It's politically incorrect to report grim statistical outcomes of dysfunctional families. How can teens learn if they've been emotionally bankrupted and left to peer influence of other hurting kids?
More on that shortly, but first . . ..
Farm kids have innate advantages
In agriculture, young people get "on-the-job training" even before joining 4-H and FFA. They know all about the birds, bees and bulls. They're often exposed to learning experiences at fairs, livestock shows, field days and meetings with Mom and/or Dad. As Shelley pointed out, "Those long pickup rides (captive audience) give us time to talk about things bothering them."
In 4-H and FFA programs, they reinforce education's value with real-life skills and applications. They learn that the care and feeding of animals translates into money made or lost. Ag mechanization skills prove invaluable in any career. Perhaps the biggest advantage is that they connect with like-minded, upwardly mobile ag youth.
High schools with strong "ag ed" programs often have student waiting lists. Shelley's boys, still young teens, already envision farm and wildlife management careers.
By the time farm kids become young adults, they've acquired practical business sense about details most urbanites have no clue of. They can calculate ounces of active ingredients and per-acre profits in their heads. They know the importance of balancing rations and checkbooks.
Education is continual in agriculture, and doesn't stop with high school or college graduation. Today's farmers must be certified and recertified to apply pesticides, even manure.
Bookkeeping, too, starts early. Remember how that first calf you raised has since grown into a herd, and continues to grow via even more sophisticated with measures of cost-and-return projections, baselines and benchmarks. Or, maybe it started with the first batch of sweet corn put out at the roadside market and the dollars collected daily from consumer sales.
For me, gleaning cornfields after harvest meant that I had six months of free ground ear corn to feed my 4-H cattle. It substantially reduced feed costs in my project report.
You learned the value of smart thinking via real-life business experience, because farm kids are rarely left to their own devices. Mom and Dad, even grandparents, are daily teachers.
On the soapbox
So how do we reverse a society that requires two-parent full-time incomes to sustain a family? Most middle-class families struggle to make ends meet. Lack of money is the biggest cause of family break-ups. I've seen it all too close-up.
One partial answer is that we must curb government spending to stem tax-dollar erosion from middle-class paychecks. Not doing so plays into the hands of extremist thinking.
Right now, welfare pays better than what many families can scrape together working two jobs. Don't say: "Just raise the minimum wage." That's the pundit's politically correct solution – which won't help most middle-class families.
Reducing taxes and government spending will. Until citizens have greater incentives to take personal responsibility for their own actions, we'll always have more government and taxes than we can pay for. Okay, off the soapbox.
Beware of this spreading 'blight'
Rural America's values once protected it to a great degree from the ravages of divorce. Not so today. It's rapidly catching up with the national average divorce rate and urban America's, according to U.S. Census data.
It has changed dramatically since 1980. Today, you probably can count the predominantly rural counties with well-below-average divorce rates on one hand. They're all on the Great Plains.
Why bring this up? Farm kids can also be divorce victims. It impacts them emotionally and economically, and can influence their career choices and opportunities.
So we're back full circle to society's ills and the political incorrectness of limiting government growth and restoring America's core values. Ooo, it's so politically incorrect – yet so critical to get done!
Subscribe to receive top agriculture news
Be informed daily with these free e-newsletters
You May Also Like
---