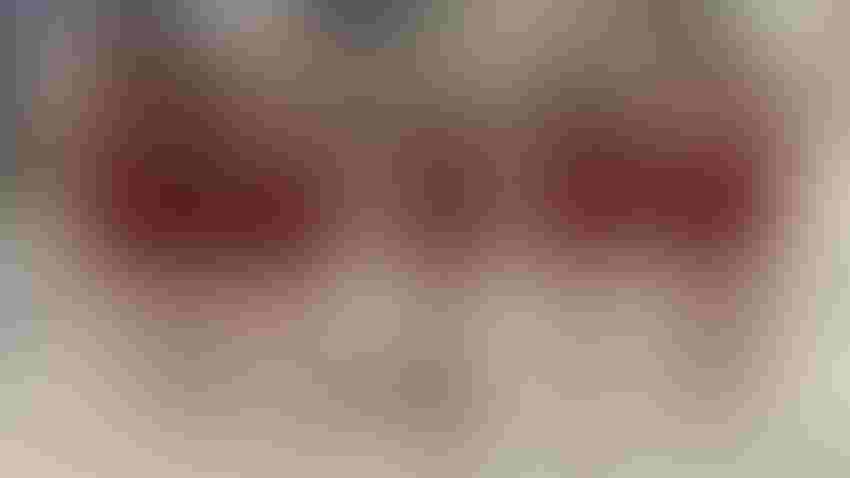 STANDING TOGETHER: Louisiana Bulldogs and Clopton Hawks cheerleaders gather before a basketball game at Clopton High School to pray over the contest — asking for protection for all involved.
Mindy Ward
They were wearing different uniforms from different towns, yet they were standing in the lobby united. It wasn't because of an injury or tragedy. It was apparently a typical moment before a high school basketball game in a small town.
My winter is spent on a bleacher in a basketball gym somewhere in northeastern Missouri watching my nieces and nephews compete. I go and pick my seat about 20 minutes before the game and wait. But this time, I ventured out and ran on a scene that made me stop.
There in the lobby were the Louisiana Bulldogs and Clopton Hawks cheerleaders together, hand-in-hand, supporting one another, the athletes and their schools.
Now, anyone who attends a sporting match knows small-town rivalries are not only revered, but also often the most heated contest in the county. The gym is packed from top to bottom on both sides, each donning their own school colors. This matchup can bring out the best in players and the worst in spectators.
Cheerleaders are called on to encourage a team and stir up support from fans. They bring their school's spirit to the game. And apparently, this group of young women was dedicated to the entire spirit of small towns.
They decided to put all that rivalry aside and stand together, lifting up those athletes in the contest, those in attendance and themselves. And it got to me.
I thought of their willingness to stand boldly as people passed by. What courage. What resolve to be the ones in the gym who say, no matter the outcome, we will remain small-town strong, we will continue to support one another.
I thought of their schools and how they are raising leaders for our rural communities. Say what you will, but I come from a family of teachers and coaches. They invest time in their students.
Trust me, the money they receive for coaching a sport does not cover the cost of nights away from their own families. I've seen it firsthand. They do it to make a difference in the lives of young people and in their own small town.
I thought of the parents and how they are instilling values in their daughters. Well done. Trust me there are moments you wonder — is this even sinking in? I'm here to tell you and show you, yes, it is. Keep "preaching" at your kids. It takes that faith, those values, to sustain our rural communities.
So, to those small-town schools and parents, thank you. You see, just when you think no one is watching, your kids reflect the true heart of rural America — unified, supportive and steadfast — no matter our differences.
To our rural youth, keep it up. We see you. We stand with you. We are proud of you.
Subscribe to receive top agriculture news
Be informed daily with these free e-newsletters
You May Also Like
---