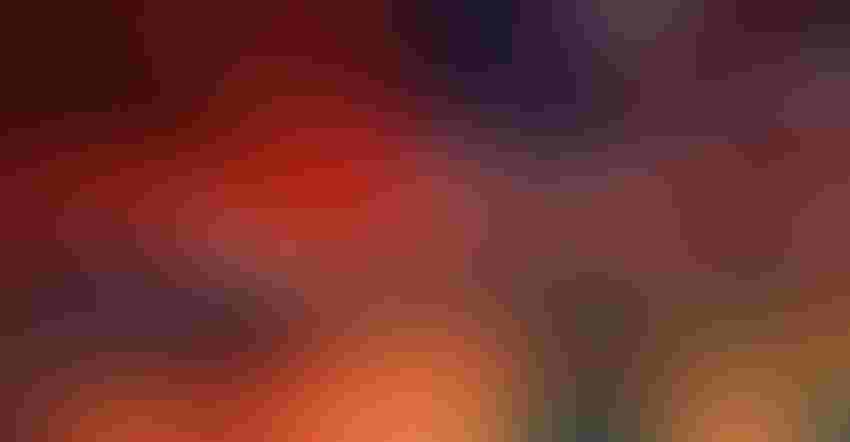 When China's GDP readings were reported Sunday night by its National Bureau of Statistics, markets were surprised – and not in a good way. The third quarter 2021 GDP growth estimate of 4.9% was certainly nothing to yawn at, but it was noticeably smaller than second quarter growth rates of 7.9% due in large part to ongoing supply chain issues induced by the pandemic.
But how does this impact U.S. farmers? The tea leaves are a little complicated to read but nonetheless relevant to U.S. agriculture. And with peak soybean export season in full motion, all of these factors will play a critical role in determining the viability of the Phase 1 trade agreement.
Ongoing economic disturbances...
Supply chain issues are not solely being experienced by U.S. consumers. Production and shipping schedules are still playing catch up following factory closures in China early in the pandemic.
The collapse of the over-leveraged developer, Evergrande Group, has stalled property construction and development and triggered a crackdown on speculative business ventures across the economy. At the same time, China is doubling down on investments in what it views as core industries, including high-end manufacturing, artificial intelligence, renewable energy powered vehicle development and food production.
But commercial and residential energy consumption outpaced demand targets set by state planners earlier this year. Coal generates some 60% of China's electric grid and dwindling supplies leading up to winter have already forced the government to periodically shut down factory production across China's northern regions.
Excessive rains and flooding in the region over the past two months has not only slowed fall harvest and winter wheat planting in the north but it has also reduced available coal production, stretching already thin energy supplies.
…Trickling into China's ag production woes
Soymeal processing factories were among the casualties closed during the energy shutdowns early in October to the distress of Chinese hog producers. The uptick in soymeal prices as a result further drove tight hog margins into the red.
Lower Chinese hog prices could put a ceiling on the rapid expansion project following 2018's African swine flu catastrophe, which killed over half of China's hog herd. In the past year, China has added 67 million head of hogs to its national herd, with the current total of 438 million head matching pre-ASF volumes.
But the tight margins have already set in motion a selloff of the Chinese breeding herd, which saw falling volumes in July through September. China's Ministry of Agriculture and Rural Affairs now targets an average breeding herd size between 37 million and 41 million head. As of October, the Chinese sow herd stood just shy of 44.6 million head.
A larger poultry flock has increased substitution pressure in the Chinese meat market and ration requirements for the country's livestock. The expanded hog herd also eases supply pressures and with feed costs rising in tandem, Chinese pork producers are not likely to replicate last year's hog market expansion, limiting soy demand in the coming year.
The Evergrande Group housing crisis, supply chain backlogs and energy stock shortages certainly could result in a global economic slowdown, which could curb meat consumption in China over the next year. Whispers are already circulating that China's current corn imports could shrink in the coming year on rising Chinese production.
U.S.-China trade flows
China is expected to harvest nearly 5% more corn and 2% more wheat this year as part of an acreage expansion designed to enhance domestic food security in the world's second largest economy. However, the recent rains in China's northern crop growing regions are raising quality and yield concerns about the corn crop and 2022 winter wheat sowings remain behind pace amid soggy soils.
With a potential contraction in sow inventories and concerns about corn and wheat crops, where does that leave U.S. row crop producers?
Chinese buyers booked historic volumes of corn, soybeans, and wheat last year, sending Chicago futures prices for each commodity to at least an eight-year high by May of this year (note – at press time, Kansas City wheat is trading at a 7.5-year high and Minneapolis wheat is trading at a 9-year high).
But so far in the first six weeks of this 2021/22 marketing year, the U.S. has only shipped 24.8 million bushels of corn to China, down from 54.0 million the same time last year.
For soybeans, which are entering peak export volume season, marketing year to date shipments to China are down by two thirds from a year ago to a paltry 75.7 million bushels.

Marketing year to date wheat shipments to China beginning in June 2021 are down 31% from the same time last year to 31.0 million bushels.
Is China simply waiting for harvest price lows to be set before snapping up more bushels? It's possible, but current outstanding export sale data for the 2021/22 marketing year still falls short of last year's benchmarks.
China has only booked 405 million bushels of U.S. soybeans to be shipped over the next 10 months – only 63% of the volumes on the books the same time a year ago.

China has largely already purchased all of the U.S. wheat it set out to buy this year but is not booking orders for anymore wheat at this time. Over 10 million bushels of U.S. wheat have shipped to China in the past seven weeks and only 174,846 bushels are left on U.S. books to ship to China this year.

Corn is the only commodity currently bucking this trend. Outstanding corn export sales to China as of week 6 in 2021/22 are 29% higher than the same time last year at 444 million bushels remaining to be shipped this year.
To be sure, Hurricane Ida damage at the U.S. Gulf late in August 2021 slowed shipping paces considerably during the month of September. USDA's World Agricultural Outlook Board also forecasted lower cumulative 2021/22 export rates for corn, soybeans and wheat after supply forecasts came in tight.
But the combination of rising Chinese corn and wheat production paired with a scale back in the expansion of China's hog herd in the coming months should be a caution to U.S. farmers that China's 2020 grain buying spree was an outlier, not a trend. In the short-term, expect lower grain volumes shipped to China this year.
Despite higher outstanding corn exports from the U.S. to China in the current forecast, that could quickly be upended. USDA attaché reports suggest that China could import 236 million fewer bushels of corn this year, dropping the total expected import volume for 2021/22 to 787 million bushels. The U.S. supplied approximately 80% of China's corn supplies in 2020/21.
Phase 1 - revisited
So where does this leave the infamous Phase 1 trade agreement? Remember, the Phase 1 trade deal was negotiated on the basis of currency, not volume. The agreement stipulates that Chinese purchases of U.S. ag goods would be $12.5 billion over the 2017 baseline in 2020 and $19.5 billion over the same benchmark in 2021. China purchased $24 billion of U.S. ag products in 2017, placing the 2020 target at $36.5 billion and 2021 goal at $43.5 billion.
The agreement is exceptionally vague in terms of strategy and implementation. Calendar year 2017 trade values are commonly accepted by the market as the "baseline" for the trade agreement, though it is not stipulated in the document (which you can read here). Rather, that assumption comes from comments made by former U.S. Trade Representative Gregg Doud to the audience in attendance at the 2020 USDA Agricultural Outlook.
Timing is also vaguely specified in the agreement. The agreement's text specifies that a total of $80 billion in Chinese purchases of U.S. ag products would be made over the next two years, for an average of $40 billion in purchases per year following the agreement's nullification. But again, specific dates are not outlined in the agreement, so the timing of the measurements remains vague and prone to speculation.
Using calendar year methodology (January – December), China only purchased $28.9 billion worth of U.S. agricultural products in 2020. If the February 2020-2021 methodology is used – assuming the measurements for time began after the trade deal was enacted in January 2020 – then that value rises to $31.5 billion. But that still falls short of the generous $36.5 billion target and the even more stringent $40 billion per year average.
So far in 2021 through August, China has purchased $19.5 billion worth of U.S. agricultural goods. That total is 80% higher than the same time a year ago thanks to higher commodity prices.
But U.S. ag products shipped to China in August 2021 fell 8% lower than the same month in 2020 as China reduced grain import volumes following its larger corn and wheat harvests. Seasonal soybean exports to China typically reach peak volumes in October – December. High prices will keep the export dollars rolling in, though it is unlikely to reach the 2021 Phase 1 goal of $43.5 billion.
With a record-breaking crop forecasted to be harvested from Brazil in January, the window for U.S. soybean exports to China may not stay open as long – or as wide – as last year. U.S. farmers are rapidly booking sales at export terminals this fall and wisely so.
But even with peak soybean export season ramping up at U.S. export facilities currently, it still seems unlikely China will hit Phase 1 targets that U.S. Trade Representative Katherine Tai recently said would be enforced. Plus, the increase to global and U.S. corn and soybean supplies introduces some price weakness that would erode Phase 1 prospects, though it seems likely that 2021/22 U.S. grain prices will average higher than those of 2020/21.
The Phase 1 trade deal did not provide the soundest parameters for agricultural trade between the U.S. and China. And while China continues to book U.S. grain shipments based on its own supply and demand economics, potential Chinese pushback from U.S. "enforcement" of Phase 1 targets could open the door to bearish prices for U.S. growers, especially if overarching economic conditions in China continue to have a negative impact on Chinese agricultural production.
In an era of rising grain supplies and soaring input expenses, is that a gamble farm country can afford to make?
Subscribe to receive top agriculture news
Be informed daily with these free e-newsletters
You May Also Like
---