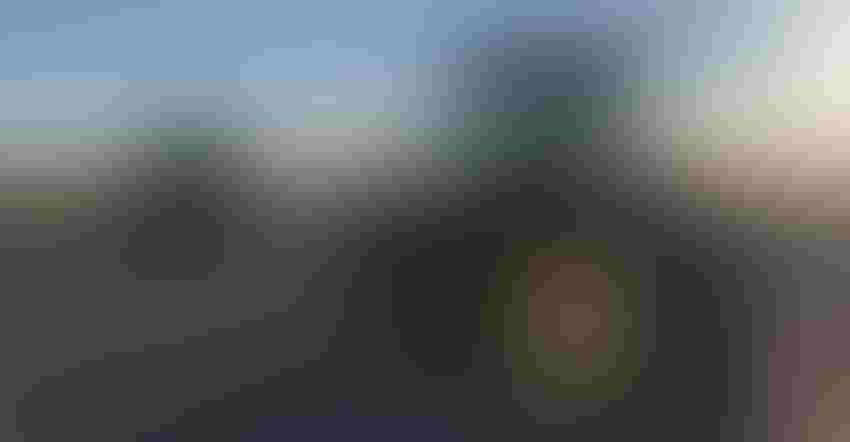 MOVING TO AUTONOMOUS: Bear Flag Robotics, recently purchased by John Deere, will retrofit tractors with autonomous kits mainly comprised of a roof rack that plugs into the Deere system.
John Deere
Farmers are so busy with day-to-day tasks, it's hard to appreciate the cool technology they get to use.
Take autosteer, for example. If you recall its early days, most farmers said, "Why on earth would we need that?" Now those same folks say they don't know how they could live without it.
It was invented over 20 years ago by NASA and Stanford engineers who wanted to use satellites to automatically control spacecraft and, eventually, automatically land airplanes. By using RTK GPS technology, it quickly became apparent how farmers could benefit, too. So those engineers started a Silicon Valley company — and the rest is history.
That solved application accuracy — remember crooked rows? — and operator fatigue.
What's next? Fixing ag's labor problems?
You betcha.
Coming soon to a farm near you
An autonomous tractor that tills your fields 24/7 while you work on planting or spraying will likely be rolled out on Corn Belt farms in the near future. Many large equipment companies are racing to put autonomous tractors in your fields, and some prototypes have no cab. John Deere's approach will be different. It recently spent $250 million to purchase Bear Flag Robotics, a Silicon Valley startup that retrofits conventional tractors for autonomous use with lidar, radar and camera sensors.
It will turn any tractor into a hybrid that can be used either by humans just as you normally would, or to run on its own. Deere wrote the check just as Bear Flag began to raise Series A funding, which is where a company seeks big dollars to move to an IPO and go to market.
This tech offers a real-world vision of the computer game "Farm Sim," where you control tractors from anywhere in the world. A map on your computer shows machines A and B from a bird's-eye view, tilling field No. 47, guided by satellite. On the left, you see key metrics, such as fuel availability. You click another button and you see the real-time view from each cab, with the field slowly disappearing as the tractor rumbles on.
As anyone knows who has disked a field — me included — these are brain-numbing hours.
Farmers can already track their fleet on a screen, but the big difference is there's a human inside machines A and B. Now, your autonomous tractor will do the work, while your humans do other things. 
Game-changing. Mind-bending.
From quarry to field
If the NASA-autosteer story is any indication, brilliant new ag tech tools can spring from some unusual places. The idea for Deere's new autonomous tractor tech came, strangely enough, from a quarry. Igino Cafiero is a Stanford-trained engineer-entrepreneur with an MBA from Wharton. His wife's family owns a construction aggregates quarry in Oregon. After talking with family, he discovered that the biggest constraint in mining was labor and wages, so he started thinking about building a simple robot cart to haul minerals back and forth. Then, he started hearing similar complaints from folks in construction, transportation and, most importantly, agriculture. So he began talking to growers — hundreds of them, who all told him the same thing: ag is in a labor crunch and the situation is getting worse by the day.
Those words became something of a mission statement for Cafiero. So in 2017, he and co-founder Aubrey Donnellan launched Bear Flag with the main purpose of converting a conventional tractor into a dual-purpose manual or autonomous vehicle.
Deere has been very hush-hush in announcing how it will be made available to Corn Belt farmers. For now, the company is focusing on autonomous tractors for simple tillage. For many, that may be all that's needed.
"For people doing tillage In the Midwest, I can see an immediate easy fit, because a tillage pass doesn't require a lot of bells or whistles," says Rodney Rulon, who grows corn and soybeans with four cousins in north-central Indiana.
Autonomous tractors could be a real labor saver in the fall for farmers who complain they don't have enough help to manage harvest, let alone running a drill filled with cover crop seed. "If you can put an autonomous tractor and drill out in a field by itself while you go manage harvest, the technology could be useful pretty quick," Rulon says.
Lots of questions
There's still a lot to learn on how this will work:
How much will it cost? Bear Flag and Deere won't say, but the kit will have a price for either new or certain recent-model used tractors. You will also need to pay an annual subscription that provides software updates. The annual subscription will offer routine software upgrades that increase functionality, just like your smartphone.
"We're looking at examples in other industries to see how that works best," says Cafiero. "We'll have a pricing structure that makes sense for the grower, one that they can get behind."
Will it be available to tractors other than Deere? Again, no comment.
When will it be available in the Corn Belt? Still under discussion. "But we want to move as quickly as possible to have autonomous vehicles available on farms," Cafiero says.
How will the technology be used? Will a farmer buy it outright and have the tractor retro-fitted? Or will it be a service, attached to a leased tractor? "So far it's been a service, but we've reached the point where farmers can run their own autonomous equipment, supported by their dealership," says Cafiero. "We want it to be walk-up easy and intuitive; you don't have to be roboticist or have a PhD to get this working."
And those dealers are exceedingly excited about autonomous, he continues. "They feel the labor pain from the growers," he says. "Labor availability is one of the existential threats to farming."
Rulon agrees.
"As operators if we can have one skilled valuable employee here year around who's trained to manage three planters, keep them all working right and moving from field to field, and not have to have someone tied to a tractor seat when you're going back and forth, autonomous tractors make sense," he says. "With the difficulty of finding and paying for labor, this is becoming more and more appealing."
Dealerships will install the kits, which are mainly comprised of a roof rack that plugs into the Deere system, explains Daniel Carmichael, Bear Flag farming operations manager.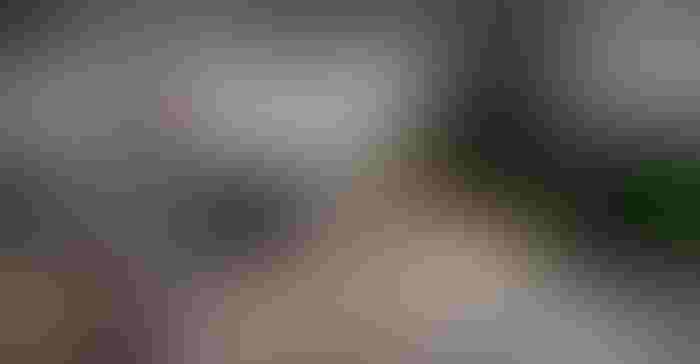 Learning machines
But in talking with Cafiero and Carmichael over the past few years, I've learned that there's much more to what this tech can do beyond tillage and drilling cover crops. These will be learning machines that can collect and report data. Functionality improvements will be added over time.
"We will have a product that is continually making itself better," Carmichael says.
So next year it may be tillage, which techies call a "fixed path" moving back and forth guided by GPS. A year later, the tractor might be programmed for "dynamic path planning" — tech talk for guiding an autonomous vehicle on unique paths from one location to another. For example, a combine operator presses a button and a robot tractor with grain cart pulls up to get grain on-the-go during harvest.
Carmichael explains that there is potential to add a lidar-based 3-D perception system, similar to technology in autonomous cars, that show augmented reality images of buildings that surround the vehicle as it drives through streets.
Not to get too wonky, but in effect, it uses millions of laser beams to build a point map of the tractor's surroundings in real time, so a remote operator can look around the tractor at images of crops in a 3-D space.
"Now we have the ability to have that space come alive in a real-time, augmented reality world," Carmichael says. "What the engineers are working on for tomorrow is mind-blowing."
Like autosteer, autonomous vehicles may ensure more efficient use of crop inputs. The new see-and-spray sprayers do an ultra-precise job killing weeds but may need to move slowly. Who wants to pay someone to sit in a tractor going 4 mph? When you remove the opportunity and wage cost of labor, doing a slower job over a 24/7 period may get the job done better and save on inputs.
What's more, think about how your equipment needs change with two 200-hp tractors that work 24/7, or do two tasks where only one had been done before, or that can be linked together to mimic one high-horsepower tractor. When you take two of these tractors and double your horsepower to pull a big implement, you may not need that costly 500-hp tractor anymore.
"Technology could give you more options down the road, but for adoption to take place today, you have to meet customers where they are at," Carmichael says.
Vetting the tech
Bells and whistles are fun to write about, but getting to this point wasn't easy for Bear Flag and Cafiero, as anyone who launches a startup will tell you. Fortunately he did not make the mistakes so many ag tech startups make – that is, building a tech tool without proving it in real-world farm fields.
"People say it takes a 50-50 blend of the Silicon Valley entrepreneur-engineers along with the farmer boots-on-the-ground guys to make this work," he says. "I couldn't agree more. A lot of companies failed hard because they built their products in a bubble and didn't leave their office to go see how it worked on the farm."
Bear Flag Robotics has been testing and working with growers nonstop since it launched its first retrofitted tractor. Its "proof of concept" stage is raw and real, earned over many thousands of acres of starting and stopping, evaluating, fixing, and restarting.
"Ultimately, startups are an experiment," he told me when Bear Flag was in its early stages. "You need to be very specific about what questions you're trying to answer. At a high level, we're answering how can we grow more food with fewer resources on less land. On the farm level, we're trying to answer how are growers inclined to utilize autonomous tractors and how can we provide that to them. We have theories, but it's our job now to test those theories and that's what we're working on."
The autonomous kit will be co-branded by Deere and Bear Flag, which is growing the team quickly to keep perfecting and upgrading the tool. It was approaching profitability working with specialty crop growers in California, Florida and Washington when the Deere deal was announced in August.
One can only imagine how Corn Belt farmers will respond and use the technology. There will be skeptics.
Don't you still need a second person to run the tractor out to the field before you let it do its thing?
For now, no one wants an autonomous tractor on a public road, even in "follow me" mode where the tractor follows a lead vehicle. There's too many what-ifs on public roadways right now, Carmichael says. So yes, someone needs to drive it to the field first.
"The customer is going to come up with ways to solve this," Carmichael says. "You get to the field; set it up probably on the biggest fields. When they see they can save five or 10 hours of time and go work somewhere else, they will find somebody to give them a ride."
Cafiero agrees.
"For a farmer, there's a quality-of-life change when you monitor machines rather than operate them," he says. "It was the same with autosteer systems. Growers could now go home and take in a baseball game or take their spouse to dinner and not feel fried at the end of the day."
Even if you do have to drive and drop off the machine, you've just multiplied your productivity. And if you can do that for two or three more machines, that can be game-changing.
"Folks change how they think about their operation on a fundamental level."
Subscribe to receive top agriculture news
Be informed daily with these free e-newsletters
You May Also Like
---