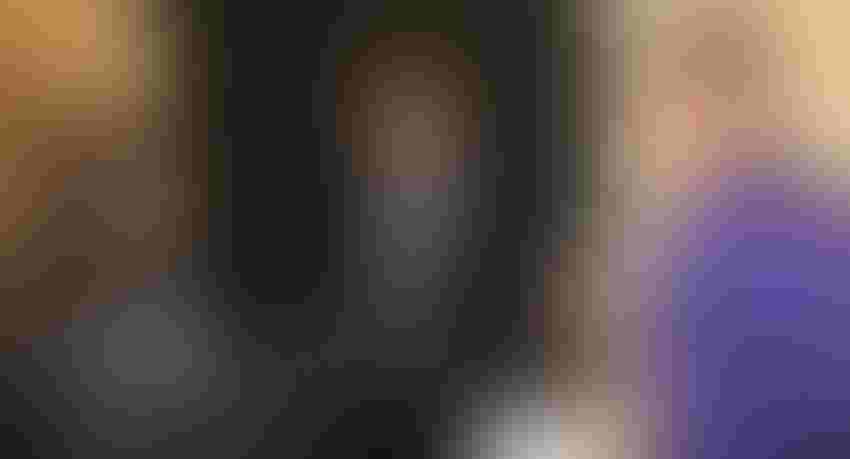 Jeff Bitter (center) of Allied Grape Growers talks with reporters at the Unified Wine and Grape Symposium in Sacramento in February.
Tim Hearden
I have long believed that my success as an ag journalist has more to do with the relationships developed over the years and the good fortune I've had to secure the trust of leaders in agriculture than any skills I may possess.
I continue to struggle personally over the idea of how to thank these people outside of a phone call or personal visit. There may be a lesson here for those coming behind me who may want to work in ag communications. I hope so.
On a recent day off taken to my birthday one of my good sources called with sad news. His former boss and a man who was part of a decision to hire me over 20 years ago for an ag communications job that would expose me to what I have come to greatly enjoy succumbed to cancer earlier in the day.
The loss of more than a good source – I think I can safely say Martin Pohl was a friend, because that's what he called me when introducing me to people he knew – still has me in a melancholy mood. My condolences to his family and close friends.
Pohl was one of many people in agriculture who over the years trusted me. He was one who without hesitation would introduce me to people he knew in the almond industry. In recent years we typically only saw each other at the annual Almond Conference in Sacramento. His trust in me more recently included making himself available for an impromptu interview immediately following the announcement that Olam would purchase Hughson Nut Company. Pohl was one of the owners of Hughson Nut.
There are others – perhaps too many to list with explanations here – who I credit with my success. Notwithstanding those who hired me seven years ago to help write for Western Farm Press, there are a handful who I would like to thank here, though I fear the inability to mention everyone. These are a few of the more significant folks out there I cannot further avoid thanking.
Turlock, Calif. dairy producer Ray Souza introduced me to various industry leaders at an event as the new ag reporter for a small newspaper. What still humbles me was was how he employed his capital in the industry to vouch for me at a time when none of them knew me. He was the first of many to do this. Pohl did this too.
Ron Macedo, another Turlock area farmer, also deserves thanks. Not merely for trusting me with a communications position he wanted to fill with an organization he served as board chairman, but for the kind words he has had for me over the years. I could name more: farmers who perhaps rightly distrusted reporters, but somehow lowered their guard with me because of one of these critical introductions. Each in his or her own way contributed to who I am today.
In short, I covet these relationships of trust and can't say enough to credit those who have helped lead me to the success I enjoy.
Subscribe to receive top agriculture news
Be informed daily with these free e-newsletters
You May Also Like
---