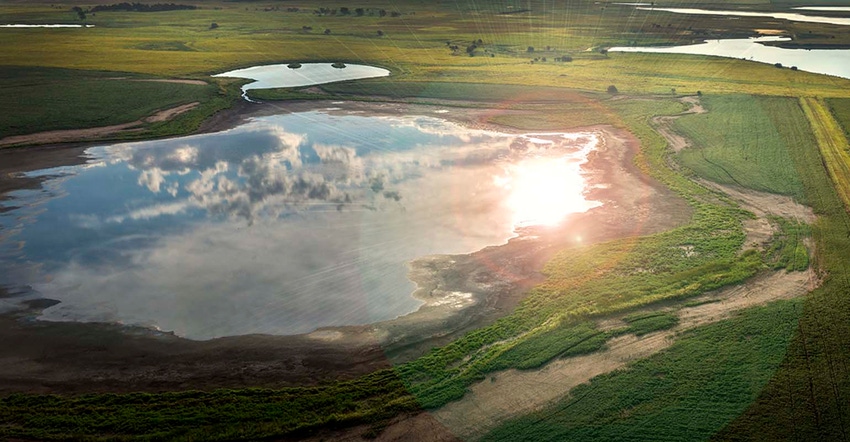 PatrickZiegler/ThinkstockPhotos
Commentary
Today's story concerns the abuse of power and why rural America voted for Donald J. Trump.
After reading this, I think you will conclude this is another example of government out of control.
The story starts in June, 2002, and was finally determined on April 11, 2016. Arland and Cindy Foster farm in Miner County, S.D. Their farmland is in Prairie Pothole country. EPA, under its WOTUS regulation, seeks to regulate Prairie Potholes. USDA also regulates Prairie Potholes because in 1985 USDA was authorized to determine whether certain farm lands qualify as wetlands. The Fosters initially sought a wetlands determination for 0.8 acres in 2002.
In 2011, USDA's Natural Resource Conservation Service (NRCS) finally concluded the site was a wetland. USDA's National Appeals Division (NAD) then issued a 14-page decision saying that NRCS from 2002-2011 had followed "…the proper procedures and had appropriately found that Site 1 was a wetland and that the Fosters had not met their burden of proving the NRCS's determination was erroneous."
The Fosters, being tenacious farmers, appealed the USDA decision and were turned down a second time. In May, 2013, the Fosters filed a complaint in U.S. federal district court. The Fosters lost in that court as well. Then the Fosters appealed the decision to the United States Court of Appeals, 8th Circuit.
The decision of the Court of Appeals demonstrates clearly why there is such anger in rural America against Washington bureaucracy.
To determine if a piece of land is a wetland, there must be a determination that there is a "predominance of hydric soils," and the soils must be "inundated or saturated by surface or groundwater at a frequency and duration sufficient to support a prevalence of hydrophytic vegetation typically adapted for life in saturated soil conditions," and the third requirement is "under normal circumstances would support a prevalence of hydrophytic vegetation."
A rational decision?
The Court of Appeals determined that USDA's decision was supportable, on a rational basis! (You will be stunned at the rational basis description.) NRCS, on behalf of USDA, viewed aerial photographs of the Prairie Pothole. It determined the Fosters had tilled the Pothole land so that it was not in its natural condition. NRCS relied on "color tone" differences in aerial photographs to suggest a "signature of a wetland." Apparently there are 10 recognized signatures NRCS may rely upon when using aerial photographs to determine the amount of water on a site.
An NRCS engineer testified that she examined 10 years of photographs and that she could determine color tone and apply it to wetlands. She could not testify she saw color tone changes in the photographs but testified she "believed" there were sufficient changes in color tone to support NRCS's final decision. The Court upheld this testimony as "rational" and the Fosters could not prove her determination was erroneous.
It gets better.
NRCS uses comparison sites to prove that tilled land "might" be a wetland. NRCS chose a site 40 miles away from the Foster farm. This site was unaltered in terms of its wetland characteristics due to its undisturbed nature. In other words, NRCS found a similar Prairie Pothole 40 miles away and claimed it was the same as the Fosters' farmland pothole. The Fosters had suggested two sites closer to their own farmland. The Court of Appeals accepted NRCS testimony that USDA could interpret "the local area" and claim that the new area was comparable to the disputed site.
The Court of Appeals concluded that NRCS's use of a comparison site and color tone variations "was not arbitrary, capricious, or contrary to the law."
One can see why the Foster family fought this arbitrary USDA decision for 14 years.  
The opinions of the author are not necessarily those of Farm Futures or Penton Agriculture.
Gary Baise, a principal at OFW Law, specializes in Clean Water Act (CWA), Clean Air Act (CAA), National Environmental Policy Act (NEPA), Federal Insecticide, Fungicide and Rodenticide Act (FIFRA), and Solid Waste Disposal Act (SWDA) litigation as well as agricultural corporate governance issues. He has defended clients, including farm producers, in several of the leading wetlands enforcement cases under the CWA in federal courts. He serves as general counsel for U.S. Grains Council, Agricultural Retailers Association (ARA), National Association of Wheat Growers (NAWG), and National Sorghum Producers (NSP). Garywas the first Chief of Staff to the first U.S. Environmental Protection Agency (EPA) Administrator. He owns a family farm in Jacksonville, Ill., and writes a weekly column, Defending Agriculture, for FarmFutures.com.
About the Author(s) Environmental Lawyer/Blogger
Gary H. Baise is an Illinois farmer and trial attorney at the law firm Olsson Frank Weeda Terman Matz PC specializing in agricultural and environmental trial issues in state and federal courts. He also serves as outside General Counsel for the U.S. Grains Council, Agricultural Retailers Association, National Sorghum Producers and counsel to the American Soybean Association.
Subscribe to receive top agriculture news
Be informed daily with these free e-newsletters
You May Also Like
---