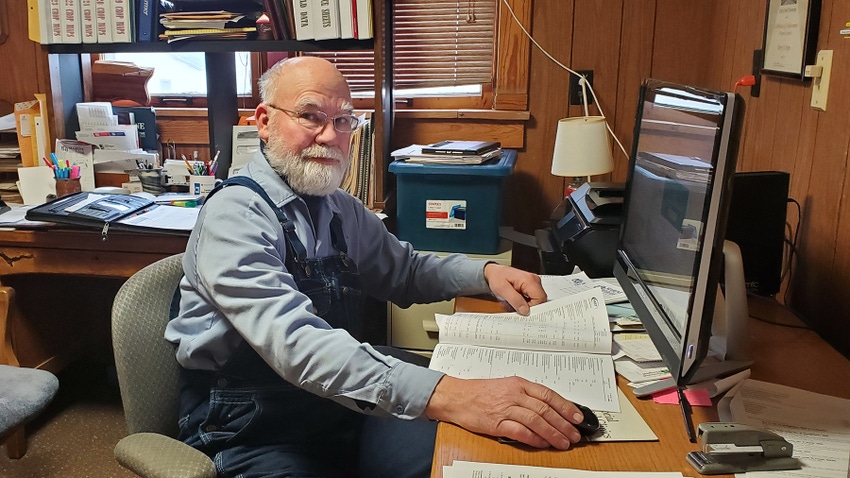 KEY TO SUCCESS: Farmer Terry Pope uses cash flow projections to keep his finances on track throughout the year.
Gayle Pope
There's a reason why Illinois farmer Terry Pope has done cash flow projections every year since he started farming.
They work.
"I started farming in 1976 and have done cash flow projections every year since," says Pope, who farms 700 acres near Burnside, IL. "Depending on the year, I always try to keep track of not just everyday variable costs, but also fixed costs. It's my roadmap for the year."
That road got pretty rocky when Pope was a young farmer in the '80s. His worst year in farming was 1988. When other farmers went out of business, his financial savvy helped save the day.
"The reason I can farm today was I could go to my banker and show him where I was at with my balance sheet and cash flow, and he felt I had a roadmap to which I could continue farming," he recalls.
In 'slim' years he uses his cash flow to look at ways to trim expenses 5%, or gain 5% on sales.
"With the cash flow statement I already know where I think I'm going to be financially," he says. "If I can sell corn or soybeans 5% more than what I had on my cash flow I have an incentive to do it; same with expenses. Even with unforeseen expenses you can look at where you are at and say, 'I had planned this expense but I can put it off to next year.'"
He'll do a cash flow projection for the coming year, then open it monthly or quarterly to review his financial progress.
"I can look and see if I have more or less expense and ask, what are the reasons? It's like being on a trip and in certain places you have to look at the roadmap again to see if you're where you need to be."
Next steps
Once you complete a cash flow projection, go to your balance sheet and calculate financial ratios. Ask your accountant or lender for guidance, if needed.
"Figure out how to get those ratios more in line with what you know your lender will want, whether that's through better sales or trimming expenses," Pope says. "The nice thing is, you're not doing a Hail Mary. You're just adjusting to see how it will project on your balance sheet."
Pope, who uses Illinois FBFM recordkeeping to benchmark his farm's financial performance, also suggests you do this work yourself.
"You can go visit a lender and do a cash flow together, but they are punching in the numbers," he says. "You have to have your own skin in the game and be a major part of this process. Then you have ownership of the numbers you put into the cash flow projection and balance sheet."
His last piece of advice? Use it throughout the year.
"Don't do a cash flow projection and just put it on the shelf and never take it out," he says. "It has to be a tool you use, just like a tractor in the field. You wouldn't take a tractor to the field without oil and fuel."
Subscribe to receive top agriculture news
Be informed daily with these free e-newsletters
You May Also Like
---