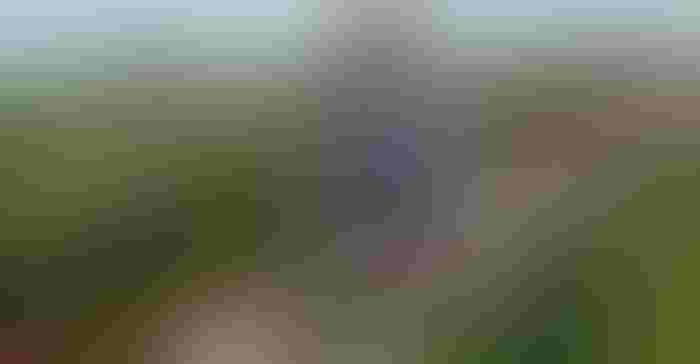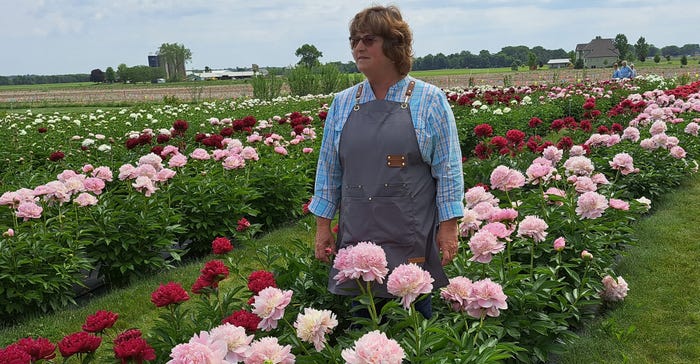 As I pulled up to Ovans Peony Farm west of Beaver Dam, Wis., I knew with a glance that I was at the right place. It was the middle of June and there were thousands of peonies blooming for as far as my eyes could see. It was a breathtaking sight. I took a few minutes to gaze at the blooming beauties before I went looking for farm owner Michelle Ovans.
Michelle and her husband, Mike, have 1,200 peony plants growing on their farm. In June, they open their farm to thousands of visitors who flock there during their annual Wisconsin Art & Peony Festival. On the day I visited, each peony was filled with dozens of perfect flowers all in bloom.
"We have over 100 different varieties of peonies," Michelle said. "Our goal is to have Beaver Dam become the destination for peonies."
Learning by doing
Both military veterans, Mike and Michelle started growing peonies 14 years ago after they retired from their careers in the military and purchased a hobby farm near Merrill in north-central Wisconsin.
Michelle admits she knew nothing about growing peonies when they started, but she read everything she could find on the topic. She also talked to other Wisconsin peony growers.
"I joined the Wisconsin, Minnesota and American peony societies," she said. "I made lots of mistakes and learned."
Five years ago, the couple bought their farm near Beaver Dam to be closer to Mike's parents, who are in their 90s and live in Milton, about an hour south of where they now live. The Ovanses started from scratch planting more than 1,000 peony plants on their farm.
"We couldn't harvest them the first four years to allow them to grow, so this is the second year here that we have been able to harvest peonies and sell them," Michelle explained.
They sell cut peony flowers to brides planning weddings, florists and peony lovers.
Mike and Michelle harvest the flowers in early June when the buds are the size of a large marshmallow and about as soft. They store hundreds of cut flowers in a refrigerated room.
"Peonies can be stored until mid-August, but we sell out by mid-July," she said.
During peony season, Michelle teaches a two-hour class to groups of individuals who want to learn how to make floral arrangements with peonies. And visitors can purchase a bouquet of peony buds to take home.
"The buds last a lot longer than a peony that is already in full bloom," she said. "If they put them in a vase in room-temperature water, the flowers will open within a day." She also recommends adding a teaspoon of sugar to the water to feed the flowers.
Michelle said peonies will last a lot longer if the leaves are cut from the stem that sticks in the water. She also recommended that the water in the vase be changed daily to prevent bacteria and algae growth.
"That's true for all cut flowers," she said. "They like clean water."
Labor of love
Michelle said peonies are labor-intensive, and 1,200 peony plants keep the couple busy all spring and summer and even into the fall. To make their peony plants filled with blooms stand without support, they remove all side blossoms (also known as suckers) in late May when they are in the bud stage. In July after the flowers have finished blooming and have died, they deadhead each of the thousands of flowers.
"This is important because peony plants set the blooms they are going to have next year during July and August, and by deadheading the plants, the plants can focus all of their energy on establishing next year's blooms," she said.
Under the pristine rows of peonies is an irrigation system. "If it gets hot or dry, we can turn the irrigation system on and water the peonies, which keeps them healthy," Michelle said.
In the fall, after the peonies begin to die back, Mike and Michelle remove all of the plant material from each plant. While Michelle admitted peonies are a lot of work, especially for a couple who are both 62 and "retired," they do take time to stop and smell the peonies from time to time.
"Mike and I like to come out here in the evening after everyone is gone, sit under the trees and enjoy the view," Michelle said.
More information about Ovans Peony Farm is available at ovanspeonyfarm.com. Check out the slideshow to see photos from my visit.
Subscribe to receive top agriculture news
Be informed daily with these free e-newsletters
You May Also Like
---