You never fully appreciate the magnitude of America's agricultural treasure until you drive — and drive and drive — through it. That's what my wife and I did recently on a family business mission. We drove across Pennsylvania, Ohio, Indiana, Illinois and Iowa. We didn't reach the "end of the world," but we could almost see it from there.
Along the journey, we saw a few million acres of corn and soybeans. From Ohio on west, those fields would make most Northeast farmers envious. The latest USDA and Farm Futures yield projections bear evidence of it.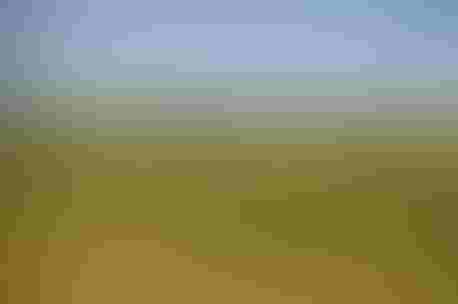 CORNSCAPE HEARTLAND? Do you see it? This is the scene from my cousin's farmhouse.
They received a lot of growing-season rainfall that evaporated before reaching the East Coast. It was still pouring as we headed back across Iowa. Of course, it stopped somewhere in western Illinois.
Facing the same 'antis'
While my hometown's human population has dwindled to eight, the anti-corporate pork and poultry folks were loudly opposing a new 5,000-head hog operation proposed in the neighborhood, citing a potential loss of their water supply, plus odor and fly nuisance risks. Their concern may have been warranted.
On the way there, we stopped a half-mile away from a large poultry facility to switch drivers. Big mistake! Our car was quickly filled with flies. Here in the East, most sizable operations practice fly control so they're not bugged by nuisance complaints and lawsuits.
More than a year ago, we predicted that the Chesapeake Bay Clean Water Model would soon come home to the Mississippi River watersheds. That story series began with Chesapeake Bay regs would flood Midwest farms. It has arrived.
Now Iowa Farm Bureau is supporting state legislation to fund the state's Nutrient Reduction Strategy to cut urban and rural nitrogen and phosphorus losses by 45%. My home farm happens to be in the epicenter of the Des Moines Water Works lawsuit that led to that strategy.
So far, no one has figured out how to grow an estimated $750 million to $1.2 billion per year on trees or even cornstalks to fund the cleanup over several decades. Last year, the state and farmers spent about $105 million adding conservation practices, according to Des Moines Register sources.
Even in Iowa, regulations have a way of getting in the way of farmers making improvements. My best friend from high school days is a longtime conservation farmer. Years ago, he wanted to install concrete slabs on an oxbow stream — at his own cost. It took him five years to clear all the regulatory hoops.
More cover crops and forage sorghum
Good Northeast farmers have quickly caught on to practices that are to their ultimate benefit. Multi-species cover crops, for instance, have made huge acreage gains this year. That bodes well for farms and the environment — as we've reported many times. See Mix up cover crops max crop benefits, What cover crops to mix and Cover crops pay back 7 ways in stealth mode.
Subscribe to receive top agriculture news
Be informed daily with these free e-newsletters
You May Also Like
---