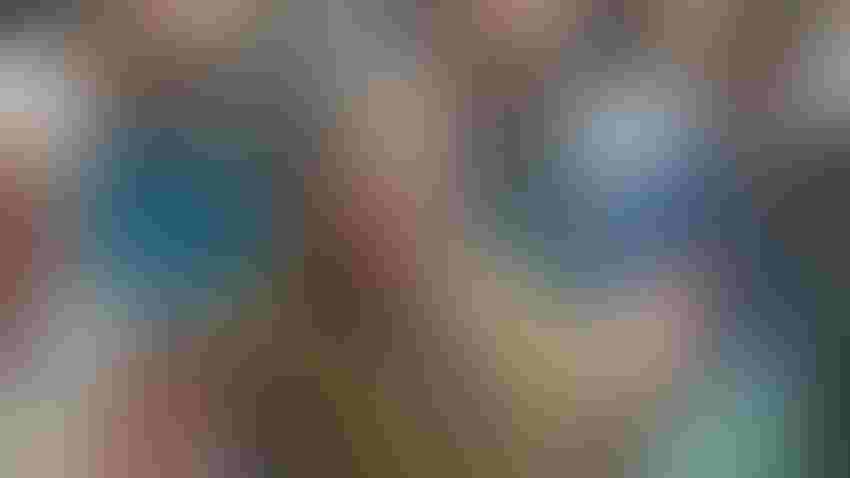 Rep. John Duarte, R-Calif., agrees that Market Access Promotion under the Farm Bill should benefit U.S. farmers' ability to export products and develop new markets.
Todd Fitchette
There are two things about large agricultural expositions like the World Ag Expo that the ag journalist in me enjoys: the food and the fellowship.
My job is basically about talking with people. I learn their stories and their issues, and along the way I get a great education worth more than a college degree. I caught up with Rep. John Duarte, R-Calif., the day after he and almost a dozen of his congressional colleagues sat through a hearing on the Farm Bill at the World Ag Expo. Duarte gave me 10 minutes from his family's nursery company booth at the farm show to talk about what he heard the previous and what he hopes to accomplish as a new House member.
"We got to hear from a very diverse group of agriculturalists, as well as nutrition access folks about what there needs to be in the upcoming Farm Bill," Duarte told me during the exclusive interview.
"It was interesting for me (because) I've always dealt in some parts of ag policy," he continued. "I've always had an interest in things that affect farming, food production, and more specifically the grapevine and almond crops that I work in; but I'd never seen such a diversity of input, and of perspectives and information on ag policy as broadly as I did yesterday."
So, what did the congressman hear from his committee seat? What stood out to him?
"Market Access Promotion and making sure that American agricultural products have access to foreign markets and new markets," he said. "We need to do a good job with those matching funds to help industries, almond growers, walnut growers, dairy producers, get those American products around the world. That's a program that got more emphasis than I would have expected."
Crop insurance
Some of those testifying at the Farm Bill hearing also brought up crop insurance programs and likely changes that will need to be made to keep up with changing times in the agriculture industry. On this, Duarte said: "Crop insurance is incredibly important, especially with climate change going on.
"We're getting record frost, record rains and drought – everything's less stable than it used to be," he continued. "That means the crop insurance and emergency relief programs are going to be relied upon more and more. We've got to get more large farmers participating in crop insurance, and we've got to make sure that crop insurance programs evolve to meet the needs of all agriculturalists."
Duarte said he'd like to see the system evolve from a crop-by-crop basis to a whole farm revenue program.
He continues: "meaning, if you're a diversified farmer and you've mitigated your risks that way, there should be affordable access to making sure that your whole farm revenue each year is maintained at a certain minimum level that'll let you endure some of the ups and downs. That's just part of good business planning."
Proper public funding for agricultural research by our Land Grant universities was also brought up during the Farm Bill hearing. Duarte sits on the House Research and Biotechnology Subcommittee, which he said is in the middle of such discussions.
"There are really two types of research we want to do in agriculture," he said. "One is the Manhattan Project type of research for things like Huanglongbing and grape Pierce's Disease – the big problems that threatens significant segments of agriculture. The other is a farm systems approach and how we grow things like almonds, or higher density orchards, maybe with new root stocks, where we can use more variable quality of water, minimize labor inputs, and manage dust. A lot of these things are going to be farm improvements where we integrate genetics, planting systems and mechanization technologies to kind of rethink the way we grow these crops altogether."
Missing the target
On water, Duarte admits that for all the talk and public funds committed to water infrastructure and dams in California, that money is never spent on its targeted promises.
"We all agree here in the Valley that we need to build more water infrastructure and dams, and yet it seems no matter how much we fund it, or how many bonds we pass, we still don't get those projects. One thing we can do in the meantime is we can manage our water resources better. We can all see it: too much water is washed out to the ocean. I want to make sure that we start to look at some of the lidar sensing of snowpacks and some of the atmospheric river sensing of where and when water will fall here in the Valley.
"We also need to update our flood control manuals to reflect the best decision models we can have with the most current technologies we can integrate to hold water back as much as possible and still provide flood safety to residents here in the Valley."
How so, I asked.
Aside from using good technology and science, Duarte said the flood control channels – the state's rivers, canals, streams, and the delta, should be dredged to boost flow capacity "so that instead of pushing 150,000 cubic feet per second out safely, we can push 200,000 cubic feet per second out safely. This will allow us to hold more water in the dams and be ready to respond to it faster if we have a problem later. So, dredging and technology are two ways of increasing California's water and its usable water storage capacity."
Subscribe to receive top agriculture news
Be informed daily with these free e-newsletters
You May Also Like
---