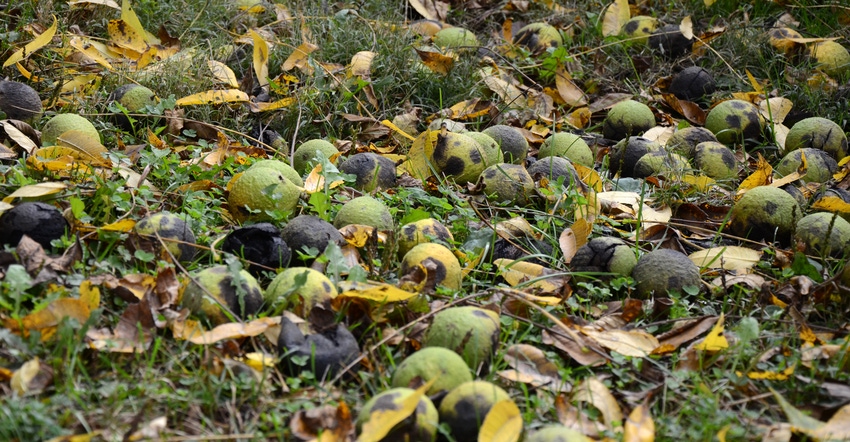 WALNUTS EVERYWHERE: For whatever reason, this is a banner year for black walnuts.
Jennifer Kiel
On a mid-September day, I could hear the wind howling as I tapped away on my laptop keyboard. Sitting at the kitchen table, which is next to the back door to the porch, a loud thud grabbed my attention. It was followed by two more booming thuds and then a tap on the door.
I thought it was strange someone would be visiting using the back door. From the racket, I was half expecting the Jolly Green Giant. But there were no visitors, unless you count the bushy-tailed kind, standing upright balancing on his back legs while his tiny paws clutched a nut covered with a lime-green husk. The thuds were black walnuts dropping on the porch from several of the 60-foot-plus-tall walnut trees in my backyard. One rolled to the door mimicking a knock.
It's been a banner year for walnuts. Some say that's a sign of a long, cold winter ahead. I think it has more to do with the cycling of the tree, but believe what you will.
Like a lot of people, I have a love-hate relationship with black walnut trees. In the summer — there's more than a dozen in my yard — they provide great shade, and in the fall the leaves turn golden. But black walnut trees are very selfish. The roots, which may extend 50 feet or more from the trunk, exude a natural herbicide known as juglone, which is also found in the tree's leaves and husks.
I found this out after three unsuccessful attempts to raise a vegetable garden nearby. One day, I'd have lush green tomato, pepper and cucumber plants about to set produce, and the next day there's nothing but wilting and dying carnage.
Juglone kills off susceptible plants and trees, leaving more water and nutrients for the black walnut tree. 
And then there's the nuts, hundreds of them, which require gathering several times in autumn. As they fall from the tree, the decaying husk produces a black goo that can make a permanent stain on anything, including seat cushions and my light-colored, freshly stained porch. This has prompted me to modify my morning routine: Get dressed, brush teeth, make coffee and scout the porch for walnuts. 
Food for winter
Squirrels really fancy black walnuts, hoarding them in several locations for midwinter lunches. You would think squirrels making off with them would be a good thing — less to pick up, right? Well, yes and no. One year, we were lapsed in our fall-to-winter porch prep. We left a few of our plush, seat cushions out too long, and the grill, which backs up to the porch handrail, was left uncovered.
Sometime during a mid-January thaw, we decided to grill some steaks. As I opened the grill lid, tons of stuffing and cracked shells poured out. It was completely packed — a squirrel oasis! Free room and board. He was quickly evicted, but it took several hours to clean and disinfect.
I was reminded of this incident when the Washington Post recently reported on a Fargo, N.D., man, Bill Fischer, who upon return from a four-day business trip found his Chevy Avalanche's entire engine compartment stuffed with black walnuts.
Apparently, the Post reports, Fischer has tried moving his truck to the road, but even with other vehicles closer, the red squirrel prefers the Chevy for his stash. To make matters worse, the black walnut tree is in his neighbor's yard. Apparently, this furry bandit has no boundaries or loyalties, but he does prefer an American brand!
To read the Washington Post article and see photos, visit washingtonpost.com.
Subscribe to receive top agriculture news
Be informed daily with these free e-newsletters
You May Also Like
---