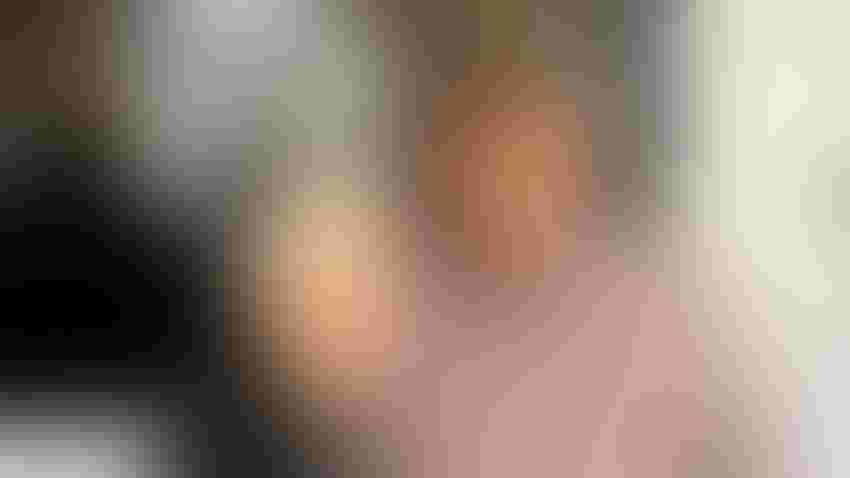 Peggy Bearden and brother, Jamie Parnell.
Provided by Rebecca Bearden
"Oh I definitely turned out more bales than your daddy did," Mama half-jokingly remembers when anyone mentions the old New Holland square baler that more than earned its keep on the ranch.
If we're honestly keeping score, Mama is the one who consistently went above and beyond to keep the family operation running smoothly. It was her support and sacrifice that made "us" work.
From preparing three meals a day, which always included dessert, to her insistence that we never left the ranch for town without "dressing up," her high standards were never compromised. She managed to overcome any "well my mama made it like this" comments from Daddy with her superior country culinary skills all the while placating his preference for extra crispy fried vegetables.
She somehow wrangled me and my sister into appropriate hosiery every Sunday morning and got us all to church for Sunday School on time. She mowed the entire front and back yard weekly with the cheapest push mower Daddy would buy and often sported spiderwebs in her chestnut brown hair, the result of battling nature both in and around the house. As if domestic and social standing wasn't enough, she made sure my sister and I excelled academically, an effort which included spending every night calling out grammar school spelling words.
While Daddy joked he ultimately married her because he did not want anyone else to have her, he knew he had his work cut out for him when he wed this blue-eyed brunette barely weighing 100 pounds. More than once, he had to tell his male friends that they were lingering too long in the kitchen to suit him.
Much to his chagrin, his dreams of having a wife that would always be horseback with him ended some time before my sister and I were old enough to remember when his roping horse Sam pitched Mama off in the catch pen. Mama had to draw the line. Daddy settled instead for her proficiency at operating the cabless John Deere 2030. She was unstoppable with the hay rake and the square baler, and was, hands down, the cutest farm hand in the county with her homemade cotton shirts and wide-brimmed straw hat.
Thankfully, she still managed to find time to do what she loved most—play piano, grow exquisite flowers, and care for her cats and dogs. There wasn't a song in the Baptist hymnal she couldn't play with God's grace. She even tutored some local girls who took lessons before moving on to more advanced studies.
Her garden still speaks for itself, and each carefully selected species blooms as a reminder of the devotion and admiration she had for creating beauty for herself and others to enjoy. She spent countless hours on the front porch and back doorsteps petting cats and dogs, telling them how special they were to her. Listening to the whippoorwills in April, seeing the rainbow of red maple colors in autumn, and watching the Harvest Moon rise each September are just a few of the seasonal markers she taught us to cherish.
The carousel of friends and family that crossed the front cattle guard over the years enjoyed her hospitality at all hours. Everyone was welcome regardless of status and if you didn't leave with a story and a belly full it was your own fault. She proudly sewed Halloween costumes every year for my sister and me and crafted beautiful dresses in record time that would rival any designer in Paris. From Valentine's Day to New Year's Eve, no holiday passed without an appropriate celebration and included an abundance of themed food.
While her love language might have appeared as acts of service, she gave and still gives the best hugs in the world and makes everyone feel appreciated. As my best friend, I know I can trust her with my deepest, darkest secrets. Lest the high opinion of her own offspring be received as biased, just ask her nieces and nephews. "Oh there's no one as good as Aunt Peggy," they concur. Even her big brother still visits twice a day because her smile makes him smile.
She still speaks of Daddy as her hero. With all due respect, Mama, you're the one who made the day worth saving.
EDITOR'S NOTE: Happy Mother's Day to all mothers, who are often the backbone of every operation.
Subscribe to receive top agriculture news
Be informed daily with these free e-newsletters
You May Also Like
---