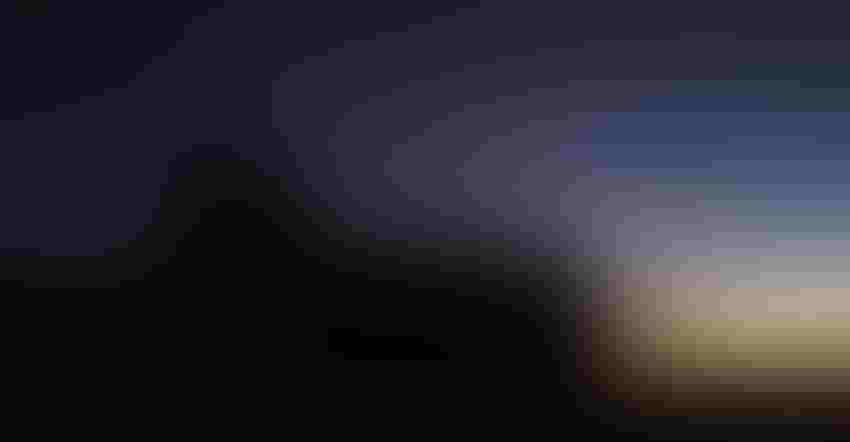 My three kids watching the sunset from on top of the module. When my kids were little they loved to scale the modules and run the turnrows. As harvest begins, think safety. Producers have a lot on their minds, so as you begin to move the combine or start the cotton stripper, don't forget to look up, look over and look back. It might just save a life.
Shelley E. Huguley
October is synonymous with harvest for me. Fields of open cotton wave the flag of surrender on the season while grain sorghum displays varying shades of orange and brown. It's a beautiful sight.   
When I think about fall, I think of combines and cotton strippers running in the field, shorter days, and trips to the field with meals, though we don't seem to do much of that anymore.  
When the kids were young, many memories were made in fall's fields. While the guys ate, the kids would chase down turnrows, scale modules, and race for their turn to ride with Daddy. (Can I have those days back? They pass oh so quickly.) They would be absolutely filthy by the time we loaded the car to head home for baths and homework and to recover the kitchen from cooking for a crew and rushing out the door.  
See, Equipment safety is key for keeping ag workers healthy
The last week of September was National Farm Safety and Health Week. As I think about fall and all its moving parts on the farm, I wanted to remind everyone to be careful. I know, "you, know. You've been doing this your whole life." But I think that's an important point. It can be second nature to throw a tractor or harvester into gear without a thought except if the harvester was serviced, and if employees showed up to the field that day and if not, where are they, to name a few. You are dealing with a million details and still making decisions that could alter the outcome of the crop you've worked all season to produce. You have a lot on your mind. So, stop and look before you're in gear.  
Sometimes I'd make an impromptu visit to the field. As soon as the car was parked, the kids would bale. Remind your children to stay in the car until you've had a chance to make sure it's safe. Also, give your farmer a call to let them know you've arrived. "Being seen is being safe." 
The National Children's Center for Rural and Agricultural Health & Safety website reports that about every three days a child dies in an ag-related incident and each day about 33 children are seriously injured. Here are a few more stats you might find of interest: 
Youth under age 16 have 12 times the risk of ATV injuries (fatal and non-fatal), compared to adults. 

Tractors and ATV/UTVs are the leading sources of fatal events. 

About one-third of agriculture-related emergency room visits are child injuries. 
I wouldn't trade for our days in the fields. I know they are just as special to you. So, as you begin to harvest, look up, look over and look back and zero in on safety. It might just save a life. And in the meantime, savor the harvest!  
See, Getting through harvest with a safety plan
Subscribe to receive top agriculture news
Be informed daily with these free e-newsletters
You May Also Like
---