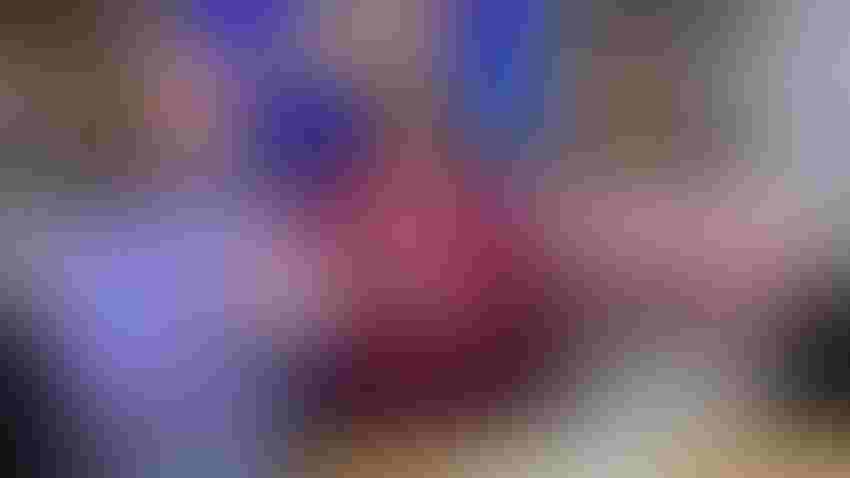 ENGAGED: My daughter, Jenna, and I got to talk about her ice cream business and our family farm on a recent segment of "CI Living" with host Heather Roberts. Heather and I crossed paths years ago, when she did a segment on women in agriculture at the Farm Progress Show.
courtesy of WCIA
Ten years ago, I regularly hopped in my car and drove to Chicago, one of many "farm moms" who joined the Illinois Farm Families coalition to talk to Chicago moms.
This week, I hopped in my car and drove to Champaign, picked up my 20-year-old daughter, and cruised over to the local TV station. We recorded a cooking segment for "CI Living" on WCIA Channel 3 about Jenna's homemade ice cream business and our family farm, again thanks to Illinois Farm Families.
Honestly, what in the world.
It struck me as I drove home how very much has changed in the past 10 years, and not just my kid. Agricultural advocacy has entirely shifted, because we've learned and grown.
Ten years ago, the Illinois Farm Families coalition was still a baby movement. Founded in 2008 as a joint project of the Illinois Farm Bureau and the Illinois corn, soybean, beef, pork and dairy associations, IFF existed to research what nonfarm consumers wanted to know about food and farming — and then deliver that information to them, largely through blogs and influencer events.
Back then, the emphasis was on building relationships between farm moms and urban moms, because they were most likely making the food-buying decisions in a household. Ten years later, men are just as involved, and IFF has pivoted its message accordingly.
Back then, IFF brought busloads of urban moms out to farms like that of Mike and Lynn Martz, at Maple Park, Ill. Today, the coalition takes farmers into Chicago for neighborhood festivals. Nearly every neighborhood has one— the urban equivalent of our small-town festivals. They're focusing on Instagram reels and TikToks, and telling stories both in person and in video.
Pivot, pivot, pivot
I got to talk with Gracie Pierson recently. Gracie is the consumer engagement manager for Illinois Farm Bureau, which means she helps manage IFF efforts for IFB. But she's got a unique vantage point on the whole movement: Her dad is IL Corn's executive director, Rod Weinzierl, which means she grew up hearing a whole lot about consumer engagement. She went off and earned an ag communications degree, then went to work for a major ag advertising agency before coming to IFB. That means she has all the relevant experience, too. Plus, she farms.
And if you saw the Super Bowl commercial or have seen any of the We are the 96 efforts (please say you have), then you've seen the fruits of Gracie's work. That's because she dreamed up the idea of a major commercial and ad campaign while driving back and forth to work.
Gracie says there's a lot that hasn't changed over time — including the fact that consumers want an authentic experience with a farmer. But she says Gen Z and younger millennials like herself are more open-minded. And they're more likely to go to TikTok to learn about something than they are to Google it.
"Younger millennials and Gen Z want to see it themselves. They want to see that what you're talking about is the same as what you're telling them," she says. "We like authenticity."
She also believes ag advocacy within social media has moved beyond the keyboard warrior days, when people tended to talk at each other instead of to each other. The pandemic resulted in more time for folks to find communities online, and those online communities have crossover into the ag community.
"In the early days, we were distrustful of each other, but I think we're finding our humanity again," she adds.
By the numbers
It's sure hard to measure progress, but IFF is research driven, which means it conducts a major survey every five years and smaller ones annually. The last major survey in 2021 showed that people were bored during the pandemic and sought more information online. That was good for IFF's consumer engagement.
IFF research also shows that over time, agriculture hasn't lost ground. Farmers are still some of the most-trusted professionals in America — even higher than health-care workers at the height of the pandemic, which is both unexpected and, honestly, maybe over-ranked.
Still, IFF also learned that one number hasn't changed: Consumers believe just 47% of Illinois farms are family owned. That number has held steady in the past three surveys. Disheartening, given that 96% are owned by families. But that number gave rise to the We Are the 96 campaign, which includes a Super Bowl commercial, video interviews with 20 different Illinois families, targeted social media campaigns and a statewide advertising campaign that will run from April to June.
And if you're a farmer who thinks to yourself, "Well, I haven't seen that on social media," that's the point. Targeted social media means they can direct advertising dollars (and posts) to consumers ages 24 to 39 in the Chicagoland counties. It's the opposite of preaching to the choir, and that's 100% the goal.
Engagement is where it's at now, which is a much more effective and authentic way to interact with people — in person or on TikTok. I'd be real happy if we could permanently retire the phrase, "We have to educate the public." It's one-sided and a little aggressive. As Gracie said, laughing, "How would you feel if someone came at you and said, 'I want to educate you on this topic'?"
Not great, right? (While we're at it, let's also retire the word agvocate; it's made up and weird.)
But back in that television studio, I stood next to my college girl and marveled at how easily she talked about her business and about our family farm. We laughed with the host. We tasted ice cream. We talked about the generations involved in our farm. It was a good day.
Safe to say, we've all grown up in the past 10 years. Here's to the next era of sharing agriculture's story.
Comments? Email [email protected].
Subscribe to receive top agriculture news
Be informed daily with these free e-newsletters
You May Also Like
---