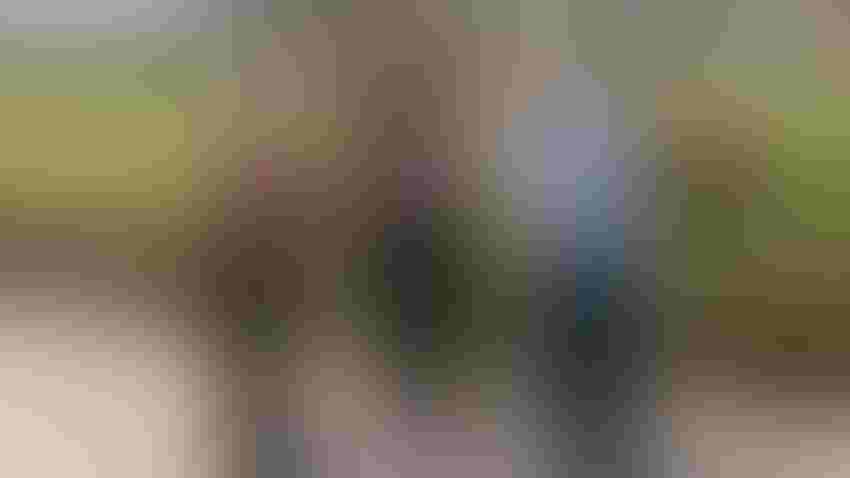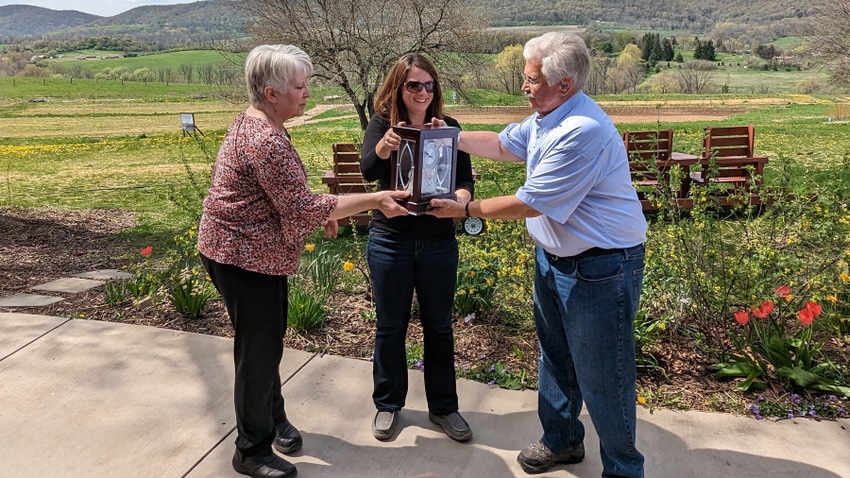 FARM LINK AWARD: Darlene Livingston, Pennsylvania Farm Link, and Rachael Sattazahn, Horizon Farm Credit and vice president of the Pennsylvania Farm Link board of directors, hand John Vogel, co-founder of Pennsylvania Farm Link, the organization's first Founders Award.
Chris Torres
I wear many hats as editor of American Agriculturist.
Not only am I an editor, but I'm also a writer. Master Farmers and New York Farm Show also take up a lot of my time, and of course, I have a very busy personal life with three children, as assistant coach of a baseball team and as a baseball umpire.
But there is another group that I'm involved with that you should know about. I'm on the board of Pennsylvania Farm Link and have been around for two or three years now.
I asked to join the board because I believe in its mission: "Link Farmers to the Future."
How do they do this? In several ways. It has an extensive resource hub for anyone needing information on business, financial and legal issues. It also puts on webinars and educational programming from time to time.
But Farm Link is most known for its land-linking database. Simply put, if you have land that you need farmed, or if you are looking for land to farm, all you do is register on the Farm Link website, send Farm Link information about your property or what sort of farm you are looking for, and they work on getting you a match.
There is a $100 application fee, but there is no charge to post your information on the site.
Last year, Farm Link helped 5,800 farmers across the state through one of its services. Its website is a great hub that's easy to use and has a lot of information in one place.
American Agriculturist has a long history with Pennsylvania Farm Link. In fact, John Vogel, former editor of American Agriculturist, helped found the organization in 1993 under the Center for Rural Pennsylvania. He and others helped start the nonprofit because of seeing a need for farm succession planning and programming.
At a recent Farm Link board meeting in State College, John was honored for his work with the organization by receiving Farm Link's first Founders Award. I think I even noticed John shed a tear during the ceremony, which was a total surprise.
Now more than ever, we need land-linking services like Farm Link. During a recent conversation I had with Bill Beam, one of this year's Master Farmers, he told me he is having more trouble finding good land in Chester County to farm. In fact, since he started farming on his own in the 1980s, he estimates that he has lost about 1,000 acres of farmland that he used to lease.
American Farmland Trust, in its "Farms Under Threat" report, estimates that by 2040, Pennsylvania will stand to lose a minimum 543,000 acres of farmland to development. And that's a best-case scenario. If urban sprawl gets worse, it estimates that 760,000 acres could be lost.
There are many young farmers out there who want to farm but just don't have the resources to get started. An organization like Pennsylvania Farm Link may not provide the money a young farmer needs, but it provides resources to help them get started and a nice land database to find a farm of their own.
That's a start.
Other organizations in the Northeast, mid-Atlantic, Michigan and Ohio are listed below:
Maryland
Maryland FarmLINK. A program to help buyers and sellers of farmland. FarmLINK also connects novice farmers with mentors, offers workshops and distributes useful information.
Land Link Montgomery. Montgomery County Land Link seeks to link beginner and experienced farmers with available land and farms within Montgomery County.
Michigan
Michigan Farmer to Farmer. Farmer to Farmer is a land-link website serving the Grand Traverse region in Northwest Lower Michigan that connects farmland owners to seekers looking to buy or lease farmland.
New England
New England Farmland Finder. A free database for farmland seekers and property holders managed by a consortium of New England farm service providers and nonprofits.
New England Land Link. Run by the New England Small Farm Institute, NELL is a web-based listing of farm properties in New England and New York. It requires a $25 annual fee to use.
Maine FarmLink. A program of Maine Farmland Trust that helps connect people who are seeking farmland, with farmland owners who are looking to sell, lease or work out nontraditional tenure arrangements, based on their respective interests, needs and goals.
Vermont Land Link. A free, statewide land listing portal for Vermont landowners and farmland seekers.
Vermont Farmland Access Program. A land-link program from the Vermont Land Trust that works to connect aspiring farmers with landowners in the state.
Connecticut Farmlink. A free website listing for registered farm owners and registered farm seekers in Connecticut, managed by the CT Department of Agriculture.
New York
New York Farmland Finder. Helps farmers seeking land and landowners wanting to keep their land farming throughout New York state. The land-linking map is supported by a statewide network of land access navigator organizations.
Hudson Valley Farmland Finder. The Hudson Valley Farmland Finder connects farmers and landowners, and additionally serves as a directory for regional events, resources and organizations that assist with farmland access.
Columbia Land Conservancy. The Columbia County conservancy offers a farmer-landowner match program in partnership with the Dutchess Land Conservancy.
Finger Lakes LandLink. A project of Cornell Cooperative Extension Tompkins County and Groundswell Center for Local Food and Farming, which facilitates connections between landowners and farmers seeking land in the Finger Lakes region of New York.
New Jersey
New Jersey Land Link. Designed to help farmers and landowners connect through a database of farmland available, farming opportunities sought, and land characteristics and production goals.
Ohio
Heartland FarmLink. Search for farmland opportunities or farmers seeking land access in or near Ohio. A program of the Ohio Ecological Food and Farming Association.
Countryside Conservancy FarmLink. A listing of land opportunities in northeast Ohio.
Subscribe to receive top agriculture news
Be informed daily with these free e-newsletters
You May Also Like
---