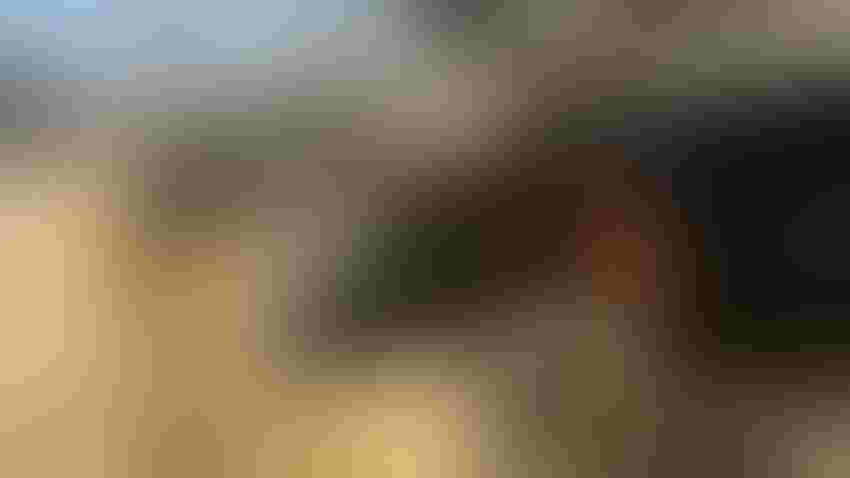 MAKING DO: The dairy farm at Kansas State University's Dairy Science Unit on the north side of campus in Manhattan has been the epicenter of dairy research for the state for 46 years. However, the research needs of today's dairy industry are somewhat beyond what the dairy unit is capable of sustaining, according to Kansas dairy farmers. That's why they're on a campaign to raise funds to build a new facility.
Jennifer M. Latzke
Every farmer has had to make do at some point, either due to a lack of time or lack of resources. It's usually a temporary fix until a more long-term solution can be completed.
But there comes a time when temporary fixes and workarounds cost more time and money than finding a permanent solution. And that, Kansas dairy farmers contend, is the situation at Kansas State university's Dairy Science Unit in Manhattan.
The current dairy farm built in 1977 was representative of a dairy farm of the time. From the Utah-style sheds for the milking cows to the parlor and everything in between, it was designed to reflect the modern dairies of the 1970s.
Now, there are few people in this state in agriculture who don't have a memory of K-State's dairy farm or its products in the past 46 years. There were school field trips to see the "cow with the porthole" followed by a trip to Call Hall for a scoop of "Purple Pride" in a waffle cone, youth and collegiate dairy judging contests and workouts, and even jobs for K-State ag students milking cows twice a day.
It's a beloved and respected facility.
And yet, all things eventually find the end of their lifespans. There's only so much we can ask of baling wire and duct tape before we start to lose out on recruiting top faculty and students to our institution. Today's research needs have outgrown the dairy's design, and it could very well hold back our state's growing dairy industry.
Friends, we all know K-State has done the best it can do for the past 20 years or so navigating state budget cuts that have restricted research and Extension. I do not fault them for this situation — not when they've faced hiring freezes and watched the rest of campus get new construction while the ag side of campus made do.
Change of focus
But we now have a new university president who is laser-focused on K-State's agricultural legacy as a land-grant university. There's new construction breaking ground this very week on the north end of campus for the Agronomy Research and Innovation Center, with more construction projects for Call and Weber halls and the Stanley Stout Center through the next several years. The state finally has a budget surplus. And dairy is the fastest-growing agricultural industry in the state.
The time is right to invest in a new dairy farm that can conduct the teaching and research that our growing dairy sector needs. These include:
on-farm research into alternative feed crops that can save on irrigation

studies into reclaiming water and reusing it to grow feed crops

research into new dairy products and processing

use of robotic technology of the future in parlors and barns
A new dairy farm can train the dairy employees of tomorrow — keeping our homegrown talent here in the state. And not just entry-level positions, but the upper-level management needed to manage our dairy farms and processing plants.
Forty-six years ago, Kansas dairy farmers donated heifers for the K-State herd for their "new" facility. Today, they are putting forth $500,000 of their voluntary state checkoff dollars to this project. They're in a push right now to persuade state lawmakers, the Board of Regents and industry to pitch in as well.
As someone said at the Kansas Dairy Association meeting in February, Kansas policymakers should not take for granted the infrastructure that was necessary in the past to advance the Kansas animal agricultural industry into the leadership position it is in today.
In a nutshell, you can't have an industry built for 2025 and beyond with 1970s infrastructure.
No matter our agricultural segment, all of us in Kansas have a stake in this project. Many of our large-animal veterinarian students get much of their training at the K-State dairy farm. Much of the nutrition and feeding research conducted there affects our crop and livestock industry.
And if you're ever had a scoop of Call Hall ice cream on a hot day in Manhattan, it's important to you as well. ­
It's way past time. We can't make do for much longer. Let's work toward a permanent fix for the K-State dairy farm.
Subscribe to receive top agriculture news
Be informed daily with these free e-newsletters
You May Also Like
---