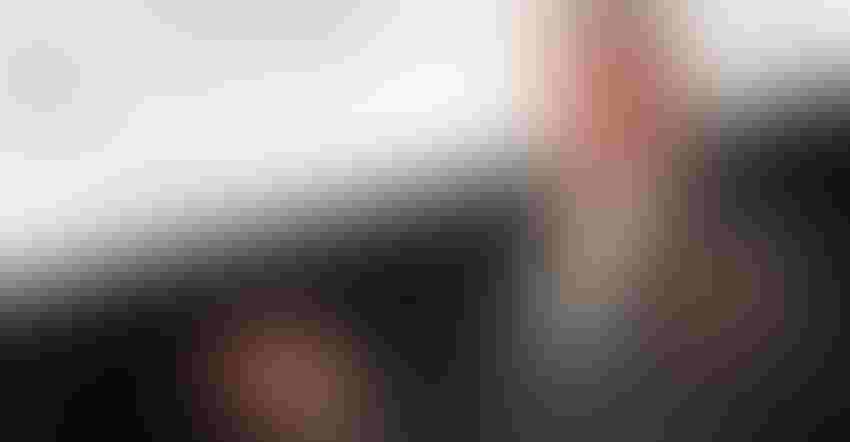 CHALLENGING MINDS: Brett Sciotto, CEO of Aimpoint Research, speaks at the annual New York Farm Bureau meeting in Buffalo.
Courtesy of New York Farm Bureau
It's easy to get caught in a noise vacuum. Let's face it, our agriculture community is small, and we're most comfortable speaking to each other and listening to each other's ideas. And when we agree with each other, great. That saves us a lot of time and effort from having to defend ourselves from someone who is challenging us.
But our world is so much bigger and diverse than the fields that we farm, the local churches we attend, or the meeting halls we all come to in winter. More than ever, farmers are producing foods and products for people who increasingly don't look like them, and may not have the same belief systems as them.
You're probably wondering, "Why should I care, and where am I going with this?" Well, a recent talk I heard at the New York Farm Bureau annual meeting in Buffalo tied it together to what could be the future of farming and agribusiness.
Brett Sciotto, CEO of Aimpoint Research in Columbus, Ohio, thinks farmers should embrace innovation or risk being left out of the future of food production. Why?
"What we're experiencing in the world, and certainly in this country, is the rise of consumer food consciousness," he said. "They're starting to understand that what you do matters to them personally, and that the supply chains that serve them are going to differentiate in ways that will make them want to work with them and purchase things, or not. They're starting to figure out that what they eat matters to their health."
Millennials — the generation of people who were born in the early 1980s through the mid-1990s — are the largest consumer group and largest workforce in the U.S., followed by the younger Generation Z. These two generations are the most diverse generations ever.
"And this diversity matters because it's different value systems, culture, traditions and different foods. Simple as that," Sciotto said.
They are also unconstrained geographically. Sciotto thinks it is crucial to understand this because people can gain knowledge from anywhere in the world and can form a different value system.
"And this becomes the lens in which they view you, the farmer," he said.
Trust is a big thing with these consumers, Sciotto said. They want foods that are fresher, made with less chemicals and less processing, and stuff that's grown locally.
"They're connecting health to food supply, and they expect all along the food value chain to come through," he said. "We got to evolve with them. We got to change with them. Because it's not going to go backward short of a nuclear war or some global disaster. This is where it's headed."
So what will this mean for the future of your farm? Well, depending on what you're growing, your data will be crucial.
"For those of you that are holding tight onto your data saying … 'There's no way I'm giving it up, that's mine,' the data of the future is part of the product," Sciotto said. "You have no product without any data, so we might as well start conditioning ourselves to start to say some of it, not all of it, some of it has to flow through the supply chain for traceability and transparency, which becomes table stakes in the future."
Differentiating your farm along the value chain will also be crucial. There will always be a need for large-scale commodity farming, but in a region like the Northeast, where farms are smaller and the population is close, setting your farm business apart — from how you're growing the crops to how you're marketing them — is more crucial than ever.
"Guess what, you're more important than ever because you're not just an input, you're a differentiator, you're a key supplier," Sciotto said. "You have as much value as anyone else in the value chain, but you've got to be in the game, and defensiveness will not get you there. We have got to open our minds to what's possible."
What do you think? Is Sciotto on to something, or is he wrong? What do you think the future of farming will look like?
Send me a comment at [email protected].
Subscribe to receive top agriculture news
Be informed daily with these free e-newsletters
You May Also Like
---