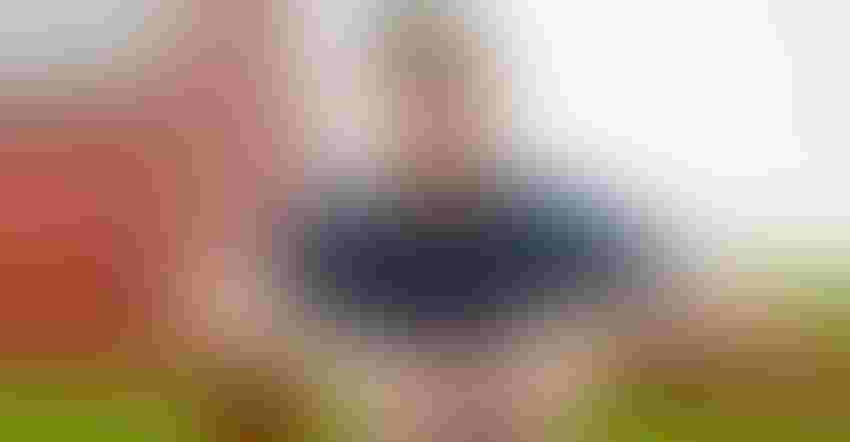 NETWORKING: "Our members and supporters are the heart of Veterans in Agriculture," says Paul Havran.
By Beth Grabau
November is host to Veterans Day, when a thankful nation pays tribute to military veterans for their service. Veterans Day also coincides with the end of the harvest season, when combines are being put away, grain is stored, and fall fieldwork is being completed. The combination of Veterans Day and fall harvest is a perfect time to reflect on the service our farmer-veterans have and continue to provide our grateful nation.
Farmer-veterans serve their country twice, first by protecting and defending it, and then after returning home, serving their country a second time by providing the food and fiber it needs.
It is that combination — military and agriculture — that Master Sgt. Paul Havran's family of Warren County demonstrates. Nearly every corner of this family speaks of agriculture and military service, which continues today. The Havrans are like so many other farming families. When military service was completed, service members came home and went back to the farm fields they had previously left, continuing to serve. 
Havran's credentials and awards are extensive, including serving in the U.S. Marine Corps, activated to Desert Storm and his current position as a recruiting office supervisor with the 132nd Wing Iowa Air National Guard. When not working his day job, you'll most likely find Havran on the farm with his wife of over 30 years, Renee, at their registered purebred Angus cow-calf operation. 
Military experience helpful in farming
Havran thinks the military and production agriculture are a perfect combination. Both have an element of sacrifice, as well as completing a mission when it is time to do so. "The military has missions and priorities, just like agriculture," he says. "You know what missions need to be accomplished each day. Priorities as in the military could change, just like on the farm."   
While walking through this family's history, we need to remind ourselves that while they are veterans, they are also involved in farming and the agriculture for which our state is so well known.
The Havran family military history began in Nov. 22, 1882, when Jan Havran began his military service in the Austrian-Hungarian army. The Havrans made their way to the United States, where their military and agricultural history continued in this country when Jan's nephew, John Havran, a farmer, served at Camp Dodge until Dec. 1, 1918, with the end of World War I. 
It's hard to know what to highlight as this family served in many of the battles most of us have read about in history books. Two of Havran's great-uncles, Vernon and Clarence Volz, both served in the USMC in the Pacific during WW II. Vernon, wounded in the Philippines, spent over three years in a Japanese prison camp. Second cousin Jim Winter served in the Navy and was assigned to the battleship California, which he was on during the Pearl Harbor attack. Reassigned to the carrier Saratoga, Winter was serving on it in the battle of Midway, and then finished out the war on the battleship Iowa. 
Legacy of agriculture, military continues
Another second cousin, Harold Burhenn, was in the Army during WW II and served on Gen. Douglas MacArthur's staff; second cousin Fred Havran died of wounds received during the Battle of the Bulge. Another second cousin, Marvin Vorba, was wounded in France, and yet another second cousin, Lester Havran, serving in the Pacific was assigned to clean up Iwo Jima following the battle there. We should not forget second cousin Kenneth Allers, a fight engineer on a C-47 serving in North Africa and later dropped paratroopers on the June 6 D-Day invasion. Later Allers helped to bring supplies to Europe and transported the wounded back to England. 
Moving into more recent history, an uncle, Dale Havran, worked on the airfields in Korea and Guam and uncle Keith Walshire served as a U.S. Army Infantry in Vietnam. Havran's father-in-law, an Annapolis graduate, is veterinarian Dr. Steven Fox, a former U.S. Navy pilot who flew an A6 Intruder during Vietnam combat. Havran's father, Dennis, attended Iowa State College, which became Iowa State University during his enrollment. While there, many returning WW II veterans were his college professors who spoke about their service during WW II. Dennis did as all other male students were required, and that was to enroll in two years of ROTC.
It isn't surprising that the family members mentioned returned home to agriculture, most serving in a time when more of the U.S. population lived on the farm than today's 2% to 3%. But even today, 46% of the U.S. military is from rural America, while only 15% of the overall U.S. population is from that same demographic. 
Veterans in agriculture offer assistance
Helping Havran and other veterans transition into agriculture is a nonprofit organization called Veterans in Agriculture (VIA). It works to empower veterans to thrive in agriculture by either connecting them to the resources needed to be successful in farm businesses or by linking veterans to agricultural employers for successful careers.
"Agriculture provides me with a continued sense of service, and it's been an honor connecting with other farming veterans, and veterans interested in becoming farmers. The VIA has become the source to network through the vast array of competent organizations poised to support and assist veterans in ag careers," says Havran.   
This farming and military history does not stop with Paul's generation. His daughter and son are following in the footsteps of the generations that preceded them and are the future of Iowa agriculture. Daughter Elisha is in the 132nd Wing Iowa Air National Guard and is a current farmer-veteran, while son Taylor served in the U.S. Marine Corps and farms with his father and is beginning to raise cattle. A niece, Savannah Havran, serves in the 132nd Wing Iowa Air National Guard and is a farmer-veteran. She is pursuing an agriculture veterinarian degree and helps on the farm.
In this month of November we remember and thank all the families, like the Havran's and the many farmer-veterans who have given service to our country — twice. To learn more about the Veterans in Agriculture organization and other farmer veterans, visit veteransinagriculture.org.
Grabau is executive director of Veterans in Agriculture.
Subscribe to receive top agriculture news
Be informed daily with these free e-newsletters
You May Also Like
---