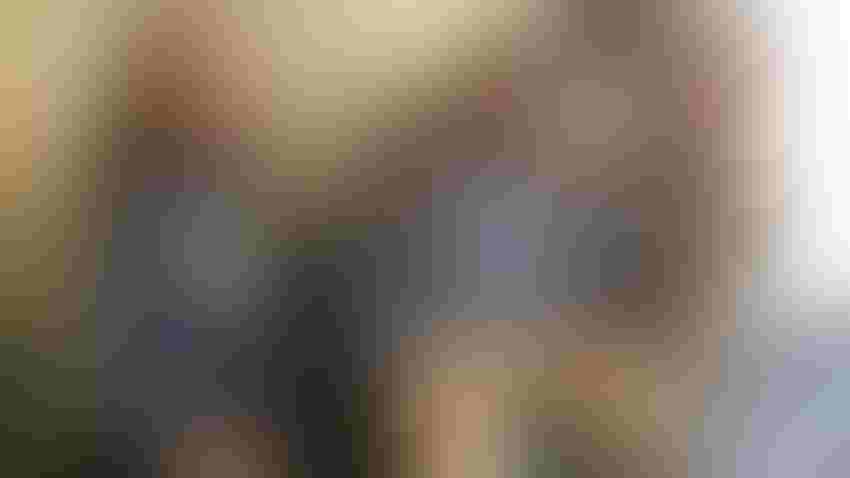 AG EDUCATORS: The plaque behind former Rushville FFA Advisor Ken Brashaber commemorates the naming of the building in his honor. He is flanked by the current advisors, Holly Wagner (left) and Blair Orme.
Tom J. Bechman
How do you honor someone for their service to a community? One common way is to name a building, road or program after them. Probably 98% of the time, the only catch is that the person has died before the honor is bestowed. So, the person who dedicated their career to a cause and went above and beyond to serve that cause never knew the honor that was bestowed upon them.
And if the person wasn't known outside his or her circle of influence, most people have no idea why a building or road carries such a name. If you travel to Bloomington, Ind., from the north, you have likely traveled on Ruel W. Steele Highway. Don't think so? It's better known as Indiana 37, now being replaced for many travelers by Interstate 69 from Indianapolis to Evansville.
Who is Ruel W. Steele? He was an Indiana University alumnus, an attorney and later head of the highway commission that created Indiana 37, completed in 1969. Not a household name — just a name on a green highway sign on a road about to become less traveled.
Name for the living
Here is a better idea. Name buildings after people while they are still living. They get the satisfaction that their contributions are recognized, and people who use the building can associate it with someone they can still see. Rushville Community Schools chose this route when they renamed the building where vocational-agriculture and other classes are taught, and home to the Rushville FFA, as the Kenneth Brashaber FFA Leadership Center.
Brashaber, now 93, spent most of his career teaching vo-ag and serving as the FFA advisor at Rushville High School. He taught in the building that now bears his name, which opened in 1978, and his former students now are many of the farmers and leaders in Rush County, Ind. In fact, a former student, Blair Orme, now teaches where Brashaber taught. Orme has taught there 34 years in his own right and was presented with the Golden Owl award in 2022, recognizing him as Indiana's ag educator of the year. Holly Wagner, a former National FFA officer from Ohio now in her fifth year of teaching, advises the Rushville FFA alongside Orme.
"One of my fondest memories was coaching a team that won the parliamentary procedure contest in Indiana," Brashaber recalled while posing for a picture with Orme and Wagner in the building now bearing his name. "That contest takes a lot of discipline and teaches many good skills."
Brashaber dedicated himself to public service after retiring from teaching, and still supports various scholarships today. His legacy will continue long after he is gone. Fortunately, he has the satisfaction of knowing that his efforts were appreciated by the community where he served.
Subscribe to receive top agriculture news
Be informed daily with these free e-newsletters
You May Also Like
---