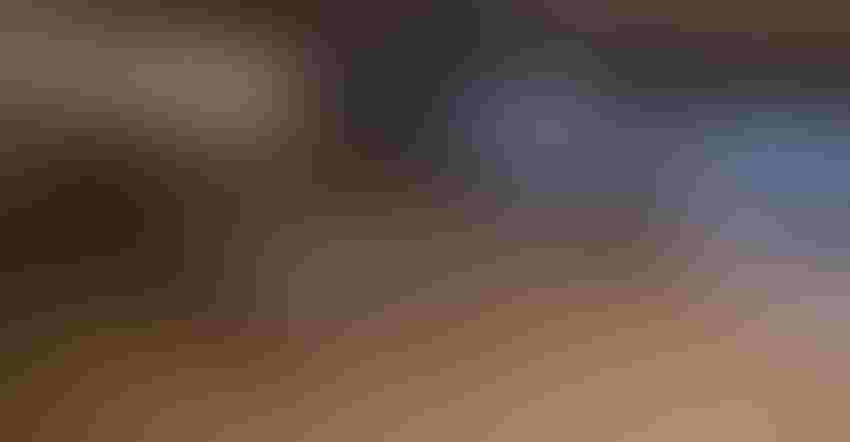 NO SCHOOL, NO MILK: School closings from the COVID-19 crisis have had an effect on milk demand as farmers have lost a key market for their milk.
Michael Loccisano/Getty Images
If there was a week that hit rock bottom for dairy farmers, last week was it.
There were widespread reports of milk dumping as bottlenecks in the supply chain led to too much milk at processing plants, shortages at grocery stores and farmers being asked to dump milk by the truckloads.
Couple that with collapsing dairy prices — futures as of Thursday were $12.92 cwt for May, $13.57 cwt for June and only breaking $15 cwt by September — and it's hard to have any optimism in the dairy industry right now.
Catherine de Ronde, senior economist at Agri-Mark Cooperative, revised her estimate for average 2020 dairy prices down to $15.50 per cwt.
"Really the impact … will be hitting in May and June, at $13.50 [cwt]. It is very concerning at this time," she says.
Bad luck
It's been a perfect storm of bad luck for dairy farmers who were once hopeful that this year would be a good year to pay off some debt and possibly reinvest in their operations.
Milk was flying off the shelves in early March as people were told to shut in to limit social distancing. Panic buying set in and stores couldn't keep up with demand. In fact, many stores started limiting purchases because so much milk and dairy items were being sold.
Then came the week of March 20 and demand collapsed, according to Ron Mong, senior manager of dairy consulting for Herbein and Co. Inc. in Reading, Pa. This was about the same time that many schools in the Northeast and Mid-Atlantic also announced statewide closures.
Mong says that many of his dairy processing clients ran reduced schedules at plants because fewer orders were coming in from supermarkets as panic buying calmed down. Couple that with monthly WIC (Women, Infants and Children) and SNAP (Supplemental Nutrition Assistance Program) money running out, and demand for dairy went way down.
Mong estimates that around 3 million pounds of milk were dumped daily last week throughout the Northeast and Mid-Atlantic.
Still, many people reported that supermarkets were limiting dairy sales. It prompted the American Dairy Association North East on its Facebook page to request pictures and locations of stores that were limiting dairy purchases so they could get in contact with stores to get the limitations lifted.
The Pennsylvania Center for Dairy Excellence called on farmers to record all milk being dumped as they are required by Federal Milk Marketing Order rules to get paid for any dumped milk.
With futures in the dumps, schools being closed, export markets shrinking and the spring flush upon us, the question for many dairy farmers is: How will the industry survive?
What industry is proposing
Several ideas are being floated to provide farmers some help.
Alan Bjerga, vice president of communications at National Milk Producers Federation, says there is an "extremely high" chance that dairy farmers will get at least some sort of direct assistance from the federal government. He says the industry was considered a priority commodity in the just-passed COVID-19 stimulus bill, meaning that money could be flowing to dairy farmers soon.
"The question is, what's the mechanism?" he wrote in an email, adding that the federation is in support of a three-prong approach to supporting farmers, starting with reopening the Dairy Margin Coverage program. "DMC is an already established program farmers understand and for which the groundwork has been established, making it a simple, easy-to-understand way to get aid to farmers fast. That's why reopening DMC, aggressive government purchases of dairy products for food assistance programs and setting up a fund to compensate for dumped milk all are important vehicles we are advocating for the government to take action upon."
In an April 1 letter to state and federal lawmakers, Agri-Mark called on the government to help.
"Current projections show the 2020 average milk price in the Northeast to be $15.80 per [cwt], having fallen 20% since the start of the year, 10% in the last two weeks alone and still falling," the letter reads. "These farm prices are far below the region's cost of production and simply not sustainable, especially after years of low milk prices.
"At these projections, farmers throughout our cooperative and across the country will be forced out of business, unable to make ends meet."
The cooperative has proposed a temporary price floor of $19.50 per cwt based on average cost of production in the Northeast. But passing a proposal like this won't be easy, especially in a sector with many different voices.
"From a food security standpoint, our country needs to be looking at making sure these farms stay in production," de Ronde says. "We are concerned that this is a food security issue."
While reopening DMC could help — more than $312 million was paid out last year, including an average $11,432 per dairy in New York and $10,558 per dairy in Pennsylvania, according to USDA — de Ronde says the lag time in getting farmers signed up and getting payments out will be too little, too late.
"At this point, we're looking at a 2009 type milk price situation," says Lucas Fuess, director of dairy market intelligence for High Ground Dairy Inc. in Chicago. He's also a native of New York state.
When could things get better? That depends on COVID-19, he says. If restaurants and schools start opening back up, that would help boost demand.
Export markets will be another thing to watch. If Mexico, the dairy industry's largest export market, starts limiting imports, that could drive prices down even further, he says. Southeast Asia, the second-largest export market for dairy, will also be important to look at, as will China, which has started to slowly open back up after their COVID-19 outbreak earlier in the year.
Get help now
If you need help paying your employees or are worried about accumulating debt, there is help available right now.
Here is a story I wrote last Thursday on Small Business Administration programs that could help cover payroll and debt. The SBA's Paycheck Protection Program is designed to help small businesses keep workers on the payroll, and SBA will forgive loans if all employees are kept on the payroll for eight weeks and money is used for payroll, rent, mortgage interest or utilities. The Paycheck Protection Program will be available through June 30.
The SBA's Debt Relief program will pay the principal and interest of new 7(a) loans issued prior to Sept. 27 and will pay the principal and interest of current 7(a) loans for a period of six months.
With any assistance program the devil is in the details, and maybe these programs won't work you. But I believe it's better to get in line than miss out on a potential chance to get help.
The next few weeks will be tough for all of us. But we all need to stick together and get through this because this crisis will eventually end, and things will eventually get better.
In the meantime, get help if you need it, and tell your friends to drink more milk.
Subscribe to receive top agriculture news
Be informed daily with these free e-newsletters
You May Also Like
---