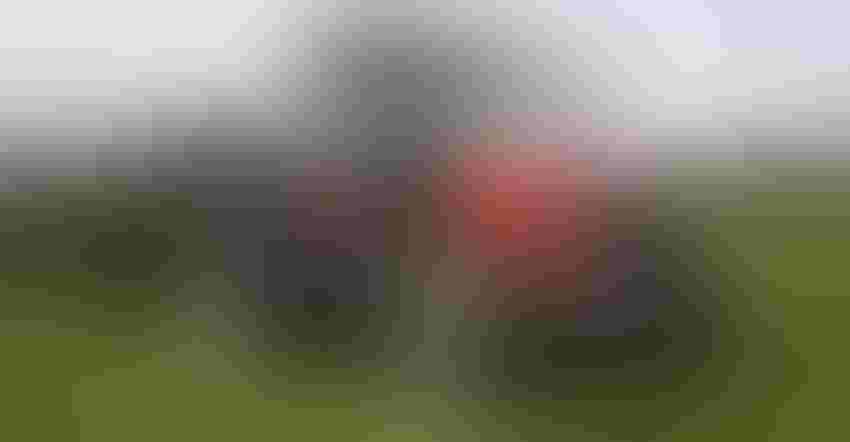 PLANT GREEN? For some growers, this might be the year to plant green, allowing cover crops that started slow last fall to grow longer this spring.
Tom J. Bechman
As I drove around checking fields for cover crop growth this fall, I noticed inconsistency with establishment from field to field. After speaking with growers, I realized that the cover crop established very well if the grower was lucky enough to catch some rain soon after planting. This was not the case for most growers, however, and establishment was very poor in areas that were dry after cover crop planting.
The summer and fall of 2022 were dry seasons for many parts of Indiana. According to the National Weather Service, the 1991-2020 normal precipitation amount for Indianapolis from May to November is 27.13 inches. In 2022, Indianapolis received 17.45 inches from May to November, which is about 10 inches below normal. In many other places in Indiana, that deficit was even greater. Although we were not dealing with mud, there may have been some consequences from this decrease in rainfall.
Cover crop establishment was good in places where irrigation was used for the cash crop or specialty crop grown during the summer. Establishment was extremely poor in fields where the cover crop was incorporated with tillage. This could be from the soil drying out even more after tillage.
What to expect
So, what should you expect for spring growth? What should you do to make sure you are still getting benefits from the cover crop? Luckily, there are a few options. But first, understand that many times, a cover crop will look poor in the fall but flourish in the spring. In late fall and winter, plants that survive put most of their energy into growing roots instead of top growth. So even though you may not have seen much top growth, some plants are taking root and putting on growth below ground.
Be patient. This is challenging, but do not jump to tearing up the cover crop until it has a chance to grow in the spring. When possible, allow it to grow longer than you normally would. Only do this in your problem fields where soil erosion and soil compaction are issues.
Plant green. Another option is to plant your cash crop into the growing cover crop. This allows the cover crop to grow longer and provide more benefits to your soil. After a dry year, there is often a buildup of nutrients that the cover crop can use and keep in your cropping system.
Frost-seed. If you are concerned that your cover crop did not establish at all or is very poor, you can frost-seed some cover crop in February or March. Select species accordingly.
As we often say, it is better to have the cover crop in the ground, even if established under tough conditions, than seed sitting in the shed where it can't possibly do any good. The fall and early winter of 2022 presented us with dry and tough establishment conditions. But don't give up hope, be patient and allow your cover to grow into the late winter and spring of 2023.
Day is a district conservationist with the Natural Resources Conservation Service. She writes on behalf of the Indiana Conservation Partnership.
Subscribe to receive top agriculture news
Be informed daily with these free e-newsletters
You May Also Like
---