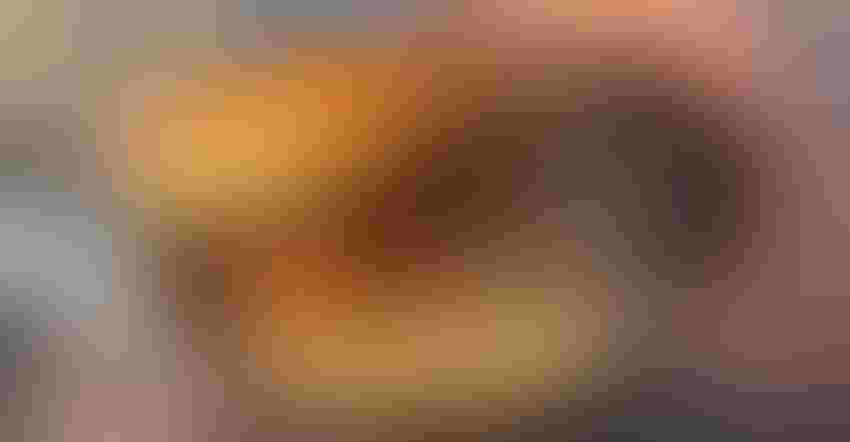 PORK: At the 2021 Illinois State Fair, IPPA's Jennifer Tirey says they sold more than 7,700 pork burgers and 4,500 chops-on-a-stick.
Photos by Charlyn Fargo Ware
I've been attending county fairs and the Illinois State Fair since I started showing Shorthorn cattle and baked goods as a young teen. It became a love affair at first sight. Our family brought the camper to the Sangamon County Fair, where my mom was in charge of the Women's Building — a job she later held at the Illinois State Fair, too.
I spent my college summers working in the State Fair Press Office, and later as a reporter for the State-Journal Register, I covered everything that happened at the state fair for 27 years straight. I qualify as a fair junkie, now making the rounds to county fairs as secretary-treasurer of the Illinois Association of Agricultural Fairs. It wouldn't be summer in Illinois without more than a few trips to a county or state fair.
Admittedly, a big part of that love affair has to do with the food. I used to write about new foods at the Illinois State Fair, which included the Pork Twister in the Commodity Pavilion. But what brings me back each year are those tried-and-true favorites: mini doughnuts, elephant ears, a lemonade shake-up, taffy … the list goes on.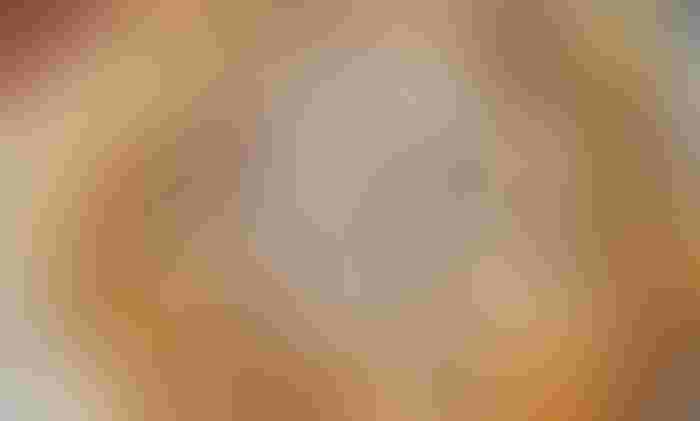 HOT AND FRESH: Funnel cakes have a fluffy, lumpy texture, as opposed to the elephant ear's flatter version, which is inspired by the fry bread of Native Americans.
Topping my list of personal favorites is a stop at the Commodity Pavilion for a pork burger, grilled fresh by volunteers from the Illinois Pork Producers Association. During the 10-day fair, the group will sell more than 11,000 pounds of pork in the form of chops, burgers, twisters and chops-on-a-stick. At the 2021 Illinois State Fair, IPPA's Jennifer Tirey says they sold more than 7,700 pork burgers and 4,500 chops-on-a-stick.
The majority of the pork sold at the Illinois State Fair is farm-raised here in Illinois — pork loins are donated by JBS in Beardstown, and Smithfield in Monmouth and Rantoul. It takes 25 volunteers per shift, times two shifts, plus another eight to 10 volunteers on the grills, all under the watchful eye of Mike Borgic, on staff with IPPA and a pork producer himself.
"If there's a secret to our pork, it's that we've worked with the same company for years — Raber's of Peoria — and they know how to prepare our pork," Tirey says. "They use Riley's [All Purpose] Seasoning on the chop-on-a-stick, a brown sugar marinade on the pork twister and Custom [Barbecue] Seasoning on the pork burgers."
IPPA has made a conscious decision to hold last year's prices — think $5 for a pork burger. "We're trying to keep all our prices reasonable because we know families have been hard hit with rising prices," Tirey says. "We want families to recognize they're getting a good value."
Of course, the pork tent is just the first stop. The key is to save some of your favorite foods for multiple days to balance the calories. You can even extend the summer fair season by making fair food at home.
Back home
To make lemonade like it tastes from the fair, use lemons rather than lemon juice. The oils in the lemon peel give a lot of flavor. For six servings, use six lemons, 1 cup of white sugar and 5 cups of cold water. Wash the lemons; then peel the zest or simply cut the lemons into fourths. Add to a bowl and cover with the sugar. Let sit at least two hours. Bring the water to a boil over high heat and then turn off the heat. Pour in the lemon-sugar mixture and let steep for about five minutes. You can pour it through a mesh strainer if you want to get rid of the zest or simply pour the lemonade in a serving pitcher and chill thoroughly. Serve over crushed ice.
To make an elephant ear back home, try this recipe from King Arthur Flour. Elephant ears were inspired by the fry bread of Native Americans. They get their name from the ear-like shape of the bread. History notes that fry bread was invented by the Navajo tribe of the Southwestern U.S. in 1864 using the flour, sugar, lard and salt given to them by the U.S. government. The end result is a cake that is flatter and smoother compared to funnel cakes' fluffy, lumpy texture. This version, which is mixed like a biscuit, uses more traditional ingredients.
Elephant Ears
2 cups unbleached all-purpose flour
2 teaspoons baking powder
¾ teaspoon salt
2 tablespoons unsalted butter, cold, in ½-inch cubes
¾ cup water, lukewarm
Mix the flour, baking powder and salt. Work in the cold butter, using a pastry blender or a mixer. Stir in the warm water to make a soft dough. Cover and let rest for 15 minutes. Divide the dough into eight pieces. Working with one piece at a time, roll into a thin 5-inch round, about 3/8-inch thick.
Heat about 3/8 inch of vegetable oil to 375 degrees F in an electric frying pan, or in a pan over a burner. (Peanut oil works best due to its high burning temp). If you're using a 10-inch-diameter pan, this is 2 cups of vegetable oil. Pick up one dough disk, and carefully lower it into the pan. Let it cook for 60 seconds (it'll puff up on top and become light brown on the bottom); then flip it over and cook until light brown on the other side, about 60 seconds. You don't want to cook these too dark; they'll become overly crisp. Remove from the oil and set on a paper towel-lined baking sheet. Place in a 200-degree oven to keep warm while you make the remaining fried doughs. Serve warm, with confectioners' sugar, cinnamon sugar or the topping of your choice. Serves 8.
Fargo Ware is a registered dietitian with Southern Illinois University Medical School in Springfield, Ill. Send recipe ideas to her at [email protected]. The opinions of this writer are not necessarily those of Farm Progress/Informa.
Subscribe to receive top agriculture news
Be informed daily with these free e-newsletters
You May Also Like
---