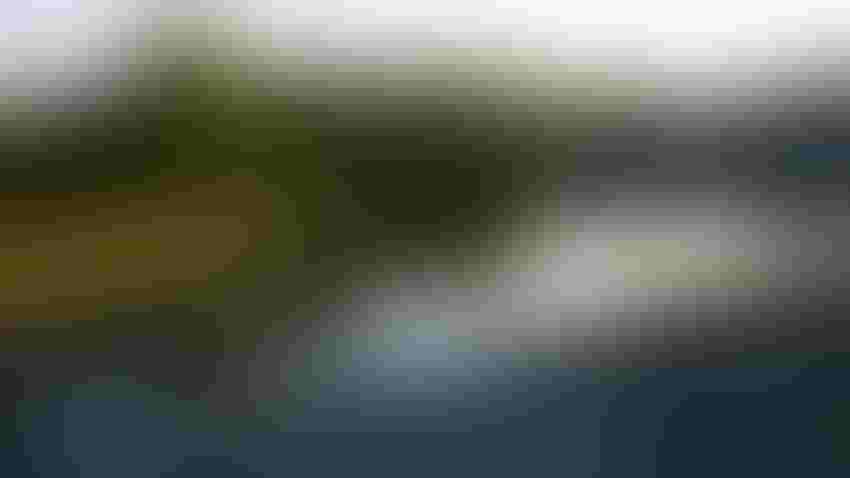 YOUR FARM IN THE FUTURE? This is the farm where I grew up. You can't see the house or buildings — they were replaced with a retention pond. This transition didn't happen due to a family fight. Instead, someone else owned the farm and made the decision.
Tom J. Bechman
Could the picture above be an image of your farm someday?
Myth 1. "That's not a farm, it's a retention pond for a subdivision. I would never sell my farm. I want my kids to farm it."
That's right, it's not a farm. But it was once the dairy farm where I grew up. Unfortunately, my dad was a tenant with no say. The owner's heirs cashed in.
But that can't happen to your farm because your family owns it. Are you sure? Are you farming with Mom and Dad, and they own it? If you have brothers and sisters, do you really think they will want to own a farm someday?
Myth 2. "That won't happen here. Mom and Dad told me that I will get the land someday. My siblings will get other things instead."
Really? Is that promise in writing? Have you contacted an attorney?
Myth 3. "We've got lots of time. My wife and I are in our early 40s. Mom and Dad's word is good enough for me."
Reality check
OK, I could go on and on with real-life scenarios that did not work out. Brother and sister were not as understanding as expected. Mom and Dad left a will. When the lawyer opened it, it said: "Each child gets an equal share." Suddenly, siblings had their hands out. If this is you, and you don't have the cash or capital to buy them out, that farm you would never sell could sell after all. A retention pond might wind up in your backyard.
An older farm couple contacted me recently and wanted to share a message with younger farmers — those in their 20s, 30s, 40s and beyond. They experienced deaths of parents and dividing things up with siblings. Fortunately, they did their own planning instead of just listening to promises. They had a lawyer bill to pay, but the farm survived.
Why did that farmer plan? Because 50 years ago, as a young boy, he read an article in a farm magazine about a farm family who didn't plan. The son and his wife came back home to help, stayed, and Mom and Dad promised they would take care of them. Thirty years later, Mom and Dad died, nothing was on paper, and five siblings had other ideas. The farm highlighted in the story didn't survive.
Earne
s

t plea

"I was determined that was not going to happen to us," the farmer told me. "And I don't want it to happen to anyone. Can you share this story?"

So, I am sharing it. But there is a reason I'm sharing it now. As I write, an online land auction is underway. Sixty minutes from now, land that has been in the same family for over a century could belong to strangers. Why? Simply put, there wasn't enough planning. Lots of trust, but not much planning.

The farmer who contacted me speaks to you: "Trust your family, but verify. Look out for yourself. And whenever you can, get it in writing."

Comments? Email [email protected].
Subscribe to receive top agriculture news
Be informed daily with these free e-newsletters
You May Also Like
---