Susan Brocksmith knows agriculture. She grew up on a farm family. Her father is Rowe Sargent, active for decades in commodity groups and ag circles. Her husband is Mike Brocksmith. Both he and his father, Paul, now deceased, were named Master Farmers. Most important of all, Susan Brocksmith doesn't just live on a farm — she works the farm with her husband.
That makes her uniquely qualified to head the Department of Business and Management at Vincennes University. Recently, some of her students accomplished things she's very excited about.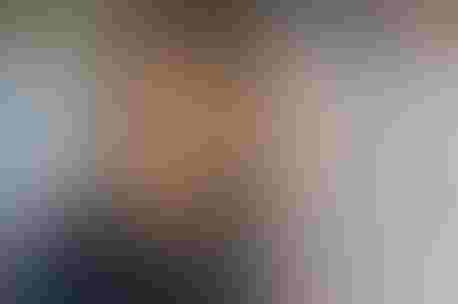 AG GRADS FIND JOBS: Whether they're working on the home farm or in ag business, all 14 graduates in Vincennes University's first agribusiness class found employment, says Susan Brocksmith.
"We started an Agribusiness Concentration in Business Technology B.S., four-year degree program here four years ago," Brocksmith says. "Most of our students at Vincennes graduate in two years with associate degrees. Now students who want an ag concentration in business can stay here and get a four-year degree."
New graduates
So why is Brocksmith excited now? The first 14 students to begin the program graduated with four-year bachelor's degrees earlier this year.
"What's better yet is that they have jobs, mostly in the ag field in one way or another," Brocksmith relates. "Some went back to the farm. One is working at a fertilizer dealership. We have one graduate employed in the soil and water conservation field. Another accepted a position with the Farm Service Agency."
Brocksmith's responsibilities include helping graduates find productive jobs after they complete their degrees. "Job placement is a big part of what we do here," she adds.
The idea that started the program was to give students, particularly those in southwest Indiana, another option to obtain a four-year degree that included ag courses, Brockmsith explains. Students who graduate from the program would be eligible for a wide range of positions, from a farm manager or livestock manager to a pesticide professional or someone working as a specialist in the grain industry, she observes. Other job possibilities include being a seed or fertilizer rep, a service specialist, or even a custom applicator at a retail dealer in agriculture.
This first class is just the beginning, Brocksmith believes. There are about 40 more juniors and seniors currently working their way through the program at Vincennes; another 40 or so freshmen and sophomores are following in their footsteps.
One option for a student who begins the program is to stop at two years and still get an associate's degree, Brocksmith adds. Having the four-year bachelor's degree option, however, adds flexibility for students who might want to pursue ag jobs that typically require more than a two-year or associate's degree.
Brocksmith doesn't see the program at Vincennes as competing with existing degree programs, including Purdue University, but instead as complementing those programs. Many students have traditionally finished ag programs at Purdue after beginning at Vincennes, and that's likely to continue.
"This is a great place to start for students thinking they aren't ready for a bigger campus setting," she says. "Now they can also finish here, if they choose."
About the Author(s) Editor, Indiana Prairie Farm
Tom Bechman is an important cog in the Farm Progress machinery. In addition to serving as editor of Indiana Prairie Farmer, Tom is nationally known for his coverage of Midwest agronomy, conservation, no-till farming, farm management, farm safety, high-tech farming and personal property tax relief. His byline appears monthly in many of the 18 state and regional farm magazines published by Farm Progress.

"I consider it my responsibility and opportunity as a farm magazine editor to supply useful information that will help today's farm families survive and thrive," the veteran editor says.

Tom graduated from Whiteland (Ind.) High School, earned his B.S. in animal science and agricultural education from Purdue University in 1975 and an M.S. in dairy nutrition two years later. He first joined the magazine as a field editor in 1981 after four years as a vocational agriculture teacher.

Tom enjoys interacting with farm families, university specialists and industry leaders, gathering and sifting through loads of information available in agriculture today. "Whenever I find a new idea or a new thought that could either improve someone's life or their income, I consider it a personal challenge to discover how to present it in the most useful form, " he says.
Subscribe to receive top agriculture news
Be informed daily with these free e-newsletters
You May Also Like
---