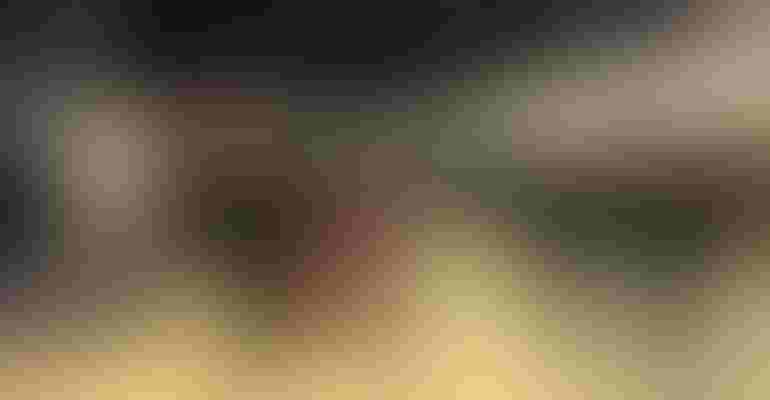 DIVERSE AND IMPRESSIVE: The National FFA Convention and Expo is impressive in its scope with more than 70,000 attendees and lots of diverse voices.
Shelby Watson-Hampton
I attended the 92nd National FFA Convention and Expo, and the first thing I noticed were the feelings of optimism, determination and drive that permeated the fall air in downtown Indianapolis. 
The second thing I noticed was that this ag convention ain't like the rest of 'em. 
When the expo floor hosts a DJ, a twinkle-light-bedecked dance space, giant Jenga blocks and free ice cream, you know you've walked into the biggest ag event for young people in the country.  
Boasting an impressive 70,000 attendees, the majority of which are students from all 50 states and Puerto Rico — the rest made up of teachers, parents, alumni, speakers, sponsors and vendors — it is one of the largest annual conferences not only in the agricultural industry, but in the country. 
Young and old, students and alumni, instructors and parents, speakers and sponsors, they all came in the spirit of the positive future of agriculture. Each one had a story to tell; of their life in agriculture, of their future aspirations for the industry, and (for students and alumni) of their journey through FFA. 
My FFA story is a bit different than most. To my lament, my county didn't have an active FFA chapter when I was in school, so I didn't get to be a student member. However, as soon as I learned about the opportunity, I joined as an FFA Alumni Lifetime Member in 2014 as an adult. 
I have a photo of me displaying that Lifetime Member certificate, and I proudly wear my grandfather's FFA blue jacket — he was Maryland FFA state treasurer in 1952 and the reason that I went into farming and farm advocacy. My grandmother has kept his jacket all these years.
This was my second time attending the National FFA Convention, and the awe I felt from my first year's impression was not diminished at all this second time around. 
For FFA students, this is the pinnacle of their year. Filled with classes, workshops, receptions, multiple concerts from up-and-coming musicians, a rodeo and an impressively large expo floor, there was something for everyone. 
In-between grabbing free ice cream from the Culver's booth (apparently the breakfast of champions for high schoolers) and singing karaoke, students also vied to cement themselves in the FFA awards hall of fame by competing in dozens of competitive events such as Extemporaneous Speaking, Prepared Speaking, Marketing Plan, Employment Skills and more.
I had the chance to judge several rounds of the Extemporaneous Speaking competition and I was blown away by the skills, grace, intelligence and poise that these students displayed during these competitions. The optimism, determination, curiosity, work ethic and drive that these students embody makes me hopeful about the future. 
FFA takeaways
I took away a few things from the conference that are applicable to me as both a small business agritourism farmowner and as director of a local agricultural marketing nonprofit. 
First, the convention was amazingly well-run from a logistical standpoint. As someone who hosts large agricultural events both on and off the farm, there's always something I can learn from a well-executed event.
The second was the reminder that the first rule of business is "know thy audience," and FFA was spot-on in catering to its target audience. Attendees were plied with free products, entertained with premier musical acts and instructed in educational workshops. They hit their mark in catering to attendees' needs and wants. 
FINDING FFA: Shelby Watson-Hampton wasn't an FFA member when she was in school, but FFA is a big part of her life today. She became an FFA Alumni Lifetime Member in 2014.
My third, and most impressionable takeaway, was the power of the FFA's mission made real. Their mission statement reads: "FFA makes a positive difference in the lives of students by developing their potential for premier leadership, personal growth and career success through agricultural education." Their motto is "Learning to Do, Doing to Learn, Earning to Live, Living to Serve."
The execution of this mission and motto was evident in the students, teachers and staff throughout the convention. It was refreshing and invigorating to see.
During this time of confusion and fear in our society, these students and their hard work, dreams and ambitions were a much-needed balm to my soul. 
I truly believe they are the future of American agriculture, and what a bright future that is. 
Watson-Hampton farms with her family on their fourth-generation family farm in Brandywine, Md.
Subscribe to receive top agriculture news
Be informed daily with these free e-newsletters
You May Also Like
---