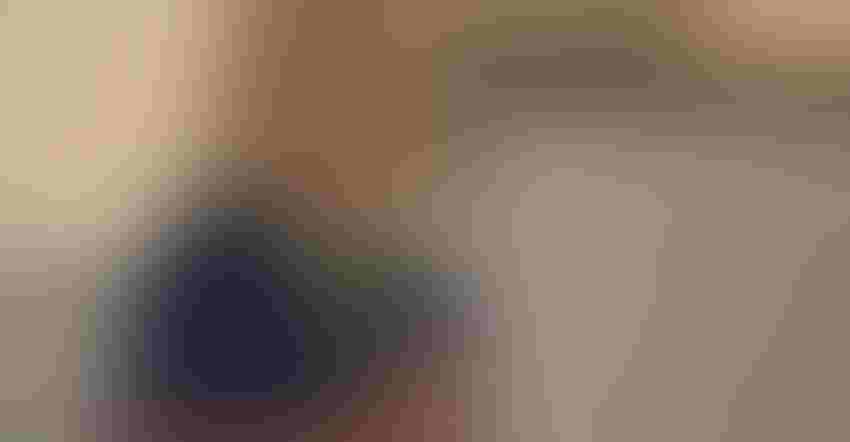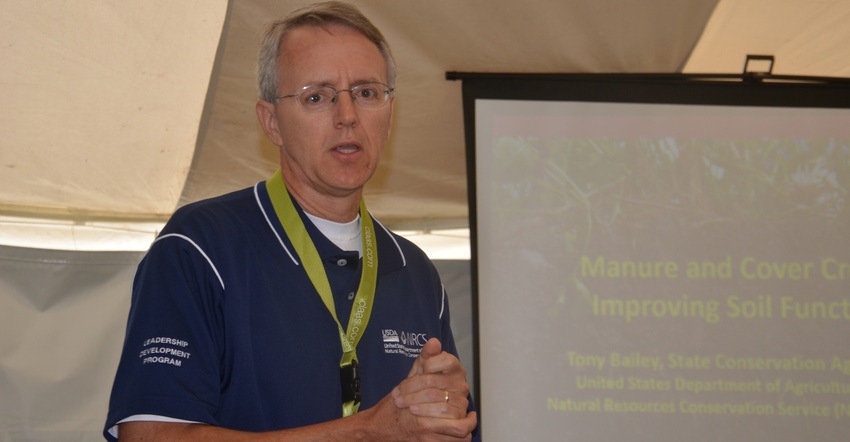 STRETCH YOUR HORIZONS: Tony Bailey with NRCS talks about using manure to improve soil health at a regional manure management field day.
Tom J. Bechman
Which meetings have you circled on your "to attend" list? I encourage you to stretch your "meeting menu" and attend meetings with different topics or speakers to diversify your diet, so to speak. Here are a few things to consider:
Food. Duh, all great meetings offer something. You'll either find your favorite doughnuts with bad coffee or maybe a good lunch with a mouthwatering pork chop, barbecue anything or fried chicken. But when making decisions about where to spend your time, it should be about more than who has the best food or if the event is free.
Routine. It is easy to attend the same events year after year. It's comfortable, and there will likely be someone you know there. Maybe you only attend meetings offering continuing education credits.
But there are also good meetings that don't offer credits. Many meetings are likely sponsored by local retailers or suppliers. Are they covering topics you want to learn more about? Are speakers challenging your way of thinking, allowing your thought processes to grow?
Diversity. Just as we talk about diversity with cropping systems, diversify the events you attend. Pick a topic you've heard of but know little about. Or what about a speaker you've never listened to? I can usually get something out of a new topic or speaker that stretches my viewpoint. A few of my favorite current topics are carbon markets, sustainability and the economics of conservation. If you're using cover crops, a discussion about when to take nutrient credits and how much for cover crops might appeal to you.
Different events. Again, how can you diversify your meeting diet? I'm not just talking about food, though that is important. If your favorite routine events don't offer topics or speakers covering the latest in soil health, cover crops, sustainability and conservation, seek out meetings offered by the Conservation Cropping Systems Initiative or your local soil and water conservation district. CCSI works with the Indiana Conservation Partnership to assist with meetings across the state. If you have not done so already, check out ccsin.org for the latest on meetings or to be added to their email distribution list.
While it is easy to attend the same workshops, conferences and meetings year after year, are topics and speakers helping you grow your operation? Are they challenging how you produce crops? Are they challenging how you preserve and protect soil resources? This is that little nudge to encourage you to seek out that "different" event to diversify your diet.
Opportunity. Here's a great place to start. The Elkhart County Soil and Water Conservation District will host Pay Dirt at the Elkhart County, Ind., fairgrounds on Feb. 28, from 8 a.m. to 4 p.m. EDT. The catchy title clues you in that it should be a different type of meeting. Three scheduled speakers — Ray Archuleta, Rick Clark and Jason Mauck — all understand and talk about soil health, but each one comes at it from a unique angle. If you've heard about practices like farming green or intercropping, here's your chance to learn what they're all about. Registration is $25, including lunch. Call 574-523-2030 or register online at elkcoswcd.org.
Bailey is the Indiana state conservation agronomist with the Natural Resources Conservation Service. He writes on behalf of the Indiana Conservation Partnership.
Subscribe to receive top agriculture news
Be informed daily with these free e-newsletters
You May Also Like
---