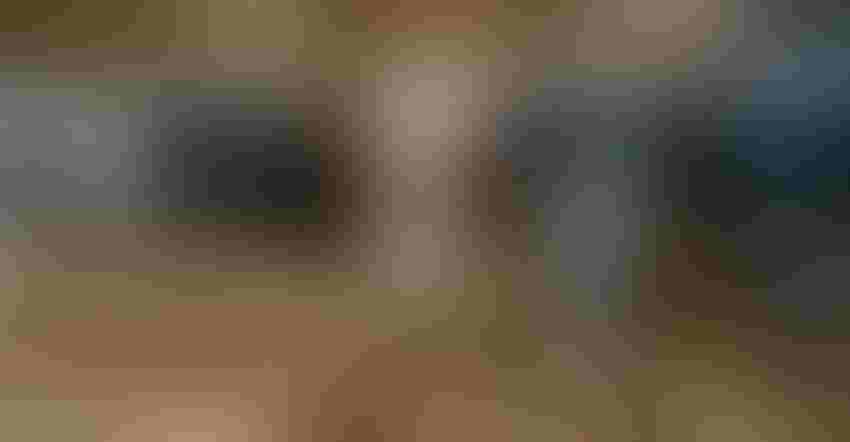 RESILIENT DAIRY: Dairy farmers have kept up with increased demand for dairy products. The July milk production report showed milk production up 1.5% in the 24 major dairy states.
Vladimir Zapletin/Getty Images
The dairy industry has been whipsawed in recent months by skyrocketing cheese prices followed by a sharp reversal downward.
Weekly block cheese averages were just over $1 a pound in mid-April, then began a steady ascent in early May, peaking at just over $2.83 a pound in July before dropping back to about $1.67 a pound where it sits now. That's a lot of price movement in a little over four months. Dairy historians will likely look back in awe at the volatility that has transpired this year.  
Yes, COVID-19 has brought its share of pain, but also a sense of gratification as we work together and rise to overcome the challenges put before us. There are many good things happening in the dairy industry right now.
It's hard to argue that the USDA's Farmers to Families Food Box program has been anything but a success. U.S. Secretary of Agriculture Sonny Perdue announced the $3 billion program April 17 as part of the Families First Coronavirus Response Act to purchase and distribute agricultural products to citizens in need. USDA has partnered with farmers, growers, distributors and nonprofits to purchase and move basic food products to the needy across the country.
Most of these boxes have a combination of meat, produce and various dairy products. Each food box must contain at least 5 to 6 pounds of dairy, such as cream cheese, sour cream, cottage cheese, butter or yogurt, along with a gallon of fluid milk. The good news is that this program will be extended for a third round.
The Farmers to Families Food Box website reports that 35.6 million food boxes were invoiced in the first round, which ran from May 15 through June 30. The second round, which began July 1 and ends Aug. 31, has so far invoiced 31.2 million food boxes. The third round starts Sept. 1 and ends Oct. 31.
Food purchases made in the first round have been reported at $947 million. Food purchases in the second round so far are estimated to be another $1.47 billion. Purchases from the third round are estimated at between $600-$700 million, until the $3 billion allotment for the program is exhausted.
There is no doubt that this program has helped moved a lot of dairy across the U.S. Along with helping to stabilize the market, it has brought nutritious food to millions of people. Here in the Northeast, several state-run agencies, cooperatives, processors, manufacturers, foodbanks and nonprofits collaborated to get product to those in need.
American Dairy Association Northeast helped to move over 600,000 gallons of fluid milk in the region.     
With restaurants and schools across the country slowly reopening and many people still in self-quarantine, dairy sales at grocery stores have remained brisk, according to the International Dairy Deli Bakery Association. Grocery store dairy sales have been running "double-digit higher" than last year's figures over the past four months, and this trend is expected to continue.
Back to normal?
Most farmers are keenly aware of the quickly rising cheese prices on Federal Milk Marketing Orders and its effect on the overall milk check. These abnormal price inversions are the product of federal order rules that announce Class I prices a month in advance of Class III and Class IV.
For example, the July Class I price was announced on June 17, while the July Class III price was announced on Aug. 5 and the July Statistical Uniform Price was announced on Aug. 12.
Normally there is little problem with the system and the pricing mechanisms work according to plan. But in the past few months there has been much written about negative PPDs, depooling of milk and the effects all these have had on producer paychecks. The good news is that most dairy economists believe the worst is over and these pricing anomalies will soon self-correct and return to normal.
More milk production
USDA analysts have been making some upward revisions to their previous estimates of milk production for March through May. Dairy producers have shown to be resilient in the wake of this pandemic and have responded more positively to the news of higher prices than USDA had anticipated.
The July milk production report, released Aug. 19, showed milk production up 1.5% in the 24 major producing states. July production per cow in the 24 states averaged 2,016 pounds, 19 pounds above July 2019. The number of milk cows on farms was 8.83 million head, 44,000 head more than this time last year and 2,000 more head than June 2020.
Milk production in New York is up 1.8%, Pennsylvania production is up 4% and Vermont production is down 5.3%.
Lower prices
As a result of recent events and price movements, USDA economists have lowered their 2020 product price forecasts by 6 cents for cheddar cheese and butter, and by 0.015 cents for nonfat dry milk. Dry whey was left unchanged.
The lower cheese price estimate reduces the Class III forecast to $17.40 per cwt, 60 cents lower than the previous month's forecast. Lower butter and nonfat dry milk prices reduce the Class IV estimate for 2020 to $13.55 per cwt, 40 cents lower than the previous month's forecast. The all-milk price for 2020 has been lowered from $18.25 per cwt to $17.95 per cwt.
Exports growing
According to the U.S. Dairy Export Council, June dairy exports grew 28% by volume and 22% by value over last year. Cheese exports hit an all-time high, climbing 29% over last year. China doubled its purchases; Mexico was up 62%; and South Korea was up 56%.
Nonfat dry milk exports have been steadily climbing and were up 77% from June of last year. Most of that nonfat dry milk is going to Southeast Asia and Mexico. Cheese exports were boosted by low prices here in the U.S. in the second quarter.    
Latta is a political and economic consultant for Northeast Dairy Foods Association Inc.
Subscribe to receive top agriculture news
Be informed daily with these free e-newsletters
You May Also Like
---