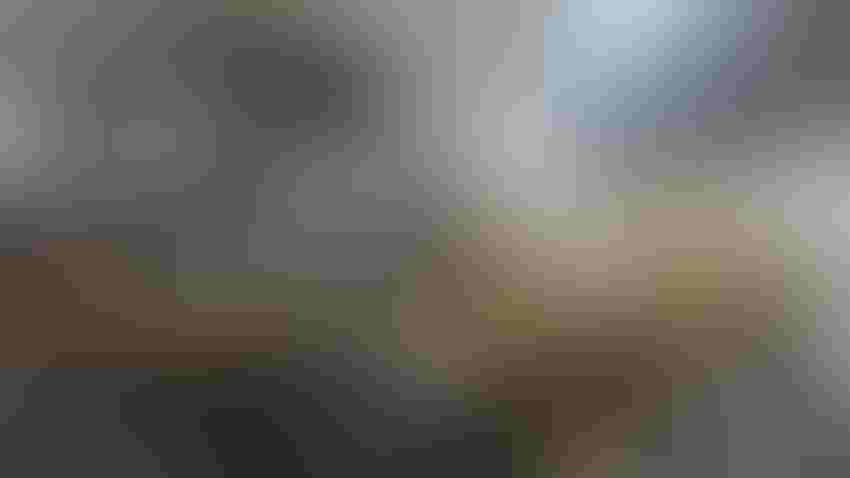 The corn planter rehab continues to drag on. Hopefully Thursday will be the last day and we can get something else moved into the shop before another sloppy Friday weather day.
The issue has been getting parts. We knew we had to re-blade the fertilizer openers, but we didn't know the fertilizer tube guide between the blades would have to be replaced. It took a week to get those parts!
We ended up replacing all the seed and fertilizer opener blades, bearings and scrapers. I used more than a carton of grease by the time I greased everything. We had the seed meters checked and re-installed. We then had to fix a leaky hydraulic hose and check the lights and rearview camera. I really didn't think it would take that long but it has.
Rogator work
Intermittent work also continues on the Rogator. We planned for this switch from dry to liquid to be an extended process. Even though the sandblasting was done a couple weeks ago, I wasn't able to get the painting done until last week. I replaced the rusted-out air tank as well as the muffler.
Tuesday, we finally picked up the liquid system and set it one the machine. I spent most of the next day scratching my head, and looking in the parts and operator manuals to figure out what connections need to be made where. I think I've got at good start on it, and one of the service techs is supposed to stop by and see which parts we are missing.
I've already ordered a couple of hydraulic hoses, and we think we will need a mounting kit for the hydraulic pump. Hopefully everything else is a direct fit, but I know I will need some help setting up the product controls in the display.
Family fun
Thursday is also the last middle school basketball game of the year for Ivy. This weekend finishes off Onya's intermural basketball league. Rachael and I have one game left each to officiate next week. Ava will be away at Business Professionals of America State Leadership Conference this weekend where she is competing in 2 events as well as running for state office.
Spring break at the end of the month will be our only chance to take the whole family and get away for a few days. Even though school softball has begun, we are planning a quick trip to one of the indoor waterparks at Wisconsin Dells.
Subscribe to receive top agriculture news
Be informed daily with these free e-newsletters
You May Also Like
---