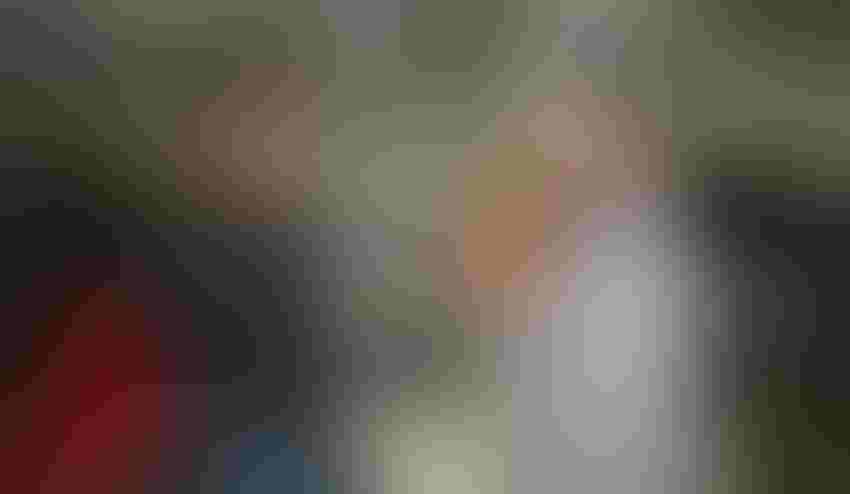 Mary Simmons of Great Basin Seed in Ephraim, Utah, talks with Casey Sever during the trade show at the Red Bluff Bull and Gelding Sale.
Tim Hearden
The Red Bluff Bull and Gelding Sale has always been a social gathering. The five-day extravaganza of livestock auctions, a trade show and other activities has long been a chance for people who've been coming for years to reconnect with friends they've made in the industry.
But this year, the mingling brought an extra sense of relief for the hundreds of buyers, consigners and livestock-related businesspeople who've been isolating since last March because of the coronavirus.
"I think everyone feels an overwhelming sense of relief," said Amanda Bradshaw, the bull sale's first-year manager. "A little bit of normalcy is welcome."
With challenges like rising feed costs and a developing drought, it's been a rough year for ranchers "even without a pandemic," she said. "But we got a big storm and there's moisture on the ground."
That sense among participants that there's light at the end of the tunnel was evident throughout the 80th annual sale at the Tehama District Fairgrounds in Red Bluff, Calif. People lingered a little more than usual, asked how others were doing and generally caught each other up on personal news.
Bob Hickman, owner of Hickman Saddlery in Post Falls, Idaho, said this year's sale was like taking "a big, deep breath.
"People want to stop and talk – I've noticed that more," he said. "People are telling us stories, how good it is to get out. We're alive again. This is the first show I've done since this show last year. Normally I do 20 shows a year."
Mary Simmons of Great Basin Seed in Ephraim, Utah, said her rural community hasn't been as affected by lockdowns as most larger cities. But there still haven't been many trade shows, and "there's only so much you can do in a phone call," she said.
"I'm really excited to be here," Simmons said. "This is actually our first trade show in quite a while. We were all affected by what's going on. But we see a lot of friends here, and it's good to get out."
Mark Zappetini of Bar ALE Feed in Williams, Calif., noted the trade show at the Red Bluff sale is the largest one for livestock-related businesses in the WestI, and its timing this year was much needed. He credited the bull sale organizers for putting safeguards in place to curb the spread of the virus.
"In agriculture, we still need the face-to-face" interaction, Zappetini said.
Don Cardey, a long-time bull consigner from Turlock, Calif., agrees. He usually shows some of his cattle in open shows at county fairs, but there were no fairs in 2020.
"This was the first time I've been home all summer since '57," he said.
To me the sentiments underscore how important it will be for people in the coming months to log off the computer, put away the phone and interact face to face with people, even if we still must stand at a distance. Then we can all say we're "alive" again.
Subscribe to receive top agriculture news
Be informed daily with these free e-newsletters
You May Also Like
---