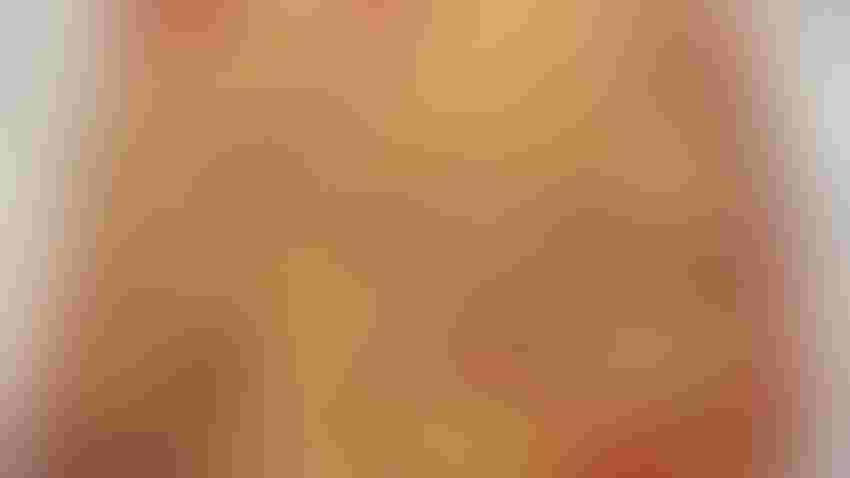 SPRING: Strawberry Rhubarb Crisp is a family favorite.
Charlyn Wargo Fare
I have fond memories of helping harvest the rhubarb that grew on our family farm. Mom would transform it into a strawberry rhubarb pie or crisp, or a rhubarb sauce that we ate over a homemade biscuit or roll. The rhubarb, along with asparagus, signaled spring had arrived.
Rhubarb is a vegetable that most of us use like a fruit in cooking and recipes. Though native to Asia, with roots in ancient Chinese medicine, rhubarb grows in other parts of the world, including the United States. Commercially, it's grown in Oregon, Washington and Michigan.
A bit of history: Growing rhubarb has a long history in England, where the climate much of the year is ideal for the plant. At one time, England produced enough rhubarb to meet the demand across Europe and abroad. The Yorkshire Rhubarb Triangle is a 9-square-mile area that's famous for its early forced rhubarb. The plants are grown in long forcing sheds and harvested by hand by candlelight.
Rhubarb prefers cooler environments — it doesn't fare well in the heat — hence, its spring arrival. The long red leafstalks grow in the spring, peaking from mid-April to June. But if you're just starting out, it takes four years to get a full harvest. Once established, plants will produce for 10 years.
Only the stalks of the plant are edible. The leaves contain toxins and high concentrations of oxalic acid. The stalks are full of fiber and are a bit acidic, preferred by most of us to be cooked and paired with a sweeter fruit, like strawberries, in jams, pies, crisps and even trendy drinks.
Like most vegetables, rhubarb is full of health benefits. Besides being a good source of fiber, the root is good for bone and heart health due to its high amounts of vitamin K, is anti-inflammatory, is rich in antioxidants and may help with digestion. It's high in the antioxidant anthocyanin, which gives it its red color. A half-cup serving of rhubarb has only 13 calories, yet 1 gram of protein, 3 grams of carbohydrates, 1 gram of fiber and 1 gram of sugar. Better yet, it's fat-free.
This is the season you may find fresh rhubarb in your grocery store's produce section. If not, it's usually at some of the first farmers markets around the state. When choosing rhubarb, look for stalks that are firm and crisp. Avoid ones that are limp or have blemishes. Look for ones with small leaves, which indicate a younger plant, but be sure to remove the leaves before cooking or eating. 
It's best to leave the stalks whole until you're ready to use the rhubarb, or the vegetable may dry out. To store them, place whole stalks into a sealed plastic bag in the refrigerator. Use them within a week. If you want to preserve rhubarb for later use, cut it and store the pieces in the freezer.
Rhubarb can be eaten raw, blended into a smoothie or cooked into a rhubarb jam. Or you can bake it in a pie or crumble, make rhubarb ice cream, add it to fresh juices, blend it in a sauce to use over meat or poultry, puree and dehydrate to make a rhubarb leather, or even roast it in the oven with a drizzle of olive oil and honey and toss it in a salad.
Here's a recipe for my mom's Strawberry Rhubarb Crisp, a favorite at our house, and Strawberry Rhubarb Oatmeal Muffins.
Strawberry Rhubarb Crisp
3 cups chopped fresh or frozen, thawed and drained rhubarb (about 12 ounces)
2 cups sliced strawberries (about 12 ounces)
3 tablespoons granulated sugar, divided
2 tablespoons cornstarch
Zest of 1 orange
1 teaspoon vanilla extract
1 teaspoon finely chopped ginger
¼ teaspoon fine salt, divided
1 cup rolled oats
¼ cup white whole-wheat, whole-wheat pastry or all-purpose flour
4 tablespoons unsalted butter, melted
2 tablespoons canola oil
1 teaspoon ground ginger
Preheat oven to 350 degrees F. Combine rhubarb, strawberries, 2 tablespoons of sugar, cornstarch, orange zest, vanilla, chopped ginger and ⅛ teaspoon of salt in a large bowl. Transfer to a shallow 2-quart baking dish. Combine oats, flour, the remaining 1 tablespoon of sugar, butter, oil, ground ginger and the remaining ⅛ teaspoon of salt in a medium bowl. Sprinkle the crumb mixture over the fruit. Bake until the fruit is bubbly around the edges and the topping has browned, 30 to 35 minutes. Let cool on a wire rack for about 10 minutes before serving. Serves six.
Per serving: 213 calories, 3 grams protein, 29 grams carbohydrate, 10 grams fat (2 grams saturated), 4 grams fiber, 10 grams sugar (6 grams added), 97 milligrams sodium
Strawberry Rhubarb Oatmeal Muffins
1 cup traditional oats
1 cup buttermilk
1 cup all-purpose flour
½ teaspoon salt
½ teaspoon baking soda
1 teaspoon baking powder
1 teaspoon cinnamon
½ cup oil
½ cup brown sugar
1 egg, beaten
¾ cup chopped fresh strawberries
¾ cup chopped fresh rhubarb
Cinnamon sugar topping:
⅓ cup sugar
1 tablespoon cinnamon
Combine the oats and buttermilk; let sit for five minutes. In a separate bowl, whisk together flour, salt, soda, baking powder and cinnamon. In another bowl, combine the oil, egg and brown sugar. Add this mixture to the oat mix. Combine the oat mix with the flour mixture. Stir in the chopped strawberries and rhubarb. Line a muffin tin with paper liners. Scoop the batter into the 12 cups. Sprinkle the tops with the cinnamon-sugar mixture. Bake in a preheated 400-degree-F oven for 15 to 20 minutes.
Fargo Ware is a registered dietitian with Southern Illinois University Medical School in Springfield. Send recipe ideas to her at [email protected].
Subscribe to receive top agriculture news
Be informed daily with these free e-newsletters
You May Also Like
---