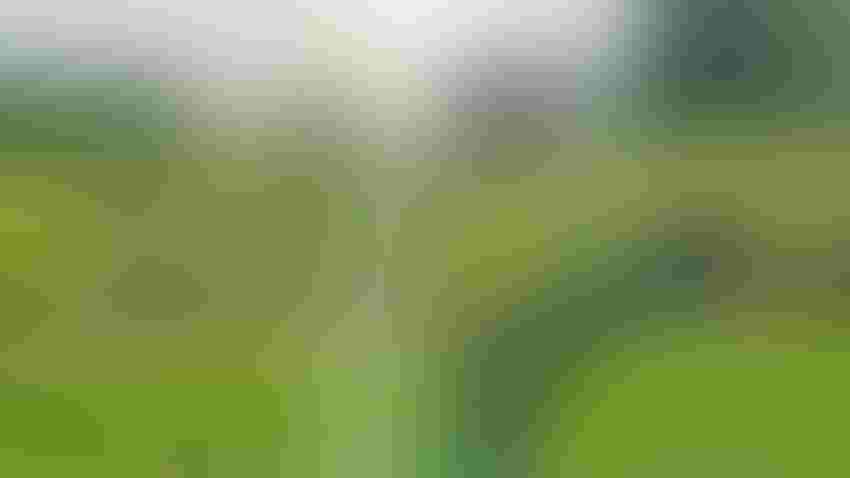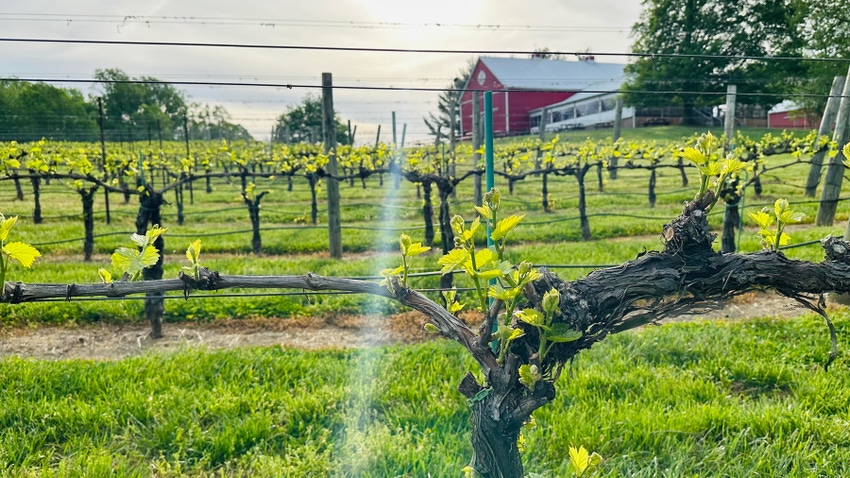 VINES ARE BLOOMING: It's a crazy spring at Robin Hill Farm & Vineyards, but the work in getting a solid 2023 vintage continues — even with the stress of life outside the farm.
Shelby Watson-Hampton
OK, y'all, let's be real for a moment. It's spring. Every working farmer is now stepping off the high dive and plunging into the season of planting and production.
Let's be honest; we're in survival mode, and sanity is a rare luxury right now. 
Case in point: As I'm sitting here writing this, I have my earbuds playing a soothing background of "brown noise" to try to calm the hamster wheel of thoughts in my head.
Here's a snapshot into the lives of two middle-aged people who are trying to manage the farm, hold down off-farm jobs, raise a kid and build a house.
We recently had our ninth wedding anniversary, and we celebrated by spending four whole minutes with each other after he got back from the farm about 8 p.m. I put the baby down, and we stood in the hallway and strategized the next day's schedule. 
I had to work late the next day for a meeting that couldn't be missed and wouldn't be done until 7:30 p.m. He wasn't home until 6 p.m. because of a training session at work, so I texted the babysitter and asked if she could adjust her hours and stay until 6 p.m. She could, thank God. 
Then he mentioned that the contractor was waiting on us to get back to him about changes in the house plans. We hadn't even had five minutes to sit down and do that, but the contractor was expecting us to be ready.
"Call the builder in the morning," I told him. "Ask to push the conversation back until the day after tomorrow. We can catch an hour in the late afternoon to go over everything and then call him in the evening."
Of course, as I'm saying this, my husband is looking down at the weather app on his phone. "That won't work," he says. "I won't be home. It's going to rain on Saturday, so I have to get a spray in on the vineyard on Friday, and I have that last day of the work training, so I have to go straight from work to the field and I won't be home until late." 
He then adds, "Also, two of the laborers I had lined up for the season can't work now, so I'm short and I don't know what to do."
We stood in the darkened hallway whispering outside of our son's room and stared at each other. 
House, farm, careers, kid. The balls just weren't juggling correctly at the moment. Our gazes contained a mixture of anxiety, overwhelm and panic. 
We backed into the bedroom and perched on the end of the bed, both our phones in hand, as we compared schedules and weather apps. 
I took a deep breath and tried to remember and rationalize why we are living this way. 
Because even though it's busy season, it won't be this way forever. 
Because by working the family farm, we are saving it, and ensuring that our son and nieces and nephews have the homestead now and in the future. 
Because by having off-farm careers (both in ag), we are bringing in much-needed paychecks and health insurance, and also working in fields we like. 
Because after saving and planning for 12 years, we now have enough money to build our dream home on the farm and give our son a beautiful place to grow up, and cousins right across the way. 
We touched foreheads for a moment and calmed ourselves. We made a plan.
We forge on in building this life, one that is not easy, but that under the stress we still love. 
It's just a busy season. This, too, shall pass.
Watson-Hampton farms with her family on their fourth-generation family farm in Brandywine, Md.
Subscribe to receive top agriculture news
Be informed daily with these free e-newsletters
You May Also Like
---