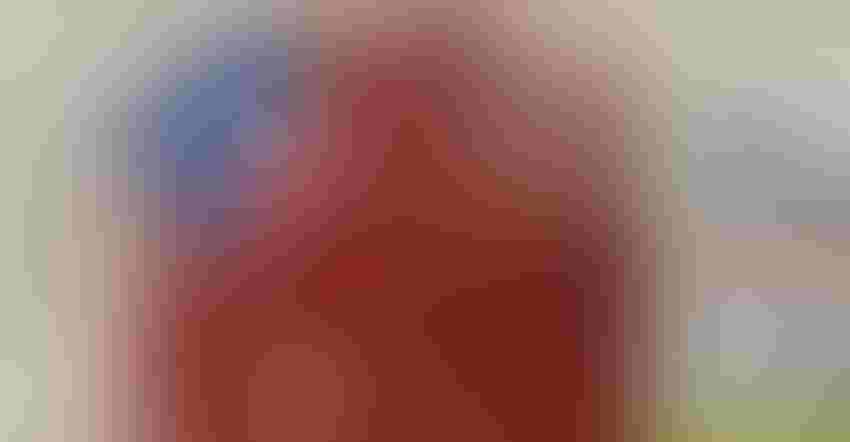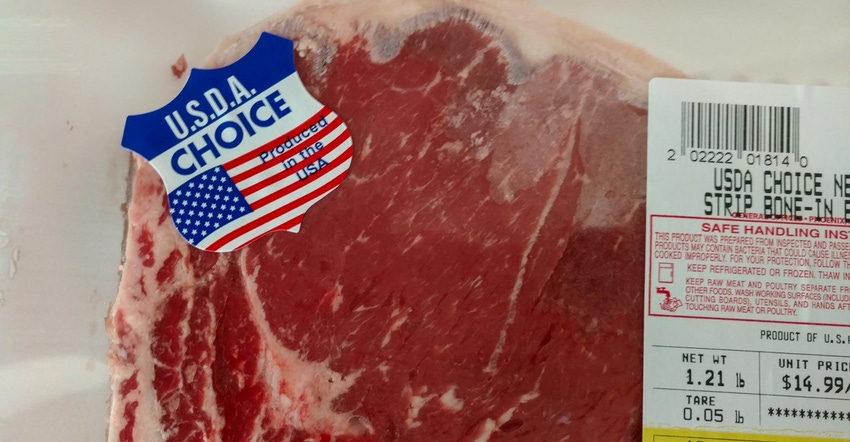 LABEL LIES: A "Product of the USA" is displayed prominently on a steak. Such labels refer to where the meat was packaged and processed, but not where it was raised.
Lon Tonneson
I think cattle producers got a raw deal on Country Of Origin Labeling (COOL) and are getting ripped off again.
COOL — which required that beef and other products carry a country of origin label — was part of the 2002 Farm Bill but was never really implemented. It got hogtied by World Trade Organization complaints from Mexico and Canada, who ship nearly two million cattle into the U.S. to be processed and sold each year. Congress repealed COOL in 2015.
But that isn't the end of the story.
Since COOL's repeal, some packers and retailers have been putting "Product of the USA" or "Made in the USA" labels on meat packages. The USDA Food Safety and Inspection Service (FSIS) allows such labels if the meat is processed and packaged in the U.S. But the meat doesn't have to come from animals that have been born and raised in the U.S.
As such, the "Made in the USA" label is a rip off. It intentionally misleads consumers. In a formal response to a petition filed by the U.S. Cattlemen's Association, FSIS admitted as much.
The upshot is that beef packers and retailers — many of whom said COOL was too expensive and claimed that COOL wouldn't help beef sales — are labeling steaks and other prime cuts as "Products of the USA." But they don't have to buy animals that were born and raised in the USA.
South Dakota Sens. John Thune and Mike Rounds introduced a bill in Congress last year to prohibit using "Product of the USA" or "Made in the USA" labels on meat that comes from animals not born or raised in the U.S. Nothing has happened with the bill yet other than it was sent to the Senate Agriculture, Nutrition and Forestry Committee. With an election looming and a pandemic raging, will anything happen with the bill? I fear not.
FSIS is considering a issuing a new rule for using the label. But some trade groups fear the agency will double down on its definition of "origin" as being where the meat was processed and packaged, not where the animal was born and raised.
I think the FSIS ought to ban "Product of the USA" or "Made in the USA" labels altogether.
Packers already use a "USDA inspected" stamp on meat that is checked by USDA inspectors. It could be displayed more prominently to assure consumers that the meat they are buying — no matter where it was born and raised — was checked by USDA inspectors.
Cattle producers who believe consumers want to buy U.S. born, raised and processed beef shouldn't keep asking the government for some sort of COOL law. Instead, they should create their own brands.
South Dakota Farmers Union is on the right track. It is looking for partners to buy DemKota Ranch Beef's big processing plant in Aberdeen, S.D.
A group of cattle producers from the Dakotas and Minnesota has the right idea, too. They pooled their money and reopened a small processing plant in Fort Pierre, S.D., to sell more of their beef direct to consumers. Their model could be adopted in other communities.
North Dakota has given butcher shops grants to expand so they can process more locally raised animals.
All these efforts are welcome. We need many more.
About the Author(s)
Subscribe to receive top agriculture news
Be informed daily with these free e-newsletters
You May Also Like
---