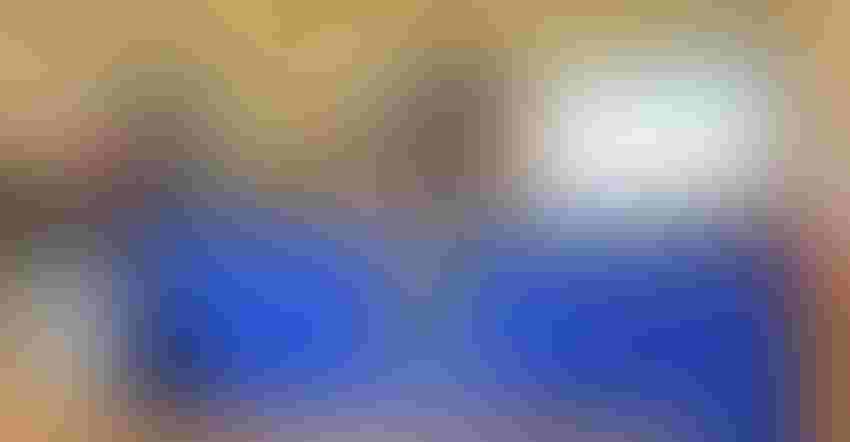 TAKING OFF: Joe Paul's drone business, FlightSight, provides farmers with instant information about their crops.
Joe Paul got in on the ground floor with his new enterprise, but now it's really up in the air.
An airplane pilot and ex-farmer, Paul has combined his loves of agriculture and aviation into a promising career flying drones over farm fields. "They're really good for scouting," he says. "They can really narrow in on problem areas.
"It's a learning process to find the best units," he adds. "They're pretty easy to fly."
Based near Camp Douglas in Juneau County, Wis., Paul's company, FlightSight, uses two Swiss-made, fixed-wing drones and a newly designed, custom-made unit from Florida. The camera on that drone provides resolution so high it can pick out individual plants and provide near real-time data for exporting in layers to a client's farm management software and computer screen.
"We're able to fly fields and in 15 minutes have data for their crop consultants," Paul says. He's learned that a lot of farmers want information "now."
Paul stresses that he does not give agronomic or soils advice. What he provides are low-level, high-resolution crop health and ground maps.
"We can read the maps and advise on problem areas. We can identify areas that need help," he says. Then the farmers can turn to plant and soil specialists for specific recommendations.
Background
Paul works mainly in Wisconsin's Central Sands areas and for cranberry growers during cropping months. He operates other businesses to keep busy while the snow flies. He offers services anywhere he can truck his drones and has scouted the Imperial Valley of California. So far he's seeing little competition for the farm business. He also uses his drones for much more competitive civil engineering projects. Energetic and entrepreneurial, Paul works with his father, Steve Paul, in a battery business, real estate investing and other enterprises.
Paul enjoys talking about his drones and what they can do. He maintains his pilot's license from working as a flight instructor in several states before returning to his home farm. When the farm was sold a couple of years ago, he studied drone operation, became licensed by the Federal Aviation Administration and started FlightSight.
The drones, he points out, are less expensive than manned aircraft, have better camera resolution and "can operate lower, at a moment's notice and on cloudy days."
FlightSight has a website, flightsight.net, and Paul is on Facebook, but he finds his best results come from door-to-door calls. Many of his clients are younger, college-educated and more willing to try new technology. His fees last year were $1.90 per acre, but he's changing to an hourly charge this year so he doesn't penalize contiguous farms versus those that are more spread out. He figures for some farms with contiguous acres, the cost will be less than $1 an acre. Map exports and file storage cost an additional fee. He can survey up to 1,500 acres a day.
Money saver
"We're trying to save the growers money," Paul says. "Savings can be $35 an acre, some growers report.
"We're still figuring out what works best and what doesn't," he notes, explaining that the lack of competition in drone-monitored agriculture hasn't provided a good business model to build on. So Paul is developing one for those who may follow.
"There are a lot of questions to be answered with the business model. I need to figure out how to entice those older farmers who resist new technology," he says.
Paul also wants to find new income streams year-round and grow the civil engineering portion of his business while building his core farm-customer base. He hopes to be able to work with co-ops.
"I really like this drone stuff," he says. And he's proud of his own farm background, which he sees as vital to his on-farm work.
"Anyone can learn drones," Paul says, "but you can't easily teach farming."
Buchholz writes from Fond du Lac, Wis.
Subscribe to receive top agriculture news
Be informed daily with these free e-newsletters
You May Also Like
---