Iowa youth receives heifer award
Iowa youth receives heifer award
Iowa girl is awarded three heifers to help build her herd, and then she will pay back their value to help others in the same program.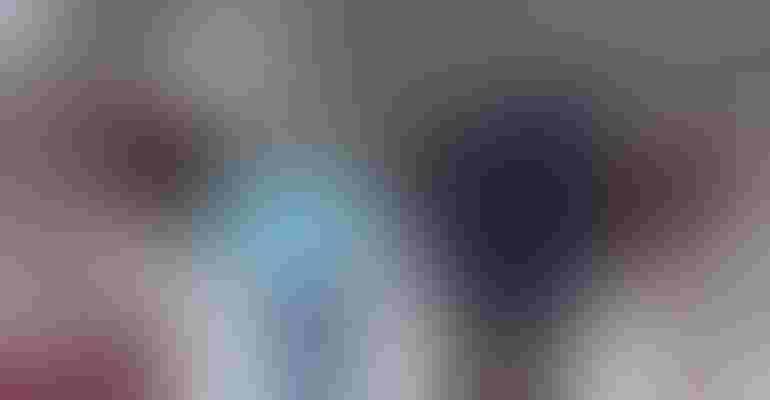 HERD BUILDING: Kali Nickell stands with Garth Griffin in front of the group of Red Angus heifers she was awarded as part of the Iowa Foundation Heifer Award.
Courtesy of Iowa Beef Breeds Council
Each year the Iowa Beef Breeds Council and Iowa Cattlemen's Foundation awards an Iowa youth three bred heifers of the breed of their choice to help the youth establish a purebred seedstock herd. The 2023 recipient of the Iowa Foundation Heifer Award is Kali Nickell, daughter of Kevin and Stefanie Nickell, of Gravity, Iowa. She received three purebred Red Angus bred heifers, which were purchased from Garth and Nancy Griffin's Red Angus herd at New Hampton, Iowa.
At the end of five years, Nickell will be expected to repay $6,000 to the program to help continue to fund the program into the future. The Iowa Foundation Heifer program is in Year 13 and continues to help Iowa youth build a purebred beef herd.
Nickell is a seventh-grade student at Bedford Community School in Bedford, where she is currently involved in volleyball. She is in her fourth year as a member of the Washington Winners 4-H Club and was chosen to serve as this year's historian. She has been involved in several community service projects.
In addition, she is a member of the Iowa Junior Red Angus Association and the National Junior Red Angus Association. She shares her family's love of the Red Angus breed and has shown not only at her local county fair, but also at the Iowa State Fair, Iowa Beef Expo, Iowa Red Angus field days and National Junior Red Angus shows. She has participated in national junior contests such as livestock judging, photography, herdsman quizzes and ID contests and has encouraged others to do the same. She also entered the 2022 Skillathon Quiz at Iowa Beef Expo and placed second in the junior age division.
Nickell's recommendations credit her with goals of striving for excellence; being a peer role model, team player and leader; and having an outstanding work ethic. She is planning to learn more about genetics, breeding, feeding, grazing practices, budgets and promotion of the beef industry. She is an excellent showman, but her main goal and plan is to have a high-quality cow herd as a fourth generation in the cattle industry.
She will be honored at the Iowa Red Angus Association Banquet to be held on at 7 p.m. Feb. 11 during the Iowa Beef Expo, and at the Iowa Junior Beef Breeds Association year-end awards held at 4:30 pm Feb. 17 in the Pavilion on the state fairgrounds.
Source: Iowa Beef Breeds Council
Subscribe to receive top agriculture news
Be informed daily with these free e-newsletters
You May Also Like
---