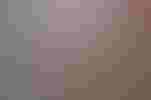 Increasing production and profits have been top goals of the Missouri pork industry over the past six decades.
"In dollars and cents, how much you can make for your pig hasn't changed that much, and $3.40 doesn't go nearly as far as it did 30 years ago," says Ray Massey, University of Missouri Extension agricultural economist. "The only way pork producers have been able to make up for that is improved efficiency that allows them to produce more with less."
Massey, along with the MU Extension Commercial Agriculture Swine Team, analyzed 65 years of data to get a picture of how all parts of production have developed. One way to measure that progress is in pounds. Today, hogs gain an average of 1.95 pounds per day, compared to 1.6 pounds in 1973 and 1.55 pounds in 1944 - a 25% improvement.
"We're producing more than three times the pork per acre than we were 65 years ago and have even doubled our productivity from the 1970s from the land-base perspective," adds John Lory, MU Extension nutrient management specialist. "The increase in productivity is due to steady increases in yield in our crop fields and steady improvements in the efficiency of pigs converting feed into growth."
Hog producers now spend less than $50 per hundredweight, compared to more than $110 in 1974, adjusted for inflation. Lory notes that nutrition has a lot to do with that. Producers now use better diets designed to meet animal needs at each stage of growth. The results are seen not only in weight gain but also in less waste per pig.
"That makes it more economical for farmers and better overall for the environment," Lory says.
Current operations produce 55% less phosphorous and 20% less nitrogen in pig manure than when measurements began in the 1940s.
Moving pigs from dirt lots to indoor facilities has improved animal health and reduced or eliminated a number of once-common parasites and diseases, says Beth Young, MU Extension veterinary specialist. Lungworms and kidney worms, which infected the majority of hogs in the 1940s, now are rarely seen.
As hog producers feel the squeeze of low market prices, it's important to build on these changes for the future. "There's always been an economic boom-bust cycle in the hog industry, and that hasn't changed," Lory says. "As we consider alternatives we need to think carefully of what other systems may look like and be sure we capitalize on these productivity gains we've had."
Source: MU Cooperative Media Group
Subscribe to receive top agriculture news
Be informed daily with these free e-newsletters
You May Also Like
---