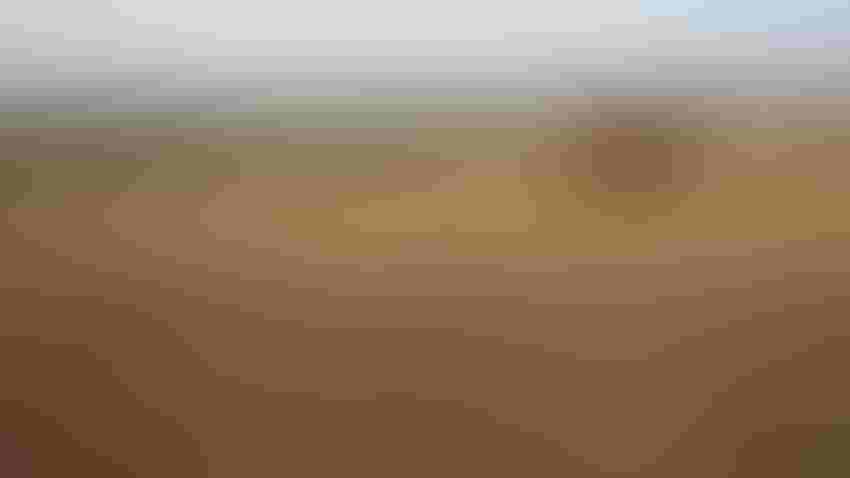 Oklahoma's multiyear drought has depleted forage options for the state's cattle inventory.
Oklahoma State University Agriculture
Drought throughout the Southern Plains has taken its toll on Oklahoma cattle producers over the past two years. Ponds are dry, pastures are brown and cattle herds have been liquidated, especially in western Oklahoma.
Drought Monitor maps from the Oklahoma Mesonet consistently displayed a prominent drought line slashing across the state from northeast to southwest. Now that rain has fallen across much of the state this past month, weary producers wonder if a long-awaited recovery is near.
Difficult decisions on the horizon
Families who have devoted generations of blood, sweat and tears to their herds have held on as long as they can but could still face difficult decisions this summer.
Lindsay Coker and her brother left careers in Houston to move back home with their families to help their parents farm near Texola. They grow cotton, wheat and hay while managing an Angus cow-calf operation. Some western Oklahoma producers like Coker live in an area teetering in the extreme to exceptional drought category.
"My dad always taught me to not overstock, but that has gotten a little more challenging," she said. "This past winter, we had the leanest pastures we've ever started with, and we had to supplement more with forage, cake and protein."
Coker's operation uses a pasture rotational program to ensure forages recover to maintain cattle grazing and minimize inputs. However, this method is more difficult to follow when grass is stunted or dormant from drought. As a result, additional hay must be purchased, and the concentrated, processed cake cattle feed made from distillers' grains, soybean meal, sunflower meal and other crude protein is expensive.
When hay can't be found and water is scarce, older cattle and those not bred are sold to reduce expenses. This year, the Coker family's thorough pregnancy checking improved the operation's efficiency.
"We knew it wasn't going to be an ideal situation going into this past winter, so we wanted to give our cows an optimal chance to thrive and produce to the best of their ability," she said.
The recent rain recorded in Texola has stirred a new sense of optimism, and Coker anticipates the day when pastures can thrive and provide much-needed forage.
"Everything is starting to green up, and that helps our mood and outlook," she said. "I hope this is the start of the turnaround. You've just got to have hope and faith that things will work out."
Two-and-a-half hours north, rancher Johnny Owens owns yearlings near Buffalo in northwestern Oklahoma. He has 50% fewer cattle this year and said if his area doesn't receive additional rain soon, he will be forced to sell his stock.
"Since last August, up until three weeks ago when we got a couple of inches of rain, we've had almost no moisture whatsoever," he said. "We have 20% of what our normal grass growth would be this time of year."
After dusting in wheat last fall with no moisture, Owens and his Harper County neighbors are facing a failed wheat crop. Owens grazed his failed wheat, and others have followed suit to buy time.
"It's too expensive to feed all winter and this summer," he said. "Producers with cows have culled heavily and will begin liquidating herds if a turnaround does not occur within the next 30 to 60 days."
Timely rains for a green spring
In eastern Oklahoma, lush, green forage covers the landscape, a stark contrast to western Oklahoma's cracked, bare earth. Cattleman Dax Burchett manages Burchett Cattle Co. in Talala with his father and uncle and has worked as director of sales and operations at Mid America Feeds for 25 years.
"We're on the edge of stocker country, but we also have a lot of smaller, mom-and-pop operations that rely on hay when they don't have a lot of forage," Burchett said.
Mid America Feeds typically provides feed for about 300,000 head of cattle in northeast Oklahoma every day, but drought conditions earlier this year forced local producers to cull at least 10% of their herds. The reduction in numbers trickled down to lower feed sales at the mill.
Burchett's cow-calf and stocker operation was also impacted by the drought with diminished pond water, hay and forage. The Burchett family pregnancy checked cows and heifers, culling 10% to 20% of the herd. Average weaning weights dropped, and fewer cows bred back from the previous year. A dry, barren landscape began to affect the livestock that lived on it.
"We were watering a large percentage of our animals on city water, which because we live next to a large lake wasn't an issue, but we would have had to reduce numbers due to water needs," he said.
But in February, Burchett's area of northeast Oklahoma received a lifesaving rain that filled some ponds and alleviated the drought's intensity. Timely showers also fell in March and April, and now Burchett is developing a pasture recovery plan after two years of poor forage yields.
"We're going to top dress our pasture more for a quicker healing process," Burchett said. "Even in drought years, we didn't skip on weed spray. You want every little bit of moisture to go to grass, and we've fertilized a little now that it's more affordable."
The countdown to recovery
Improving weather conditions are chipping away at the broader area of drought, but drought recovery takes years, said Derrell Peel, Oklahoma State University Extension livestock marketing specialist. In his latest segment on SUNUP, OSU Agriculture's weekly production agriculture television show, Peel said 54% of Oklahoma pastures are still in poor condition.
"It's highly unlikely that we could stop herd liquidation completely," Peel said. "It's deceiving – pastures look green, but producers tell me there's not a lot of growth. Unless we get a lot of follow-up moisture within the next couple of months, we'll still see a somewhat limited forage season."
During the first half of 2023, cow and heifer slaughter has climbed as producers reduced numbers. During a drought, more female cattle are sent to market, a key indicator of desperate times, Peel said.
"It's all related to the female side of the industry. The fastest thing we can do [for recovery] is cut back on cow slaughter. I think it will drop as we go throughout 2023," he said.
If a wetter weather pattern continues, pastures and hay fields will produce more forage yields this summer, and producers can hang on to what's left of middle-aged cows and young heifers to begin rebuilding herds. Only then can the Oklahoma beef industry begin to recover.
"Producers will rebuild in earnest this fall, and females will be extremely expensive next spring," Peel said. "That's going to add another challenge for the ones who need to buy females to rebuild."
Currently, Peel said calf market prices are 40% higher than they were in October 2022, and those prices will jump even more when drought conditions subside enough to the point that cows and heifers are pulled off the market and retained on the ranch.
High prices are a good thing in theory, but for those ranchers who had to liquidate and now want to get back in the game, the price to play will be very expensive.
"High input costs and drought impacts mean a little bit slower recovery process than the last drought," Peel said, referring to the drought from 2011 to 2013. "We had two years of high cattle prices in 2014 and 2015, but this time around, we'll see a relatively elevated cattle price situation for an extended period of time."
Tighter supplies, higher prices
While ranchers watch the skies for rain, beef consumers can expect to feel the effects of a drought-stricken industry. Beef production is expected to slow. Supplies will tighten, and shoppers will pay higher prices for beef.
"Next year and beyond, we're going to make a decreasing supply of beef even smaller, because to increase production long term, we will have to save heifers," Peel said. "You can't fix things fast – this industry turns slowly."
Peel said current retail beef prices have been steady for the past 15 to 18 months. As cattle inventory drops to recover from the drought, consumers should expect higher prices at the meat counter.
"We're setting ourselves up for better conditions in 2024. That's the earliest I would expect to see the tightest squeeze on cattle sold at market," Peel said.
As summer grilling season begins, consumers should take note of their grocery bill during the next few months. Chances are that the cost of a steak or ground hamburger will cost even more next year as Oklahoma endures the painstaking process of drought recovery.
Source: Oklahoma State University
Subscribe to receive top agriculture news
Be informed daily with these free e-newsletters
You May Also Like
---