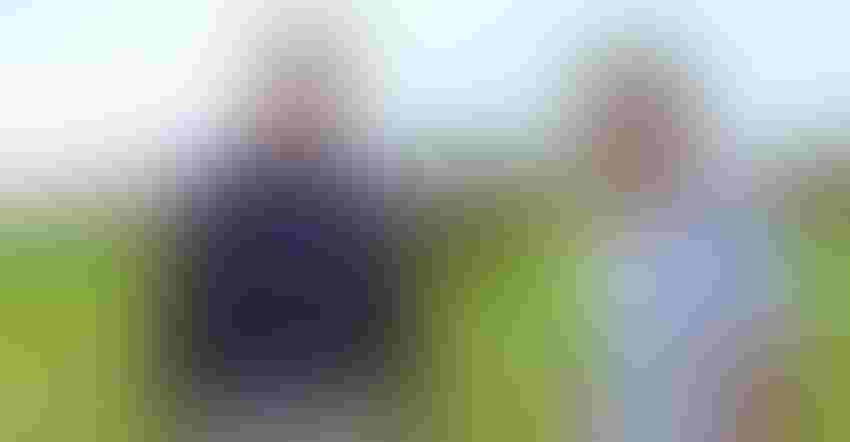 PERKING UP PASTURES: University of Missouri Extension specialist Tim Schnakenberg (left) works with Barry County farm manager Lindell Mitchell to use warm-season bermudagrass in a cow-calf operation on the G&J Anderson Ranch at Seligman, Mo.
Linda Geist
Barry County producer Lindell Mitchell sees several benefits from year-round grazing of warm-season bermudagrass in his cow-calf operation.
Mitchell manages G&J Anderson Ranch, owned by Gary and Jane Anderson of Rogers, Ark. It straddles the Missouri-Arkansas border. Along with his wife, Shelly, and grown children Ryan Mitchell and Britney Paul, the family works with University of Missouri Extension specialists Tim Schnakenberg and Eldon Cole to improve forage and cattle quality.
They incorporate several varieties of bermudagrass into the warm-season system. Midland 99 and Cherokee are common varieties, but Greenfield bermudagrass has been on the farm since the late 1970s and continues to perform well.
Benefits to warm grass
Bermudagrass is deep-rooted and grows to 24 inches in a variety of soils. It withstands heat during June, July and August, when the quantity and quality of cool-season grasses wane.
Bermudagrass offers timing advantages too. It can be baled at more convenient times and offers nutrition for grazing cows and calves when they need it most. Bermudagrass matures faster than fescue. It can be baled every 30 days after June 1. Mitchell often runs the drill behind the baler on the last bermudagrass cutting of the season around Labor Day weekend.
Even in the fall, the crude protein levels of bermudagrass are impressive, Schnakenberg says. Tests from last winter showed dormant and stockpiled bermudagrass had 12% protein and 54% TDN. Bar Optima fescue hay from the previous season showed 15% protein and 62% TDN. Midland 99 Bermuda hay had 18.6% protein and 61% TDN.
"These numbers are impressive for both the hay and the late fall standing growth of bermuda," Schnakenberg says.

NEW GRASS MIX: Bermudagrass is deep-rooted and grows to 24 inches in a variety of soils. Mitchell drills triticale into the bermudagrass. This allows grazing after frost.
Fescue remains Missouri's go-to forage, but bermuda and other warm-season grasses can boost yields and reduce endophyte issues, Schnakenberg says.
"We now believe that there is a place in the southern third of Missouri for bermudagrass," he says. "If bermudagrass is not adapted for a farm or ranch, other warm-season options such as big bluestem, Indian grass, gamagrass, Caucasian bluestem or crabgrass may be used."
Bermuda basics
Warm-season grasses require different management than fescue. When used in a management-intensive grazing system, keep bermuda post-grazing heights high and move cattle off pastures for rest periods. Graze when 6 to 8 inches high and no lower than 3 to 4 inches, Schnakenberg says. These grazing guidelines are much higher for native grasses such as big bluestem.
Consider drawbacks as well, Schnakenberg says. Seeded bermudagrass can be invasive. Cows may graze grass with seeds that transfer in manure or when hay bales are taken to other areas and unrolled.
Army worms also like bermudagrass. Overseeding with rye or triticale requires extra seeding expense and access to a drill.
Sprigged varieties cost more but don't produce viable seeds. Schnakenberg says University of Arkansas research shows sprig varieties produce more growth.
Schnakenberg recommends that producers switch small numbers of acres to warm-season grasses to experiment and reduce risk.
Anderson initially switched about 30% of the land to a bermuda, but now about 75% of the farm is in bermuda and the remainder is mostly in novel endophyte fescue. This is a high percentage for most producers but drilling triticale into the bermuda works well for the ranch and allows for an abundance of high-quality feed year-round.
Amazingly, G & J Anderson Ranch uses a 1 to 1.5 cow-per-acre stocking rate. This is higher than most standards but works well with the ranch's management practices.
"We're getting all the pasture forage they want and still can cut hay," Mitchell says.
Source: The University of Missouri Extension, which is solely responsible for the information provided and is wholly owned by the source. Informa Business Media and all its subsidiaries are not responsible for any of the content contained in this information asset.
Subscribe to receive top agriculture news
Be informed daily with these free e-newsletters
You May Also Like
---